Opinion: Advertising has traditionally encouraged us to act as individuals, but climate change requires us to think collectively
By Claire Hyland and Olivia Freeman, TU Dublin
The dictionary definition of consumption refers to 'the purchase and use of goods by the public' yet its Latin origin "consumere" extends to include the meaning 'to destroy or expend by use'. Therein lies the paradox of consumerism. In our modern-day purchasing and use of goods for our personal gain, we have inflicted pain on our planet and each other, putting life on Earth at risk.
Consumerism, capitalism and carbon
The idea of citizens as consumers became commonplace in America in the 1920s, but it was the 1950s that saw the explosion of mass consumption of household goods across the industrialised world. At its heart was a depiction of 'The Good Life', a template for progress rooted in the accumulation of products and a resulting better quality of life. This accumulation of stuff underpins the heart of capitalism and the goal of perpetual economic growth.
Across western society today, we have consumer economies operating in consumer societies. 'Personal success' is largely measured indirectly through the status attributed to stuff, while 'national success' is directly equated to consumer buying power and spending. In the US, the world's largest economy by nominal GDP and net wealth, 68.5% of its nominal GDP this year was due to household consumption.
We need your consent to load this YouTube contentWe use YouTube to manage extra content that can set cookies on your device and collect data about your activity. Please review their details and accept them to load the content.Manage Preferences
From Our Changing Climate, can a for-profit company really embrce an eco-conscious and sustainable message?
Such high levels of consumption brings high levels of damaging carbon emissions. Research from 2015 highlights that around two-thirds of global emissions are 'directly and indirectly' related to household consumption.
When is enough enough?
Current consumption patterns indicate that we would need three planets to provide the necessary natural resources if everyone consumed as Europeans consume. In terms of the actual amount of human-made stuff - the anthropogenic mass - the Earth is currently passing its threshold of 'enough' with anthropogenic mass now surpassing all global living biomass.
At a societal level, advanced economies have already surpassed the positive benefits of having more stuff. Overall life satisfaction is decreasing in many European countries, despite growing wealth, with further advances in overall national wellbeing having less to do with the wealth of societies, but the distribution of wealth.
How advertising drives consumption and carbon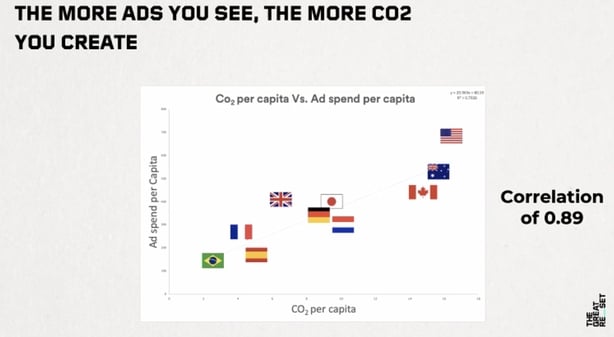 In 2020, The Purpose Disruptors, a network of advertising insiders working to tackle climate change, highlighted a correlation of 0.89 of CO2 emission per capita relative to ad spend per capita. Basically, the higher the ad spend, the higher the CO2 emissions. Their 2021 report, Advertised Emissions, identified that successful adverts add an extra 28% to the annual carbon footprint of every person in the UK.
Can advertising reduce its carbon load?
The advertising industry has the power to immediately reduce its carbon load. It can choose to reduce both resources and media spend behind high-carbon businesses and reallocate skill sets and staff towards the creation and promotion of low-carbon consumer choices.
We can already see this change in motion. A recent survey by Campaign magazine showed that 23% of agencies in the UK are turning down work from prospective clients whose sustainability credentials are poor. Carbon reduction is also likely to come from national industry programmes around achieving net zero emissions by 2030, but its greatest legacy is likely to be its role in changing consumer culture for the better.
We need your consent to load this YouTube contentWe use YouTube to manage extra content that can set cookies on your device and collect data about your activity. Please review their details and accept them to load the content.Manage Preferences
From Advertising Association, panel discussion at Renew 2022 on the climate change challenge for the advertising industry
As 'the creators of desire', the advertising industry has the power to shift culture, through the telling of a different set of stories that focus more on meaningfulness than happiness. The Purpose Disruptors' Good Life 2030, unveiled at COP26, highlights the potential of a new narrative driving a new set of consumer behaviours focused on a greater sense of connectivity to ourselves, our communities and nature. This is good news for the consumer (citizen) who believes it is the advertising and creative industry's responsibility to encourage more sustainable behaviours.
Who else needs to row in?
Marketers, the people who pay advertisers' salaries, need to shift the focus of their brands' purposes and communications into the space of universalism and benevolence and away from the human values of power, security and achievement. Operationally, such clients (corporations) need to demonstrate systematic change in overall governance, production processes and employee remuneration. They need to be more accountable in their disclosure of the metrics and targets they use to measure their effect on the environment.
For their part, consumers are already changing their purchase preferences based on social responsibility, inclusiveness or environmental impact. 'Buying better' is part of the solution, but 'buying less' is the real solution so that consumption can fall within planetary needs, while still fulfilling basic human needs. The super-affluent consumer needs to up their game in terms of enhanced sustainable-literacy accelerating demand for and participation within the circular economy, which might just see this generation as the last generation to flaunt its wealth.
The change required to address this climate catastrophe also needs policy change that is beyond a focus on economic growth
At a policy level, we need to look at the quality of social relations to develop harmonious and sustainable societies far removed from traditional economic theory. Alternative Prosperity Models and Indexes need to focus less on the individual consumer and more on citizens, community and the collective need.
This means less mapping of a nation's powers through the lens of short-term metrics around consumer's buying power and spending choice, and more focus on long-term systematic change that enables social mobility and the fair distribution of wealth. Kate Raworth's Doughnut Economics provides a model as to how to meet the needs of all within the means of the planet, as does John Fullerton's Regeneration Capitalism.
A united approach to a more sustainable way of living
Advertising has traditionally encouraged us to act as individuals, whereas climate change requires us to think collectively. Advertising can drive a fundamental cultural shift in outlook that has the power to impact everything from how we respond to biodiversity loss to systematic inequality at a societal level. Such changes will see a reduction in carbon in the short-term and far bigger social outcomes in the long-run.
But the industry can't do it alone. The change required to address this climate catastrophe also requires policy change at a corporate and societal level that is beyond a single-minded focus on economic growth. Only then will we see a new era of consumption, one where consumption is by necessity and 'status' is rooted in having a positive impact on the planet and its people, with no act of 'destroying' in sight.
Claire Hyland is a student in Business Sustainability Leadership at TU Dublin and Head of The Youth Lab at Thinkhouse. Dr Olivia Freeman is a Senior Lecturer in the School of Marketing at TU Dublin.
---
The views expressed here are those of the author and do not represent or reflect the views of RTÉ
---