Analysis: 100 years ago this week, British army leader Bernard 'Monty' Montgomery was forced into an undignified retreat from the Cork town
By Andy Bielenberg and John Borgonovo, UCC
The recently commemorated Bandon Valley killings in Cork illustrate the volatility of parts of Ireland during April and May 1922, just prior to the outbreak of the Civil War. An even more dangerous, but largely forgotten, episode in nearby Macroom during the same period, nearly led to a resumption of hostilities between republican and British armed forces.
We need your consent to load this rte-player contentWe use rte-player to manage extra content that can set cookies on your device and collect data about your activity. Please review their details and accept them to load the content.Manage Preferences
From RTÉ News, Bandon Valley killings remembered on the centenary of the tragedy
At the centre of that event was a British army staff officer, Major Bernard Montgomery, who is best remembered for his World War Two victory at El Alamein. However, his military career was nearly derailed on the streets of Macroom 100 years ago this week.
On the morning of April 26th 1922, a small party of British intelligence officers and their driver Private J.R. Brooks departed Ballincollig Military Barracks near Cork city. Lieutenant Ronald Hendy, (Royal Warwickshire Regiment) was the intelligence officer of the 17th Infantry Brigade; Lieutenant George Dove (Hampshire Regiment) and Lieutenant Kenneth Henderson (Green Howards Regiment) were also intelligence officers. They were among the dwindling British Army presence in County Cork prior to the final withdrawal scheduled for mid-May.
A War Office report indicates the party intended to drive to Bantry. The army was unsure if the officers travelled on a specific intelligence mission, but ultimately concluded they were probably trying to monitor the general conditions in the country. The file makes no reference to events relating to the subsequent Bandon Valley killings, including the shootout at Ballygroman House earlier that morning.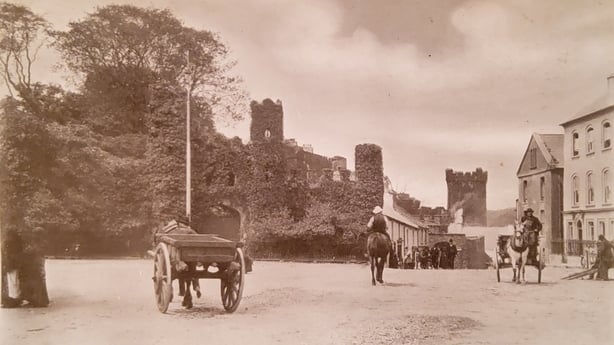 At around 1 pm, Private Brooks parked the car in front of Williams' Hotel in Macroom, where it was spotted by a member of the Irish Republican Police, who noted that it lacked number plates and its driver was English. This news was quickly reported to Commandant Charlie Browne in charge of the anti-Treaty IRA garrison inside Macroom Castle, who walked with some of his men over to the hotel.
They found the three officers in mufti inside at the bar. They were hardly inconspicuous: one wore a Burberry coat and another a trench coat, and they were accompanied by a giant Newfoundland dog. The officers claimed to be on a fishing holiday, but they carried no fishing gear and were found to be carrying revolvers. More ominously, Browne reportedly recognised one of them from a jail stint prior to the Truce.
Browne telephoned the Cork No. 1 Brigade headquarters and received permission to arrest the officers and their driver. They were detained by the IRA in Macroom's recently vacated RIC barracks. By evening, the officers were well overdue and the British army at Ballincollig Barracks dispatched a search party to determine if their car had broken down. The following day, another search party concluded the officers had been seized by the IRA, though this was denied by the IRA garrison at Macroom. On April 28th, another British Army search party arrived in Macroom, and was allowed to briefly search Macroom Castle, to alleviate British suspicions the prisoners were being kept inside.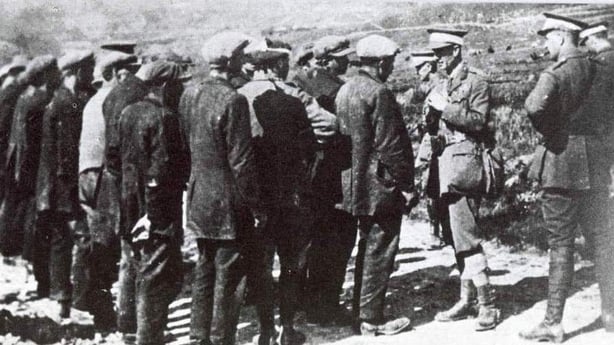 The next day, Cork No. 1 Brigade headquarters in Cork city ordered the execution of the party. IRA evidence suggests the republicans believed the officers to be spies operating in violation of the Truce. Two of the officers, Hendy and Dove, were also accused of torturing IRA prisoners during the War of Independence, though it is unclear if this factored into the decision. Regardless, the four men and their dog were taken to Kilgobnet (in Clondrohid parish), about 5 miles from Macroom, on April 29th and shot and buried in bogland.
Unaware of the secret executions, the British Army continued to dispatch search parties in and around Macroom, which raised tensions. The British coordinated their search with the (pro-Treaty) Provisional Government Liaison Officer, General Emmet Dalton, who consulted with Sean O'Hegarty, the Cork No. 1 Brigade commander. O'Hegarty offered his nominal assistance, though he likely had already ordered the officers' execution.
On April 30th, the British Army headquarters in Cork city sent Montgomery to Macroom to try to locate the missing party. Monty had arrived in Ireland at the end of 1920 and served as a senior staff officer at Victoria Barracks. On this day, he brought a heavy military escort with him, whose presence, according to a newspaper report, was 'regarded as highly provocative'. In Macroom town square, an armoured car trained its guns on Macroom Castle, while soldiers took up positions nearby. But again, the IRA garrison denied all knowledge of the officers' whereabouts, and Monty had to leave the town empty-handed.
We need your consent to load this rte-player contentWe use rte-player to manage extra content that can set cookies on your device and collect data about your activity. Please review their details and accept them to load the content.Manage Preferences
From RTÉ Radio 1's History Show, President Michael D Higgins, Martin Mansergh, Heather Laird and John Borgonovo debate the challenge of commemorating the War of Independence & Civil War. Moderated by John Bowman.
Seemingly intent on forcing the issue, Monty returned to Macroom on May 2nd. This time, he was accompanied by a large escort of four armoured cars and eight Crossley tenders carrying 60 armed soldiers. He hoped to use this menacing convoy for intimidation purposes only, as his superiors had specifically prohibited launching an attack on the IRA. However, Monty's arrival had been anticipated by the IRA in Macroom, which gathered flying columns from the surrounding area and mined part of the road. Montgomery appears to have been unaware of the republican build-up.
After parking in the town square in front of Macroom Castle, Montgomery summoned the IRA commander outside to parley. Browne emerged from the castle gates and quietly listened to Monty's threats against the republicans should the officers not be released. Browne then gave Montgomery his own ultimatum to leave the town in 10 minutes, or else.
Browne promptly turned on his heels and marched back inside the castle gates, leaving Monty to ponder his predicament on the town square. At this point another IRA officer, Pat O'Sullivan, whistled to Montgomery, drawing his attention to scores of IRA volunteers who had quietly surrounded the convoy and taken up firing positions around the square.
He had no choice but to lead an undignified retreat from the town of Macroom
For a few tense moments, Monty considered his precarious position. He was under strict instructions not to attack the castle, and his bluff had been called. He therefore had no choice but to lead an undignified retreat from the town of Macroom, in one of the least glorious chapters of an illustrious military career.
Though hostile questions about the demoralizing episode were raised in the House of Commons, Monty's superiors ultimately approved of his decision. This would be the army's last search party for its missing officers. Nearly three weeks later, the British army completed its withdrawal from Cork's Ballincollig and Victoria Barracks, leaving behind the missing party.
A few months later, the British army got word from 'an informant' of the burial place of the four men and the precise location came to light after the Civil War. In early December 1923, the bodies were exhumed by members of the National Army from marshy ground about two and half miles from the main road.
Their civilian clothes were evident, including a Burberry coat, while the driver Brooks was recognised by his boots. Hendy's father was present and assisted in identifying the three intelligence officers. They were placed in coffins and transported to a graveyard in Aldershot, which was to be their final resting place. Monty went on to become Britain's most famous soldier since Wellington. Amid all his battlefield triumphs, though, he did not seemingly dwell much on his humiliating retreat from Macroom.
Dr Andy Bielenberg is a Senior Lecturer in the School of History at UCC. He is a former Irish Research Council awardee. Dr John Borgonovo is a lecturer in the School of History at UCC and co-editor of the Atlas of the Irish Revolution.
---
The views expressed here are those of the author and do not represent or reflect the views of RTÉ
---