Opinion: 26 years after his unlawful execution, the Nigerian activist's struggle for environmental justice has been taken up by many others
This week in 1995, author and activist Ken Saro-Wiwa was unlawfully executed by the Abacha-led military dictatorship in Nigeria. Saro-Wiwa always denied any wrong-doing and Amnesty International described his trial by special military tribunal, on charges of incitement to murder, as blatantly unfair. They claim he was targeted for protesting the environmental degradation of his homeland, Ogoni, by oil and gas multinationals.
In the run up to the anniversary of his execution on November 10th, Nigerian newspapers have hinted that President Buhari will soon grant Saro-Wiwa and eight other Ogoni, who were executed alongside him, a state pardon. But Saro-Wiwa's family and supporters continue to assert his innocence. They have called for him to be exonerated, not pardoned.
Maynooth University holds death-row correspondence from Saro-Wiwa to Irish solidarity worker, Sr. Majella McCarron. Letters wrtten between October 1993 and September 1995 back-up these claims of innocence. They also support recent calls by Amnesty International for the United Kingdom and the Netherlands to investigate the Shell oil corporation for potential involvement in the gross human rights violations that were committed in Ogoni in the 1990s.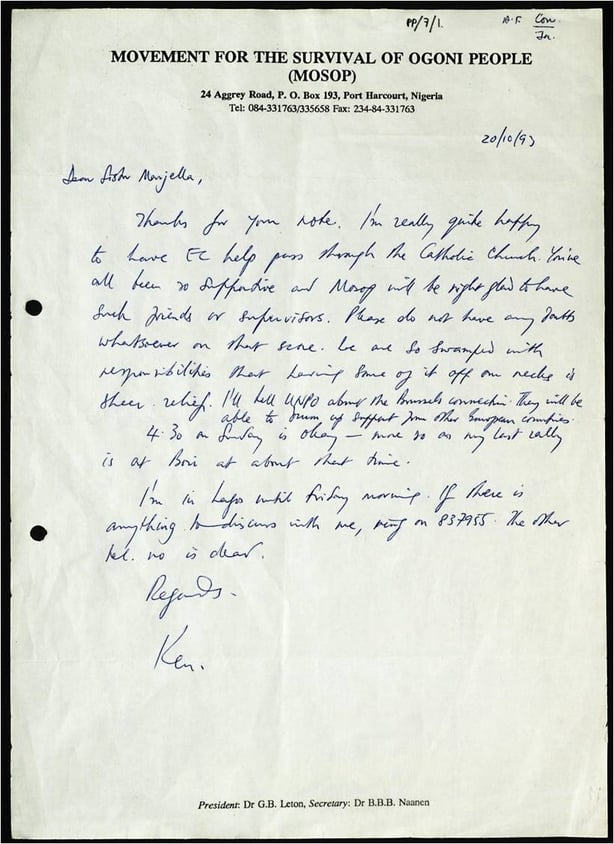 Saro-Wiwa was a member of the minority Ogoni ethnic group who traditionally relied on subsistence farming and fishing for their livelihoods. Thanks to a scholarship, he received a colonial education at Government College Umuahia, "the Eton of the East". Although he'd held roles in government and business, he was best known as the producer of the popular television sitcom, Basi and Company, which aired across West Africa to an estimated weekly audience of 30 million viewers.
When Shell first struck oil in in Ogoni in 1956, it was one of the most densely populated areas in Africa due to its fertile soil, access to fish and sea food, and abundant water. Saro-Wiwa's memoirs and manifesto, Genocide in Nigeria (1992) show how pained he was by the unyielding ecological destruction that followed in subsequent decades. There was little regulation of the oil and gas industry. Oil spills from poorly maintained pipelines and twenty-four hour gas flares polluted land, water and air.
In the early 1990s, encouraged by the global media attention to the burgeoning climate crisis, Saro-Wiwa used his income from Basi and Company to found the indigenous-led environmental Movement for the Survival of Ogoni People (MOSOP). In 1990, MOSOP issued the Ogoni Bill of Rights, requiring an environmental clean-up, and organised a mass rally attended by 300,000 people in January 1993.
We need your consent to load this YouTube contentWe use YouTube to manage extra content that can set cookies on your device and collect data about your activity. Please review their details and accept them to load the content.Manage Preferences
From Goldman Environmental Prize, profile of Ken Saro Wiwa
Such campaigns posed a problem for the joint business ventures of Shell and the Nigerian government within the oil-bearing region. Nigeria was home to the single largest portion of Shell's worldwide oil and gas reserves, and the government's finances also relied heavily on oil. They feared that other disaffected communities would follow suit. This would compromise a major source of their respective revenues.
In 1993 and 1994, the democratic campaigns in Ogoni were met with widespread violence by the Nigerian military. Human rights organisations have documented night-time attacks on unarmed villagers, involving the extrajudicial killing of hundreds of Ogoni, as well as torture, rape and the destruction of homes and livelihoods. Drawing on Shell's own records recently released by the US courts, Amnesty claim that Shell repeatedly requested military intervention from the Nigerian government to secure their business operations there during this time. This was despite Shell's full knowledge of the human rights violations taking place.
Saro-Wiwa's letters to McCarron offer us a perspective on his experience from the time of his arrest, without charge, in May 1994 to his unlawful execution the following year. They support his claim that he used "every non-violent weapon to face very violent people". They illustrate his efforts to engage national and inter-governmental organisations in the Ogoni crisis, including various branches of the UN and the Unrepresented Nations and Peoples Organisation (UNPO) in the Hague.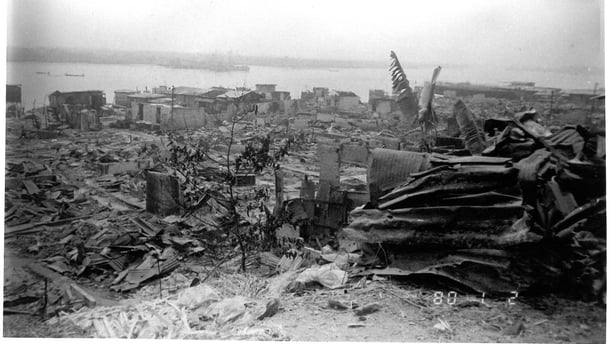 To provide relief for Ogoni people, Saro-WIwa raised funds through the Catholic Church, aid organisations and businesses, such as the Body Shop, whose brand values promoted fair trade and sustainability. He relied on key organisations and figures in journalism and literary publishing, including Pen International and the Nobel laureate, Wole Soyinka, to publicise the Ogoni cause.
"In spite of massive government propaganda", he wrote to McCarron in October 1994, "we have won the propaganda war". This proved true, as recent Ogoni successes in the US and Dutch civil court cases show. He had succeeded in drawing global media attention to the Ogoni crisis and to the need for Western governments to hold Shell and other oil and gas corporations to account. Even as he watched his own life draw to an untimely end, he courageously rejoiced that "the cause cannot now die".
The Ogoni, including four widows of the Ogoni Nine, continue their struggle for environmental justice, but Saro-Wiwa had not died in vain. He'd succeeded in raising global awareness of the need for corporate social responsibility. It remains for us in Ireland to ensure fair treatment of communities elsewhere whose rights may be infringed by the resource-based industries on which we have come to depend.
---
The views expressed here are those of the author and do not represent or reflect the views of RTÉ
---