Analysis: the 19th century trade in dead bodies saw Dublin medical students regularly raiding burial grounds for corpses to dissect
By Shane McCorristine, University of Newcastle
Most people are familiar with the story of William Burke and William Hare, two Irish serial killers in Edinburgh who murdered 16 people in 1828 to sell to the anatomist Robert Knox. Yet the history of 'body-snatching' in Dublin, and the cruelty of the medical profession at the time, is even darker.
In the same year, James McCartney, the esteemed Professor of Anatomy at Trinity College Dublin, gave evidence to a Parliamentary Select Committee investigating the practices of anatomical schools in Britain and Ireland. McCartney admitted to introducing "regular parties of resurrection men" to obtain corpses for his students, with a "subject" - as they were called - costing around 10 shillings. Although each student was expected to dissect at least one corpse in the winter season, McCartney encouraged his students to "dissect an unlimited number of bodies".
In truth, these were well-known and long-standing practices whereby students at Trinity and the Royal College of Surgeons routinely raided the pauper burial ground at Bully's Acre in Kilmainham for for fresh bodies to dissect. The body-snatchers were occasionally detected, but acted with impunity because corpses, especially if naked, were traditionally not classed as property by law. If prosecuted at all, these offences were classed as misdemeanours.
We need your consent to load this rte-player contentWe use rte-player to manage extra content that can set cookies on your device and collect data about your activity. Please review their details and accept them to load the content.Manage Preferences
From RTÉ Radio 1's Doc On One, Grave Matter: The History of Body Snatchings from 1994 investigates how the growth of medical schools in Ireland in the 18th and 19th centuries increased demand for bodies for students to practice on
With its high mortality rates and large pauper population, Dublin had an international reputation for cheap "subjects", a fact which led to an upsurge in so-called "carcass merchants". Anatomy teachers expected medical students to dissect up to three bodies during a winter session. As there were an estimated 500 dissecting pupils in Dublin in 1829, this implies that some 1,500 bodies were needed annually to meet demand. Behind this statistic lies untold and undocumented stories of grief, poverty, and burial rites upturned and disregarded.
The reason students stole the bodies of the poor was because there was no culture of body donation, despite McCartney's public campaign for this. With dissection becoming a key part of medical education by the late 18th century, learning to be a surgeon who could heal the living demanded ready access to the dead. Taking a dissection class meant signing up for one of the nightly raids on Bully's Acre.
This desire for bodies turned into a war on the poor, the unclaimed and the unprotected dead. We can find tangible evidence for the aftermath of these practices in archaeological digs at Trinity which have uncovered human remains "roughly concealed" under a cellar floor in the building where McCartney taught his students. At least two other body dumps have been located on the Trinity campus.
We need your consent to load this rte-player contentWe use rte-player to manage extra content that can set cookies on your device and collect data about your activity. Please review their details and accept them to load the content.Manage Preferences
From RTÉ Archives, George Devlin reports for RTÉ News in 1984 on how the grisly trade of body-snatching flourished for 100 years in Dublin
However these raids inspired resistance from some quarters and we can also find tangible evidence for this today in the watchtowers at Glasnevin Cemetery and the guardhouse at Goldenbridge Cemetery, both designed during this peak period of body-snatching. Drumcondra Churchyard also has a fine example of a "mortsafe", which was an option for wealthier families to protect their dead. Popular antipathy towards anatomy became stronger in the 1820s just as more medical schools were founded in Dublin, promising to provide students with abundant bodies for dissection. By 1829 the term "sack'em up" had become a popular insult among Dubliners.
What made McCartney's evidence disturbing was that he seemed oblivious to the outrage these practices caused among the living. We know from newspaper accounts that bodies were stolen at wakes, people were held at gunpoint in graveyards while their dead were taken, and watchmen were shot dead carrying out their duties.
Despite this, McCartney blamed the burgeoning export trade in Irish corpses to London and Edinburgh for inflaming popular opinion on the matter. He was also concerned that people were harming his resurrectionist gangs as they went about their business, forcing them to travel further beyond Dublin city. McCartney was also upset that as the demand for corpses increased in the 1820s, so too did their value, breaking open his cartel to a wider market in Irish flesh.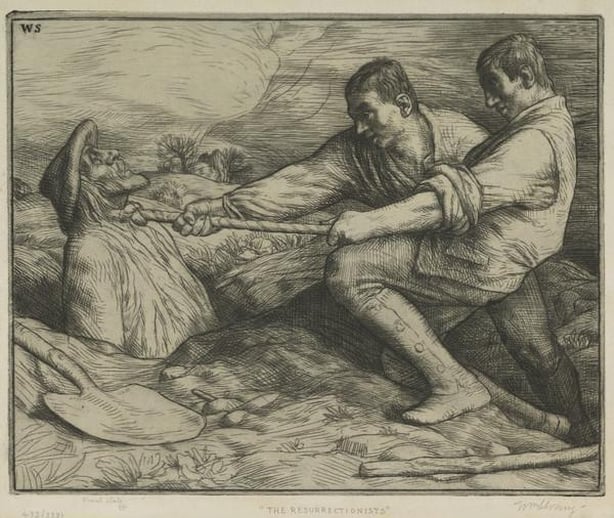 When dead people are named "subjects", it is a sign that medical professionals, by necessity, distance themselves from the personality of the corpse they are dissecting. But the consequences of carrying out these acts in contravention of the law, and contemporary moral, ethical, and religious beliefs, exposes a dark world of body trading with the corpse valued as a commodity. The surgeons and the students sustained a system of criminality and corruption, involving gravediggers, sextons, police, and magistrates, all in the name of science, progress, and profit. Of course in such a system, minor nodes in the network are expendable
In 1827, Luke Redmond, a porter in the Royal College of Surgeons, died after being flogged and ducked in the Liffey by an anti-resurrectionist mob. His widow applied to the College Council for £10 as "some small relief" after her husband died "in the service of the College". The motion was voted down by the fellows, but £100 was soon after granted to purchase a plate in honour of the retiring treasurer.
There were major shoot-outs at the Old Merrion graveyard in 1828 and Glasnevin in 1830 during which attackers and defenders were seriously injured. Things became so bad that Sir John Byng, the Commander-in-Chief of Ireland, had to establish an armed militia - the 'St. John's Humane Society' - to protect Bully's Acre. These guards increased the levels of violence and then went rogue and become body-snatchers themselves, refusing to surrender their weapons. There is evidence that at least five resurrectionists were shot dead around this time, while one was whipped with a "cat-o'-nine tails made with wire".
These guards went rogue and become body-snatchers themselves, refusing to surrender their weapons
Reform was coming in the shape of the Anatomy Act 1832, which provided anatomists with lawful access to unclaimed corpses from the workhouses, where there was an abundant supply of the dead. It was planned to include the children of the brutal Foundling Hospital under the remit of the Act, but it was envisaged that "the idea that in the event of death, their remains would be dissected would have a very strong effect upon them by keeping their minds in a constant state of fear and depression".
Much has changed in medical education since the Anatomy Act, although scandals relating to the abuse of the dead occur with depressing regularity in Britain and Ireland. Meanwhile, in Glasnevin, not far from a watchtower which once protected the cemetery from the invasions of the body-snatchers, a plot and headstone commemorates the remains of those who now willingly donate their bodies for dissection in Dublin.
Dr Shane McCorristine is a Lecturer in History in the School of History, Classics and Archaeology at the University of Newcastle. He is a former Irish Research Council awardee.
---
The views expressed here are those of the author and do not represent or reflect the views of RTÉ
---