Opinion: the Irish government will need to institute unfamiliar accountability measures to apply carbon budgeting effectively
By Aideen O'Dochartaigh, Paul Price and Barry McMullin, DCU
The new Climate Action and Low Carbon Development Act represents a major and much-needed step up in climate ambition for Ireland. It requires a 51% reduction in greenhouse gas emissions by 2030, reaching net zero - where greenhouse gas emissions into the atmosphere on balance equal those extracted - by 2050. The stakes are high: recent extreme weather events have highlighted the devastating impacts of the climate emergency and we cannot afford to miss our new climate targets.
What is most interesting about the Climate Act is that it introduces a system of five-year "carbon budgets". For the first time, hard limits will be placed on the greenhouse gas emissions arising in each sector of the economy, much like the existing financial budgets provided to government departments each October. The ministers in charge must report annually on progress against these carbon budgets. Ministers will be held responsible if they exceed these budgets, a measure that will focus minds amid the many legal cases related to insufficient climate action taken against governments around the world.
But just setting carbon budgets does not guarantee emissions reduction. In the UK, after early emissions reductions under their carbon budgeting framework attributed largely to the closure of coal plants, the country is now on course to exceed its forthcoming budgets. The Irish government will need to institute unfamiliar accountability measures to apply carbon budgeting effectively. So how can we make carbon budgeting work for the government, climate and society?
We need your consent to load this rte-player contentWe use rte-player to manage extra content that can set cookies on your device and collect data about your activity. Please review their details and accept them to load the content.Manage Preferences
Form RTÉ Radio 1's Morning Ireland, Marie Donnelly from the Climate Change Advisory Council on what might be in this week's carbon budget
Key challenges to be addressed are how to calculate budgets and who is responsible for achieving them. During the development of the Act, several issues in relation to calculating emissions reduction targets arose. An initial target of 7% every year until 2030, which was broadly consistent with climate science, was agreed in the June 2020 programme for government. However, this became a 51% cut by 2030 a year later in the Act, which enables "backloading" i.e. smaller reductions in the short-term, including the current and subsequent government terms. This would leave a daunting task in the closing years of the decade (and beyond) and, crucially, mean more emissions in total over the period.
In addition, there are concerns that budgets will not be calculated on a globally equitable basis. In the Paris Agreement, nations agreed to align climate action equitably with limiting to 1.5ºC or well below 2ºC with the proviso that countries must do their fair share, with "developed" high-emitting countries (including Ireland), reducing emissions first and fastest, as they are largely responsible for warming to date due to their greenhouse gas emissions. Carbon budgets for Ireland based on this crucial equity principle would likely be considerably lower than the current estimates.
Budgets are an excellent example of responsibility accounting, where cost and income streams are assigned to individuals or teams, who become accountable for achieving results. Applying this principle to carbon budgeting is not straightforward, as the drivers of carbon emissions intersect across sectors and government departments in multiple ways.
We need your consent to load this rte-player contentWe use rte-player to manage extra content that can set cookies on your device and collect data about your activity. Please review their details and accept them to load the content.Manage Preferences
From RTÉ Radio 1's Drivetime, Oisín Coghlan from Friends of the Earth and Eugene Drennan from the Irish Road Haulage Association discuss the upcoming carbon budget
For example, as electric vehicles proliferate, transport emissions will become more closely tied to electricity emissions. It is easy to identify who is responsible when transport and energy both fall under the remit of the same Minister, as in Eamon Ryan's current portfolio, but future departmental reshuffles could mean that responsibility is split between two ministers. Careful control measures will be required to determine who gets the credit or carries the can.
To tackle these challenges, carbon budgets must meet key criteria of transparency, participation and responsiveness. First, methodologies and assumptions must be clear and transparent to ensure that everyone involved in the carbon budgeting process understands what is required of them and how to achieve it. Carbon budgets will be set by the Government, following proposals from the Climate Change Advisory Council; although the Council is also constrained by government "regulations" (as yet unpublished), a caveat which has been cited as potentially undermining the role of the Council.
In the UK, where the process has been ongoing since 2008, the Climate Change Committee publishes minutes of its monthly meetings on carbon budgeting (and other matters) and makes all background data of the calculations available. Annual progress reports on the Committee's website also present data in accessible ways, such as traffic light graphs to monitor progress of each government department. Similar reporting in Ireland will greatly enhance the legitimacy of the process, internally in government departments and externally with the public. It will also enable people to hold this and future governments to account for promises made on climate.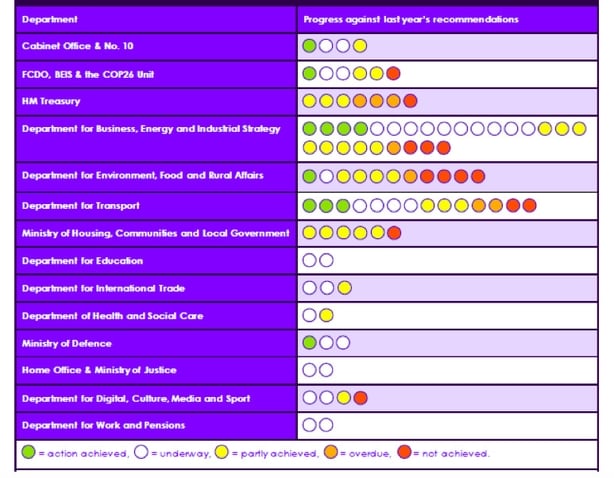 Second, in many firms, old-fashioned top-down budgeting methods have been superseded by more participative budgeting approaches, where those most directly affected by the budget constraints are involved in its development. Climate policy in Ireland has a mixed record in this regard, benefitting from a pioneering Citizens' Assembly on climate in 2017 but suffering for example from a planning regime which favours powerful powerful interest groups over public participation.
Participatory carbon budgeting will require equity-focused policy making, where views and knowledge from marginalised and vulnerable groups and those most affected by climate change (which often overlap) are actively sought. This can be done, for example, through engagement with Oireachtas committees across departments, and with the Climate Change Advisory Council, along with broader public consultations.
Finally, budgeting has a reputation as a static process, with budgets incrementally updated based on prior year figures, without consideration of the external environment or opportunities for innovation. This is changing in many firms, and budgeting is becoming more responsive. For example, some adopt zero-based budgeting, where the budget is based not on the prior year but created from "zero" based on up to date information.
We need your consent to load this rte-player contentWe use rte-player to manage extra content that can set cookies on your device and collect data about your activity. Please review their details and accept them to load the content.Manage Preferences
From RTÉ Radio 1's Morning Ireland, Tim Cullinan from the IFA on how the carbon budget plan will have a major impact on Irish farming
While greenhouse gas emissions reductions are certainly set in stone if we are to remain below 1.5C warming, budgeting methodologies and assumptions are not. For example, current energy-carbon modelling depends on ESRI modelling, that assumes continuing economic growth which may not be compatible with the emissions reduction required. Responsive carbon budgeting means regularly challenging such assumptions, and utilising scenario planning tools to model different kinds of futures that centre equity and resilience.
Turning off the tap on carbon will prove more challenging for the government than remaining within a financial budget. It is essential that the carbon budgeting process is resourced accordingly, and meets the criteria of transparency, participation and responsiveness. Ireland is one of few countries in the world, including the UK, France and New Zealand, to take the crucial step of introducing these budgets. If we can demonstrate effective, Paris-aligned, equity-driven carbon budgeting, Ireland can become a diplomatic leader on climate on the world stage, illustrating that it is possible to achieve the fair and rapid emissions reduction we desperately need for a safe planet, now and in the future.
Dr Aideen O'Dochartaigh is an Assistant Professor in Accounting at the DCU Business School. She is a former Irish Research Council awardee. Paul Price is a Climate Change Advisory Council Carbon Budget Research Fellow in the School of Electronic Engineering at DCU. Prof Barry McMullin is Executive Dean of the DCU Faculty of Engineering and Computing.
---
The views expressed here are those of the author and do not represent or reflect the views of RTÉ
---