Analysis: it was common practice for people in rural Ireland to migrate to the hills for the summer right up to the early 1900s
This article is now available above as a Brainstorm podcast. You can subscribe to the Brainstorm podcast via Apple, Stitcher, Spotify or wherever you get your podcasts.
The idea of leaving the house and doing some travelling over the summer, even within Ireland, is probably on the minds of a few of us these days. Seasonal holidaymaking had become commonplace in the last few decades, so it is obviously now a shock for that to be taken away.
But in Ireland's not-so-distant past, travelling to scenic landscapes in summertime was not so much a form of recreation as a vital social and economic way of life.
It is a little-known fact that up to the mid-1800s in rural Ireland, and the early 1900s in parts of the west, it was common practice for people to migrate to the hills for the summer.
These journeys would be undertaken by families that owned cattle, usually dairy cows, and their goal was to take advantage of the seasonal burst of grass growth that takes place in upland areas from May onwards.
It also presented another advantage – by taking cattle out of the lowlands for several months, farmers were able to free up more ground on their home farms for tillage crops and hay meadows.
This highly-sophisticated system of farming was known as 'booleying', which stems from the Irish word buaile, meaning 'livestock enclosure' or 'milking-place in summer pasturage'.
It was last practised on Achill Island in the 1940s, having died out in the rest of the country over the course of the 1800s. But seasonal movements of people and livestock ('transhumance') remain common in some parts of Europe to this day, particularly in the Alps and the Carpathians of Romania.
One of the most interesting aspects of booleying is that it required people to re-locate for several months to what we would now consider remote bogs and mountain valleys. This was not just a case of sending one or two herders to 'count the cattle'.
The backbone of this system was dairying so significant numbers of people had to move up to the mountain pastures and stay there until at least September, milking the cows every day and churning their milk into butter. This butter played an important economic role in pre-modern Ireland, helping tenant farmers to tap into growing international markets during the 1600s and 1700s.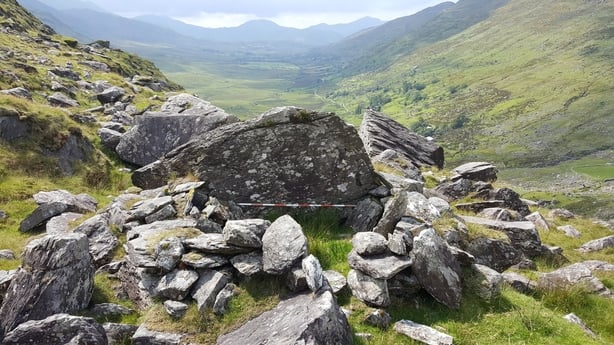 On many hillsides in Ireland today, one can still see the physical remains of this extraordinary way of life. The herders would sleep in groups of two to five in small one-roomed huts.
Typically these structures had stone walls with 'scraws' of peat (from the Irish scraitheacha) placed on top of them and then more scraws and/or heather used as roofing. Some older huts were probably built largely of wattle or wickerwork, especially before the 1700s when trees were more common in our uplands.
Fascinatingly, by the 1800s, it was mostly young people and teenage girls especially who had the job of looking after cows at these seasonal 'boolies'.
This gave rise to a vibrant but now largely forgotten cultural scene in Ireland's uplands. Oral history collected in the 1930s and 1940s in Connemara, Mayo, Donegal, and the Galtee Mountains makes clear that booleying facilitated the transmission of a lot of important cultural knowledge.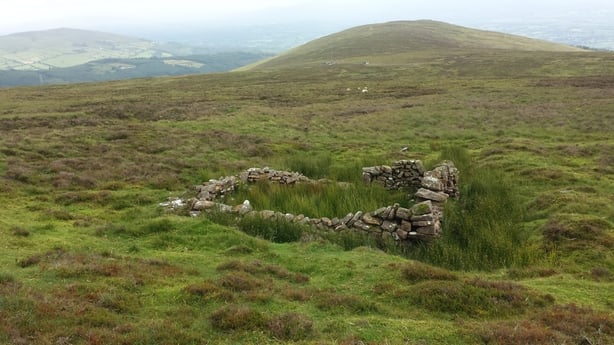 One man from Cloch Cheannaola in Donegal states that his mother had learned her songs from other dairymaids in the hills, while another account from Iorras Aintheach in Galway outlines how the girls not only sang but played musical instruments and danced as well.
But there could be danger too. Several folk stories in Irish from south Connemara and west Mayo portray upland booley sites as places where weird things were more likely to happen, especially at night. Hags or cailleacha frequently appear, cursing people or taking the form of a hare in order to steal milk from the cows.
Wolf attacks also occur in the stories despite that mammal having been extinct in Ireland since the mid-1700s. Strange men could even arrive and try to abduct a girl, though this usually resulted in the strangers being outwitted and physically beaten or killed.
These stories reflect the anxiety of communities that were sending their children several kilometres away from home, and some of them were no doubt intended as cautionary tales. In reality, socialising was expected on the summer pastures, with young men from the area visiting booley sites at night if they weren't already up there themselves as herders.
We need your consent to load this comcast-player contentWe use comcast-player to manage extra content that can set cookies on your device and collect data about your activity. Please review their details and accept them to load the content.Manage Preferences
From RTÉ Brainstorm, Eugene Costello on how Irish rural people would move with their animals to the hills for the summer
The small degree of independence which young women gained as participants in booleying was sometimes missed later on in life. There is an unmistakeable sense of loss in songs like Na Gamhna Geala and Aililiú na Gamhna, in which married women reminisce about their time looking after cows and calves in the hills.
The fluidity and freedom of booleying confounds the popular notion of 'old Ireland' as a staid place where inflexible traditions kept people in their place. Rural society had its rules but these were (and are) far more complex and liable to change over time than we tend to acknowledge.
Dr Eugene Costello has recently published a book on booleying called Transhumance and the Making of Ireland's Uplands, 1550-1900.
---
The views expressed here are those of the author and do not represent or reflect the views of RTÉ
---