Opinion: there is a fascinating body of Irish folklore and oral history that warns people against interfering with skulls and human remains
By Ciarán Walsh
Covid restrictions have forced us all to think about traditions relating to death and dying. The case of the Inishbofin skulls at TCD has added a curious twist to that story. An investigation into the provenance of those skulls has uncovered a long-forgotten tradition of placing skulls in medieval ruins and an associated body of folklore that warned people against interfering with them. The message was simple: don't kick that skull or the dead will come after you!
Niamh NicGhabhann provides an interesting background in the Irish Journal of Gothic and Horror Stories where she presented a history of disorderly burials in the 19th century that left great collections of skulls in medieval churches and abbeys. Increased regulation of burials and improved preservation of archaeological sites has erased all trace of this practice, although that took time.
In 2007, Marie Coyne compiled a history of the cemetery surrounding St Colman's Abbey on Inishbofin and recorded a significant gap between church records of deaths from 1919 onwards and identifiable graves. This situation lasted well into the 1960s, suggesting that the orderly state of modern burial grounds took many decades to achieve. In the meantime, it was not unusual to find human remains when digging new graves and there is a fascinating body of oral history and folklore that deals with this.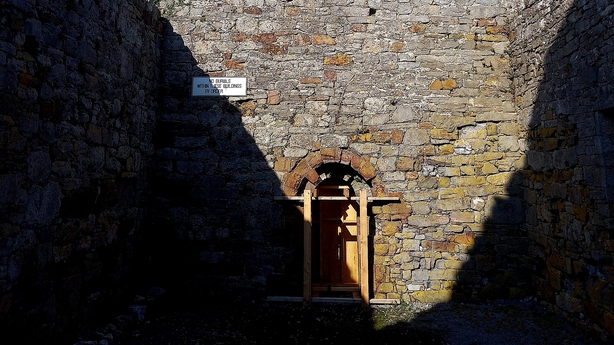 The Irish Folklore Commission organised a nationwide collection of folklore and local tradition in 5,000 primary schools between 1937 and 1939, producing 40,000 copybooks that make up the Schools' Collection. One copybook contains a story that a teacher collected from a young farmer in Mayo. Padraig Mac Giolla Phadraig told how John Kelly kicked a skull while digging a grave in Crossboyne and the owner of the skull brought Kelly back to the graveyard that night to be killed and buried. Kelly survived because his mother gave the stranger a cup of tea and the moral of the story is revealed in the dead man's warning: let the dead rest.
Collectors recorded other versions in Galway and Kerry and there are many variations on this theme, usually involving someone stealing a skull as a result of a dare or a bet. These stories begin with the digging of a grave, which, according to an informant in Donegal, usually produced "plenty of skulls".
The following story from Laois is typical. "A brave man" called Martin Delaney accepted a bet to go to a graveyard to take three skulls dug up by gravediggers and place them in a window in the church. Delaney went at midnight: "as he was taking one of the skulls he heard a voice saying 'Leave that there, that's mine'." The 'voice' usually belonged to the person who set the challenge and might also claim that the skull belonged to a mother, father, uncle or grandparent.
We need your consent to load this rte-player contentWe use rte-player to manage extra content that can set cookies on your device and collect data about your activity. Please review their details and accept them to load the content.Manage Preferences
From RTÉ Radio 1's Morning Ireland in 2019, the Archdeacon of Dublin Rev David Pierpoint on the discovery of The Crusader' and another skull taken from a crypt in St. Michan's Church
Like most of the protagonists, our friend Delaney won the bet without consequence, but others were not so lucky. A story from Offaly features a 'Protestant' who ignored a warning that he "should not touch the dead" and his house was invaded by rats, while "a soldier" in New Ross dropped dead after taking a skull. Protestants featured in many stories and, like the soldier, played the part of outsiders who were ignorant of or disregarded customary taboos.
These outsiders included antiquarians who collected skulls. William Wilde regarded the "graveyards of the Aran Isles" as a source of ancient Irish skulls and anthropologist A.C. Haddon discovered as much in Inishbofin in 1890. He described the theft of 13 skulls from a niche in St Colman's Abbey and continued 'collecting' skulls in the Aran Islands and The Glen (St Finian's Bay) in Kerry. A year later, Ernest Holt informed Haddon that he "found a great skull place in Sligo … behind the abbey", but he "could not bring any away as we had no cloaks or anything and the place is in the middle of a town."
This suggests that graverobbing was routine and that the 'collectors' knew it was unethical by scientific standards and taboo by custom. This scenario featured in a remarkable story from Roscrea, Co Tipperary. "A skull was found near Saint Kieran's church at Clareen. The Protestant Minister of that place sent the skull to the Museum in Dublin. From the time he sent it, he got a terrible head-ache, and this head-ache never left him, until the skull was brought back and placed in the exact spot from which it was taken."
We need your consent to load this rte-player contentWe use rte-player to manage extra content that can set cookies on your device and collect data about your activity. Please review their details and accept them to load the content.Manage Preferences
From RTÉ Brainstorm, how Victorian anthropologist Alfred Haddon used skull measuring to investigate the racial origins of isolated communities in the west of Ireland
Stories like this formed part of an oral tradition that regulated death and dying, a sort of Irish 'book' of the dead that decrees that any remains discovered during any excavation should be reburied or placed in a church and left alone.
The practice of placing skulls in churches came to an end in the early 1900s. A story from Mayo tells how a priest "ordered that no skull should be left overground" and Owen Coyne told Marie Coyne that a priest in Inishbofin followed suit in the 1930s or 1940s. However, the skulls that Haddon stole remain overground and on display in TCD. The question now is if the taboo kicks in and the retention of these skulls becomes a "head-ache" for their keepers?
Dr Ciarán Walsh is an independent curator and writer. He is a fellow of the Royal Anthropological Institute, a member of the History of Anthropology Network and the European Association of Social Anthropologists. He holds a PhD from Maynooth University and is a former Irish Research Council awardee.
---
The views expressed here are those of the author and do not represent or reflect the views of RTÉ
---