Analysis: Dublin's Hercules gym has been in existence since 1935 and provides a different pathway in the Irish gym landscape
By Conor Heffernan, Ulster University
Prior to the pandemic, it was estimated that over 500,000 Irishmen and women held a gym membership. Covid-19 has admittedly impacted those numbers, and the numbers of gyms still operating in Ireland, but the significance of this figure holds true. A great number of is hold gym memberships and a great number of gyms exist to satisfy this demand, but this is not a perfect relationship. The average lifecycle of a gym is typically a handful of years and retaining members is one of the hardest tasks any gym faces.
Like Britain and the United States, the Irish gym landscape is split between large chains and smaller boutique studios. Where chains offer pools, saunas and other 'extras', boutique studios provide specialised classes in spinning, yoga or zumba. Both have their origins in mid-20th century health practices.
During the 1950s and 1960s, American bodybuilder and entrepreneur Vic Tanny oversaw Vic Tanny Centers, which are largely considered to be the first successful gym chain. Tanny sold franchises, used aggressive marketing and, in time, oversubscribed his memberships. Put simply, he sold more gym memberships than could ever be used at a single time.
We need your consent to load this YouTube contentWe use YouTube to manage extra content that can set cookies on your device and collect data about your activity. Please review their details and accept them to load the content.Manage Preferences
1977 ad for Vic Tannay Gyms starring Arnold Schwarzenegger
Tanny's Centers eventually went bankrupt but the key tenets endured in his successors. Gyms have largely operated on the principle that they can sell more memberships than will be used and that aggressive marketing is the prime method to success. These are generalisations, of course, but they help characterise a large number of the gyms, including those in Ireland.
Other pathways exist which, although rare, are critical. Ireland's oldest gym provides one such example. Founded in 1935, Hercules still operates today in Dublin. It is Ireland's oldest gym by several decades, and its fascinating history provides some interesting lessons for those within the fitness space.
(1) Community matters
When English bantamweight wrestler, George Dale opened the Hercules Gymnasium, his overt purpose was to provide a space for young men to train. Hercules' original site was on Ormond Quay in Dublin which was a working-class area at that time. Dale wanted to push boys from 'delinquency' to upright living and it quickly became a hub for all involved.
One member, Eddie O'Regan, recounted his first experience entering the club in 1937. "I joined the club and came three nights a week to work out. The premises were primitive, but what it lacked in fittings, it made up in enthusiasm, particularly among the few devoted founder-members who had built the whole thing themselves from nothing."
We need your consent to load this YouTube contentWe use YouTube to manage extra content that can set cookies on your device and collect data about your activity. Please review their details and accept them to load the content.Manage Preferences
From Hercules Gym Dublin, highlights of the club's 2009 Open Weightlifting Championships
During the 1950s and 1960s, Hercules was pivotal in the organisation of Irish weightlifting and bodybuilding. When the Club moved from Ormond Quay to Lurgan Street in 1985, members helped move the equipment. Members regularly took part in Dublin 'Sport For All' demonstrations in the 1980s to promote sport in Ireland and were key figures in efforts to promote Irish weightlifting during these decades.
Sociologist Ray Oldenburg famously coined the idea of a 'third place' to describe a much needed social outlet between home and the workplace. For some in Ireland this could take the form of church, pubs, GAA clubs etc. Hercules has historically become a 'third place' for members and the reasons for this stem largely from its membership structure.
(2) Gyms as co-ops
Hercules was created as a 'Health and Strength' gymnasium. Founded in 1898, Health and Strength (H & S) was Britain's longest running weightlifting magazine. In fact, it ceased publishing issues only a few years ago. When Dale opened Hercules in 1935, H&S was Britain and Ireland's most popular fitness magazine.
The magazine was where Irishmen turned for training advice, inspiration and organisation. During the 1930s, H&S was promoting its 'Health and Strength League' whose motto was 'Sacred Thy Body Even as Thy Soul.' The League's purpose was to encourage weight training across countries and across classes.
Hercules stands in stark contrast to the profit-driven models found throughout Ireland
H & S encouraged readers to create 'League' gyms whose motives would not be profit driven but community driven. Gyms founded along these principles were set up then on a co-operative basis and every member of the gym became a part owner. Members were elected to committees who would then oversee the club's management. Any profit that was made was invested directly back into the club itself. Unfortunately no documents remain as to when and why Hercules adopted this method, but it was likely done early owing to the gym's H&S affiliation.
This co-op style of ownership, which still exists, ensured members took an active role in the gym's successes and failures. They were the owners and the members. Such buy in explains how and why the club has become a third place for thousands of trainees.
(3) A blend of recreation and competition
Hercules has played an active role since its foundation in Irish weightlifting, bodybuilding, wrestling and powerlifting. Alongside clubs in Northern Ireland, Hercules was pivotal in the development of regular Irish weightlifting competitions. One of Ireland's first Olympic weightlifters Tommy Hayden was a Hercules stalwart. and he competed at the 1960 games alongside Sammy Dalzell for Ireland. Hayden went on to coach future generations of Irish weightlifters in Hercs for the next several decades.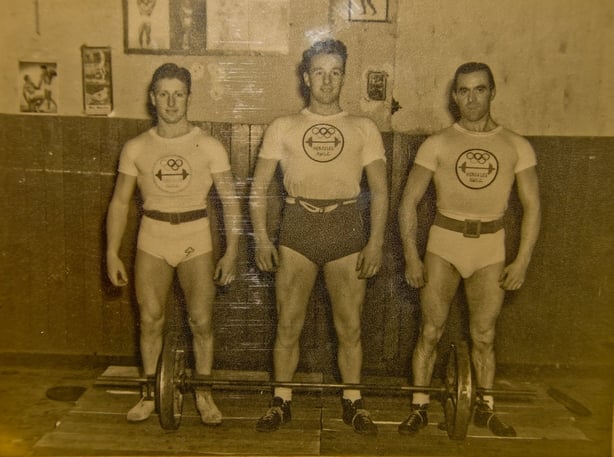 Members were also pivotal in the development of Irish bodybuilding during this period, specifically, the Mr. Ireland competition. First held in Belfast in 1939, the show became Ireland's premier bodybuilding competition. While the Belfast based Merv Cotter won the first show and dominated the early bodybuilding scene, Hercules always contributed a solid number of competitors.
Finally, Hercules became a hub of powerlifting when the sport came to Ireland in the 1960s and still contributes athletes to major international competitions. Across these sports, the gym has been remarkably responsive in attracting new members, from teenagers to 'masters' lifters of all areas, age groups and sexes. The past two decades, in particular, has seen the club expand efforts to attract the general public through its doors.
From its very foundation, Hercules has presented a gym model that is not profit driven. It is a place which prizes community and competition in equal measure and is open to people of all backgrounds. It stands in stark contrast to the profit-driven models found throughout Ireland. Accepting Hercules as an anomaly, its focus on listening to members, engaging the community and encouraging voluntarism provides hints to new and existing gym owners seeking to survive in an increasingly competitive landscape. Hercules' history shows the value in such an approach.
Dr Conor Heffernan is a lecturer in the sociology of sport at Ulster University. He's the author of The History of Physical Culture in Ireland, the first book to examine the beginnings of the Irish interest in gym cultures. He also runs the history of fitness website Physical Culture Study and is a former Irish Research Council awardee.
---
The views expressed here are those of the author and do not represent or reflect the views of RTÉ
---