Analysis: from more trees to fewer cars, turning cities into better walking environments is of benefit to all
This article is now available above as a Brainstorm podcast. You can subscribe to the Brainstorm podcast via Apple, Stitcher, Spotify or wherever you get your podcasts.
Sir, One of the loveliest thing about walking down Dublin's O'Connell Street this week was the sound of human voices, for once not drowned out by cars. Well done, Dublin City Council, for injecting some soul back into our city. - Yours, etc. (A letter to the Irish Times on August 29th 2002 following Car Free Day in the city)
Walking is an essential element of the character of most cities. On the streets, we encounter our friends and fellow citizens, as we make our way to work, shop or simply stroll.
When the pandemic lockdown started in Ireland last March, the guideline for travel was 2km from our homes and no more. This is a perfect distance for walking. Throughout Ireland, people took to roads, forests and parks and walked or maybe ran or occasionally skated and cycled.
The size of the city
A 2km walk can be done comfortably in half an hour. Standing on Grattan Bridge in Dublin's city centre, it's 2km to either the Royal or the Grand Canal, Docklands or the Phoenix Park. Dublin's centre, between the Royal and Grand canals, is perfectly sized for walking and this holds for all Irish cities. Dublin's walkability is most famously celebrated in James Joyce's Ulysses as Leopold Blooms travels through the city.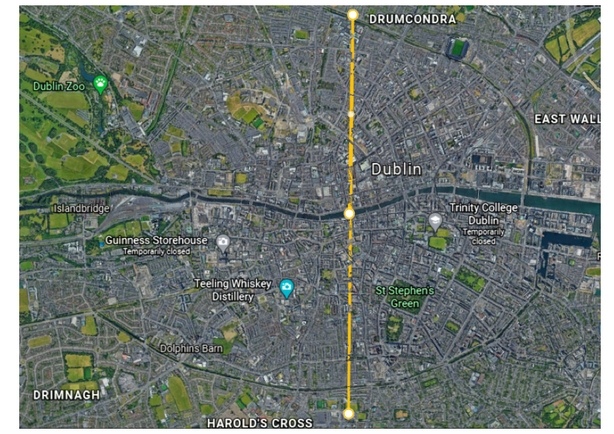 Over the past year, the opportunities for walker and cyclist have been increasing as Dublin City Council has begun to implement a plan for increased pedestrianisation around Grafton Street. These changes can be seen across the globe in moves to make cities more amenable to cyclist and walkers. Changes that make more space for walkers and less for cars have environmental paybacks too.
Breath in that cleaner air
Kolin Schunck is a research and intelligence analyst at Lufthansa Innovation Hub who has come up with an infographic on modes of transport and carbon emissions. The data factors in carbon emissions during manufacturing and maintenance and, of course, walking is the winner with zero emissions. Cars, hybrid, diesel and petrol are clearly the worst offenders. In addition to CO2, the traffic on city streets is emitting NO2 and particulate matter that negatively impact on health.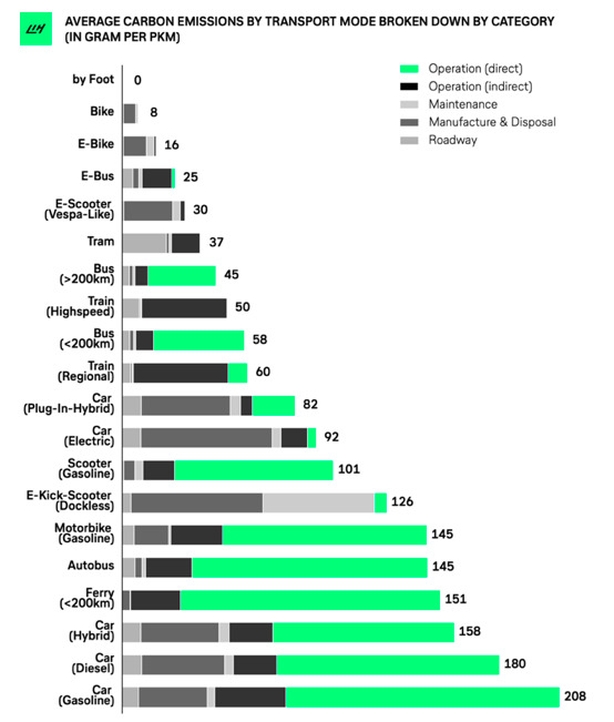 Count the trees
In addition to cleaner air from less traffic, the pedestrian's environment should be further enhanced by the greening of the city with more trees. Professor Gerald Mills and colleagues from UCD Geography at Mapping Green Dublin show us that the city-centre is virtually treeless.
Apart from the aesthetic and ecological value of trees in a cityscape, trees provide shade and shelter from sun and rain and help to quell the noise of traffic and separate walkers and other road users. Making the city more pleasant for walkers is an essential part of better walkability.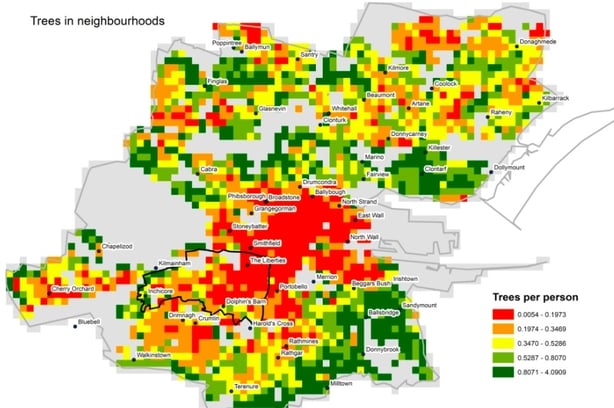 'We can live without cars in the city'
Feargus O'Sullivan writes in City Lab of plans in Amsterdam to remove 1,500 parking spots a year until 2025. That's 11,200 in total and bicycle parking, sidewalks and green spaces will replace the 11.5 km of street margins that will be freed.
The car-dependent city is an opportunity squandered because we can live without cars in the city. My family - my wife, four children, a dog and myself - have been doing just that for the past 25 years not far from the banks of the Royal Canal. Bikes, buses, Luas, DART, taxis and walking have been our modes of transport, but mostly walking. All our modes of transport beat cars on CO2 emissions and, in spite of being without a car, we have managed to travel throughout Ireland and further afield.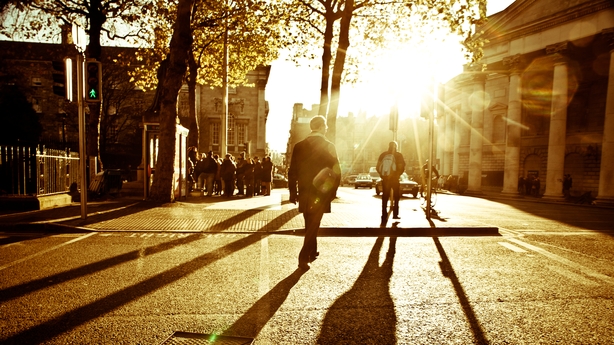 Walking is good for our health and the benefits are often outlined in the medical literature. A study by William Tigbe and colleagues outlines the clear benefits of walking on Glasgow's postal workers. The magic number of steps to be taken per day was 15,000, which is about 10k. It was possible to be healthy by remaining upright for 7 hours per day.
Making cities better walking environments benefits all. The city become a more pleasant place to traverse. Wider footpaths bring bars and restaurants outdoors. The air is cleaner and, like our letter-writing friend above, we can all hear ourselves talk.
---
The views expressed here are those of the author and do not represent or reflect the views of RTÉ
---