Analysis: the Irish Free State stamps of the 1920s were a way of decolonising the Irish visual imagination
By Billy Shortall, TCD
This article is now available above as a Brainstorm podcast. You can subscribe to the Brainstorm podcast via Apple, Stitcher, Spotify or wherever you get your podcasts.
An Post recently announced a competition for an artist to create an art piece celebrating next year's centenary of Saorstát Éireann, the Irish Free State. Besides a prize of €10,000 for the artist, the winning work will also feature on a postage stamp to mark the event on December 6th, 2022. The competition is being run by Business to Arts in partnership with An Post and the winning entry will be chosen later this year by a committee chaired by artist Mick O'Dea.
The first ever Irish stamp design, issued on this date a century ago, marked the new State and the signing of the Anglo-Irish treaty a year earlier. Prior to Irish independence - and for a period afterwards - British stamps decorated with English monarchs and imperial iconography were used in Ireland. From early 1922, these British designs were overprinted with text, "Rialtas Sealadach na hÉireann 1922" (Provisional Government of Ireland 1922) or "Saorstát Éireann 1922", to indicate an independent Irish postal system. Control of the Postal system transferred from British to Irish authorities on March 31st, 1922.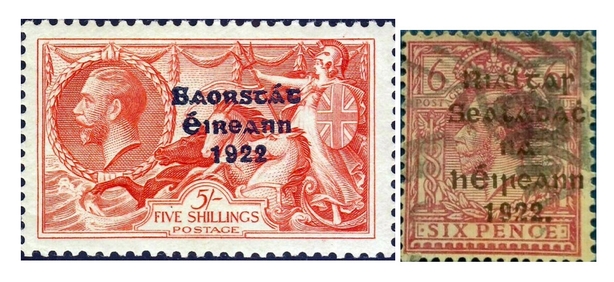 In February 1922, Postmaster General J.J. Walsh TD launched a competition to design stamps for the nascent State. Designs were required to be 'symbolical in character, and the inscriptions must be in Gaelic characters'. A prize of £25 was offered for each design accepted.
The large number of competition entries were exhibited to the public in 18 glass cases during August 1922 at the RDS. Described as a 'truly amazing variety', they included designs from both amateur designers and professional artists such as Harry Clarke and Wilhelmina Geddes.
Designs by James Ingram, Lily Williams, John J. O'Reilly and Millicent Grace Girling were selected and Ingram's design was the first Irish designed stamp used in the independent Free State. The denomination was 2d, two old pennies. Printed in deep green on white wove paper, it was watermarked with a monogram S.E. for Saorstát Éireann. In a frame of a Romanesque arch, shamrocks and Celtic-revivalist zoomorphic ornamentation, it featured a map of Ireland without designating the border, 'the image had political as well as symbolic importance'.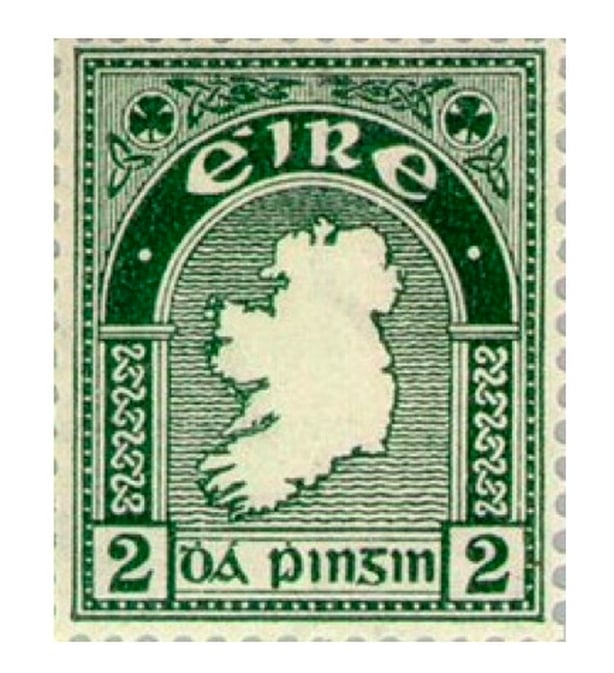 This caused a furore because it was seen as the State claiming the Six Counties. In 1922, there was 'hope and expectation that before long the barriers that separated [the island] would disappear and dissolve' and Ingram's design reinforced visually the aspirational political and territorial aims of the Irish State. However, it can also be argued that the map stamp was technically accurate when it issued, because the Treaty inferred that Northern Ireland was part of the Irish Free State on its creation on the 6th December 1922. Under the terms of the treaty, Northern Ireland had an option to opt-out, which was officially invoked on December 8th, 1922.
The other three stamps came into circulation the following year. Williams' design featured a cross based to the 12th-century Cross of Cong with shamrocks around it. Girling put forward a shield decorated with the emblems of the four provinces, again representing the whole island. O'Reilly's design was of An Claidheamh Soluis ('Sword of Light' and also the name of a journal edited by Padraig Pearse) within a mandorla (a shape associated with Christian art) and a Celtic-revivalist zoomorphic design.

All the stamps had Éire in Gaelic font, although Éire was not the official name of the country until the 1937 Constitution was enacted but, in this context, it declared a Gaelic identity for an international audience. These stamps symbolised Irish nationalism as Catholic and an ancient nation with a distinctive cultural identity.
Walsh was also the minister responsible for having the imperial red post boxes painted green throughout the country. Other national symbols of Irish identity appeared in the following years, such as Irish passports (1923), official government seals (1924) and coinage (1928). The next decade also saw other stamp designs by artists Leo Whelan, Edward Lawrenson, George Atkinson and Richard King.
We need your consent to load this rte-player contentWe use rte-player to manage extra content that can set cookies on your device and collect data about your activity. Please review their details and accept them to load the content.Manage Preferences
From RTÉ Archives, 1966 RTÉ News' report on the issue of 1916 Easter Rising commemorative stamps
It was important for the new State to use Irish sources of reference, symbols and designs on everyday official objects to orientate Irish people away from their colonial past and give them visual ingredients to build a distinctive Irish identity. These early stamps were essential components in decolonising the Irish visual imagination. W.B. Yeats referred to coins and stamps as 'the silent ambassadors of national taste'. Irish stamps were also visual ambassadors of identity to a national and international audience.
Recognising the value and agency of stamp design, the Irish Free State government selected compositions that visually linked the State with pre-colonial Catholic Ireland and asserted the nation's cultural heritage, distinctiveness and independence. The outcome of the current stamp design competition is awaited with interest.
Dr Billy Shortall is a recent PhD graduate in History of Art from TCD.
---
The views expressed here are those of the author and do not represent or reflect the views of RTÉ
---