A new exhibition from the English photographer shows the country moving from black and white into colour
Martin Parr is an English documentary photographer and photojournalist. He is also someone with a close connection with Ireland as he and his wife, Susie moved to Co Roscommon in 1980 and his cameras with him. Parr's Ireland, a new exhibition at the Gallery of Photography in Dublin, tracks the country's progress from traditional ways of life, fair days an d mass going through the first glimpses of prosperity in the building of bungalows and McDonald's drive-ins right up to the modern Ireland of gay marriage and Dublin's tech explosion.
Parr, who is a visiting professor at Ulster University, recently talked to Seán Rocks on Arena on RTE Radio 1 about the exhibition and its companion book, From the Pope to a Flat White, Ireland 1979-2019. (This piece includes excerpts from the conversation which have been lightly edited for length and clarity - full discussion can be heard above).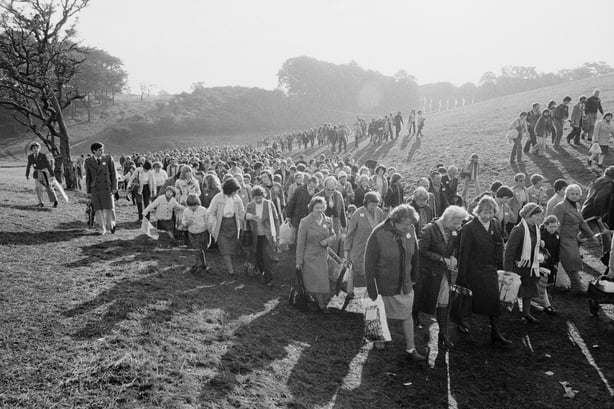 Both exhibition and book clearly mark a big change in Ireland over 40 years. "The difference between Ireland then and Ireland now is quite remarkable", says Parr. "I've never seen a country change as much. If I'd have told you back in 1980, that Ireland would have a gay prime minister, gay teachers and gay weddings, I'd have been laughed at. I've tried to pick out key things which are tokens and icons of how Ireland has changed and developed."
When Parr first arrived with his camera, he was arriving into what he knew was "a very photogenic place", he says. "I knew that there was this thing starting to change and evolve. Susie had a job, so we got some income and I had this opportunity to explore Ireland It was a fantastic time, great crack, meeting friends, a little bit of tension because of the north and the Bobby Sands and co but at the same time, it was one of the most interesting periods I've ever lived through. It's something I will never forget.
"When I think of it now, it's like going back in time to find a place which doesn't exist now because though the west of Ireland now is still awfully charming you haven't got quite those old farmers, the old bars, the old way of life, the very slow way of life that was so important back in the late 1970s and early 1980s."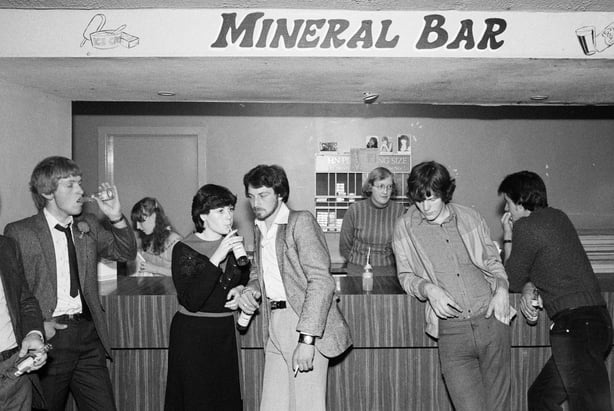 One of the aspects of a changing Ireland which Parr noted was the Americanisation of Ireland in terms of houses and shops. "I remember I was working with Fintan O'Toole on the first Irish book I did (A Fair Day, 1984) and he wrote a brilliant essay about the bungalows and this creeping Americanisation. And it's something that he picks up on and something that I echoed in my photographs. He was very influential on me in trying to work out exactly what was going on and how these things were developing and emerging in contemporary Ireland."
Besides photos of a gay wedding and tech companies in Dublin, Parr used an image of a barista's flat white coffee to show the big changes which have occured in Ireland over the last 40 years. "I think if you asked for a flat white down in Co Roscommon in 1980, they wouldn't know what to say or do. You'd have an instant cup of coffee and that was it. How things have changed!"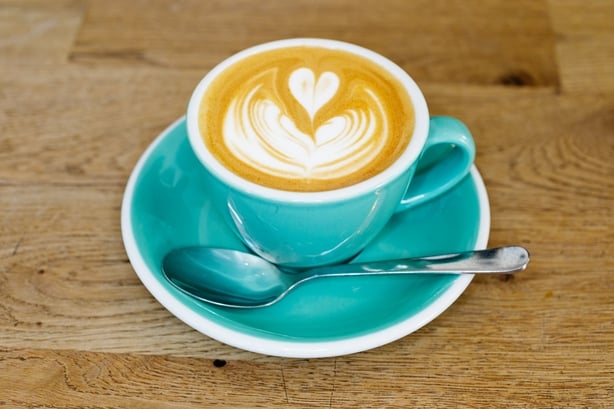 Most of the early photos are in black and white, which lend the subjects a historical tone and feeling. "I think they do look more nostalgic", says Parr. "Back in the 1970s, if you're a serious photographer, you're almost obliged to shoot in black and white. Colour was the domain of snapshot photography and commercial photography so I moved from black and white to colour in the mid 1980s when I'd come back from Ireland. But those early days in Ireland were all done in black and white and they feel more timeless because of that."
The move to colour also had another effect, according to Parr. "The black and white pictures are more empathetic with the subject matter; with a color picture, it can be more like a critique. In a sense, I changed from celebrating that traditional lifestyle that we found in the west to critiquing a modern lifestyle that we've found in Dublin.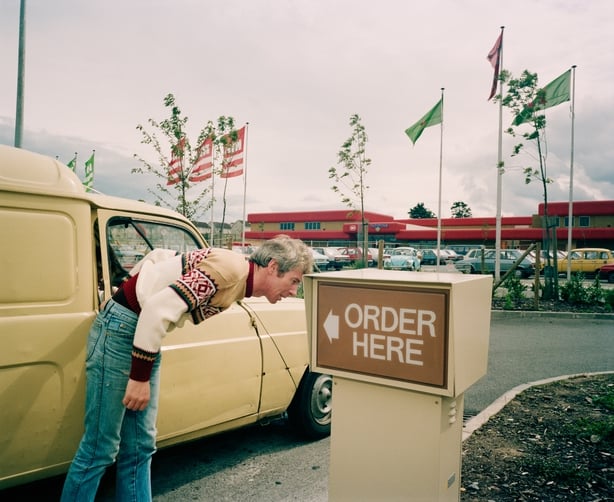 "I think color is very suitable to show this modern aspirational lifestyle that was evolving in Ireland at that time so it all made perfect sense for me. In fact, since I changed from black and white to color, I've never used black and white at all. Although I have great affection for the old black and white pictures, I'm as much about a critique of society as a celebration of it."
So what then makes a good photo? "You hope to have some sort of twist or some kind of peg, which the photograph rests on to give it some substance. If you like, there's a story behind it which a viewer can appreciate and find out for themselves. I think that's a very good way of putting together a good picture and many of mine have this juxtaposition or ambiguity within them."

Parr's Ireland is at the Gallery of Photography, Dublin until September 4th. From the Pope to a Flat White, Ireland 1979-2019 is published by Damiani.