Analysis: people who are vision impaired faced considerable barriers to taking part in exercise and sport long before lockdown
The Covid-19 pandemic has had an effect on all our lives. For many, the way we live changed greatly as we were housebound and limited by successive lockdowns and restrictions. This has been acknowledged to have presented considerable challenges to our health and wellbeing.
For those who are vision impaired and blind, the pandemic has pesented additional challenges. Social distancing and being unable to make physical contact with a sighted guide have that meant that exercise and sport are more difficult. An Athletics Ireland survey in May 2020 showed the Irish population were walking and running more during lockdown, but an NCBI/ Vision Sports Ireland survey at the same time showed that this was not the case for those who were vision impaired.
People who are vision impaired faced considerable barriers to participation in physical exercise and sport well before lockdown. These included a lack of access to sporting venues and events, as well as a general feeling of not being welcomed. Many people who are vision impaired require additional support to participate, such as a sighted guide for walking and running or a pilot for cycling.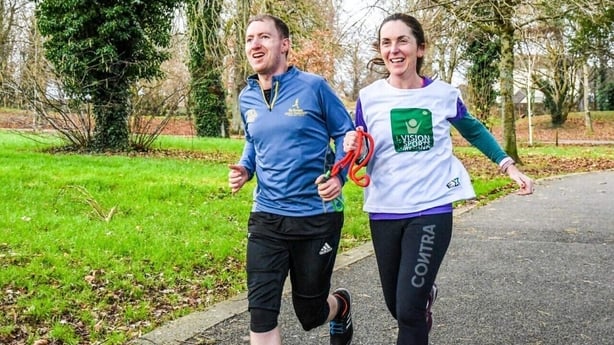 Opportunities to be outside in nature are also restricted, with many people who are vision impaired preferring to exercise in the familiar surroundings of their own home or at specialised events. In turn, event organisers and volunteers have cited a lack of training on how to accommodate a person with a disability such as vision impairment.
Since 2017, parkrun Ireland has been working to support vision impaired walkers and runners. Parkruns are free, weekly, community-led 5k events which took place all over Ireland until their suspension in March 2020 due to the pandemic. Some 50 of the 95 Irish parkrun locations have supported a vision impaired person at their Saturday morning get togethers with the assistance of local volunteer sighted guides. Support has included walking or running by somebody's side describing the path ahead, assisting with access to the venue and, most importantly, making sure that they are included in the visit to the local coffee shop afterwards.
While Covid-19 has prevented the events themselves taking place, some volunteers have continued to support their vision impaired fellow parkrunners. A group of volunteers at Porterstown in Dublin have supported two local vision impaired runners in keeping active and connected during lockdown. Using an innovative way of guiding and using a traditional long cane to maintain social distancing, the group have got together most weeks since May 2020 right through until Christmas, and have resumed in the last few weeks as restrictions were eased.
We need your consent to load this rte-player contentWe use rte-player to manage extra content that can set cookies on your device and collect data about your activity. Please review their details and accept them to load the content.Manage Preferences
From RTÉ Radio 1's Morning Ireland in 2018, Louise Byrne speaks to runners in Dublin's Marlay Park and Daragh Kelly, of parkrun Ireland
Another group of parkrun volunteers from St Anne's Park in Raheny worked in collaboration with NCBI and Vision Sport Ireland over the summer months with up to 10 runners and walkers involved at their fortnightly get togethers. The socially distant coffee and chat were a very welcome social outlet afterwards. The initiatives have proved invaluable to those who participated: one admitted that their guided run was often the only time they left the house each week.
Since the beginning of 2021, grants have been made available through Vision Sports Ireland for people who are vision impaired to purchase a piece of sports equipment such as a treadmill to use at home. This very welcome scheme has helped provide access to physical exercise and has been very popular.
However, the social aspect of participation is more difficult to replicate and this initiative, while excellent, only provides part of the solution. Online exercise classes provided by Vision Sports Ireland and local sports partnerships have also been available, but the opportunity to get outdoors and to meet other people, even in limited and socially distant ways, remains a challenge for people who are vision impaired. The get-togethers such as the ones at Porterstown and Raheny provide an example of what is required on a larger scale. Local, community access to exercise in the open air, with all the associated advantages of social interaction and connection are vital to people with vision impairment just as they are to everybody.
One admitted that their guided run was often the only time they left the house each week
Speaking last Autumn after a run, one of the vision impaired parkrunners remarked that lockdown had not been a big shock. Describing how life had changed as their vision had deteriorated over time, they said 'I've been living in lockdown for years'. They explained that opportunities to exercise and to socialise had diminished as their sight had deteriorated.
Covid-19 has provided us all with a glimpse of what it is to live with barriers and restriction and the impact this has on health and wellbeing. As we move towards the 'new normal', thought needs to be given as to how people who require extra support will be included in this very welcome step forwards. An inclusive vision of the 'new normal' is something we would all welcome.
---
The views expressed here are those of the author and do not represent or reflect the views of RTÉ
---