Analysis: despite the challenges of Covid, hospital doctors have highlighted positive changes to have emerged for the Irish health system
By Niamh Humphries, Royal College of Physicians of Ireland
Last summer, we interviewed 48 hospital doctors in Ireland as part of a research project,. As they described their experience of working through the first wave of the pandemic, there were some signs of how things might be improved.
The doctors described preparing for the first cases of Covid-19, knowing that they and their colleagues would be on the frontline when it arrived. One respondent said that; 'the anticipation of loads of sick people was much worse than the actual sick people because once we became really busy with Covid, for the most part, we just got on with doing what is our day job'.
They explained how it felt to go to work each day, while most people remained at home for their own safety. Those with young children detailed the complicated childcare arrangements that they put in place to enable them to continue to go to work, while schools and creches were closed.
We need your consent to load this rte-player contentWe use rte-player to manage extra content that can set cookies on your device and collect data about your activity. Please review their details and accept them to load the content.Manage Preferences
From RTÉ One News, a 23-year-old doctor who nearly died from the effects of coronavirus speaks about his ordeal
They spoke of their fear of catching Covid-19 in the hospital, with one doctor explaining that they 'felt vulnerable from an illness' for the very first time. They were also afraid of spreading Covid-19, passing it to vulnerable patients or bringing it home to their family members. They went to great lengths to protect their families from infection, with some opting to live apart from their family during the pandemic to keep them safe.
Their stories illustrate the importance of wellbeing and work life balance for hospital doctors, something that they frequently raise in interviews and surveys. In order to care for us, hospital doctors need enough time and space away from work to protect their wellbeing (and that of their families). This is true in normal times as well as during a pandemic.
Despite the challenges brought about by the Covid-19 pandemic, doctors highlighted positive changes to have emerged from the pandemic response. They praised the rapid pace of change and the speed with which colleagues developed (and adapted to) new ways of working, as this doctor explains 'we've actually utilised this to change quite a few things in our way of working . . . within the hospital and it's been wonderful'.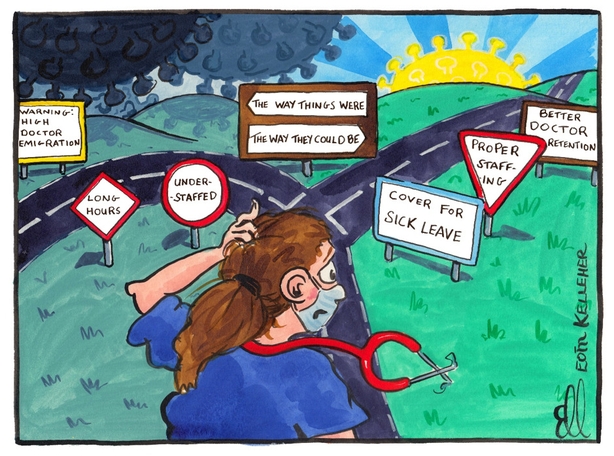 Some doctors were redeployed into new specialties as hospitals were 'turned inside out and upside down' in response to Covid-19. All doctors needed to wear personal protective equipment (PPE) and to maintain social distancing at work. While necessary, these measures made it more difficult for colleagues to chat and support each other as they would normally, as this doctor explained; 'there has been no debrief, there has been no team get-togethers, no breaking of bread, no hugs'.
The pandemic has shown the importance of supporting hospital doctors to cope with the demands of their jobs. The most important support for hospital doctors is working conditions that allow them to protect their wellbeing, for instance in terms of their working hours. However, it's also important to ensure that they have access to wider formal and informal supports, as needed.
Other doctors spoke about the ways in which the health system improved during the first wave of the pandemic: 'Pre-Covid. . . We didn't have enough staff, we didn't have enough beds. It was a crisis. And then Covid came along and everything was rejigged. More staff were added through various avenues and channels. More beds were allocated. Everything was streamlined. . . all of a sudden we had a working healthcare system'.
We need your consent to load this rte-player contentWe use rte-player to manage extra content that can set cookies on your device and collect data about your activity. Please review their details and accept them to load the content.Manage Preferences
From the first episode of the RTÉ Pandemic podcast in March 2020, Colm Ó Mongáin talks to Health Correspondent Fergal Bowers about the impact of a surge on intensive care beds
This is another important lesson – the importance of identifying what Covid-related changes and health system improvements should be maintained after the pandemic. Some of the hospital doctors that we spoke to were hopeful that the pandemic would be the catalyst for further health system improvement, as this doctor explains, 'I'd love to see us harness some of that and . . . work as efficiently and effectively as we did during Covid to make things happen'.
Perhaps the most important way in which the pandemic might transform the health system is by recognising the importance of health workers and acknowledging the need to improve the health system to better support them. As the vaccine roll-out continues and Ireland begins to emerge from the pandemic, it is critical that policy makers listen to (and learn from) the experiences of hospital doctors, and that their insights inform the health system recovery after the pandemic.
To contribute to this, we are launching a new phase of our research project, inviting hospital doctors to talk to us about their experiences of working through the pandemic over the past 15 months. We invite hospital doctors to be interviewed (via Zoom or phone) and to connect with us over a longer timeframe (via WhatsApp) to find out more about their everyday experiences of working as a hospital doctor in 2021. If you are a hospital doctor in Ireland who would like to take part in the research, or to find out more about the research, please contact us here.
Dr Niamh Humphries is a Reader in Health Systems Research at the Royal College of Physicians of Ireland. She holds a HRB Emerging Investigator Award (EIA-2017-022) for the Hospital Doctor Retention and Motivation (HDRM) Project.
---
The views expressed here are those of the author and do not represent or reflect the views of RTÉ
---