For those of us who love the contest, the Eurovision Song Contest represents an annual celebration of musical diversity across the continent of Europe (and beyond). Of course, others will disagree, but nobody's perfect, However, there is more to Eurovision, still going strong over sixty years after the first contest took place in Switzerland in 1956, than a glorious blend of exquisite, very good, good and maybe-not-so-good musical entries.
We in the newly founded Electoral Geography Group (EGG) at Maynooth University are obviously interested in the contest for the similarities that exist between this and a "regular" election campaign. The national selection process, where the different Eurovision countries select their acts and songs for that year's contest, reflects the candidate selection contests of political parties, in that both are sometimes prone to controversy and the results are shaped by the rules imposed for the selection processes.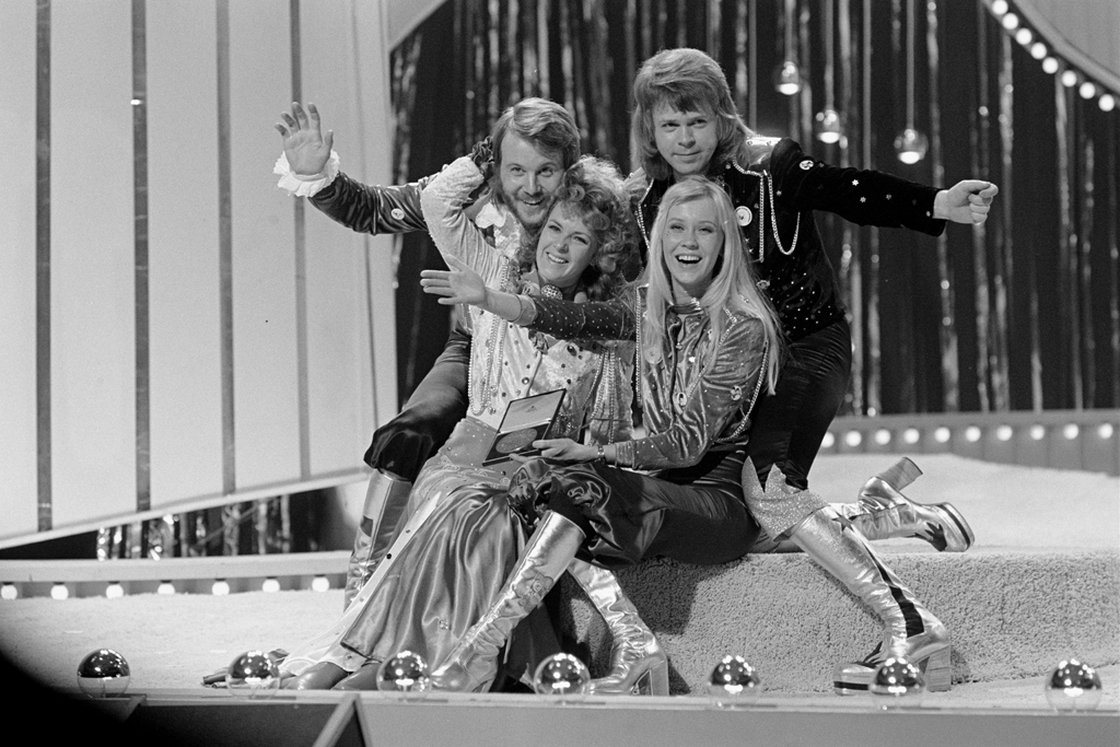 Just like election candidates, selected acts often use the period before the contest to campaign and promote their entries, usually being strategic in terms of which countries they focus on for this. However, of course, the most obvious parallels relate to the Eurovision voting patterns.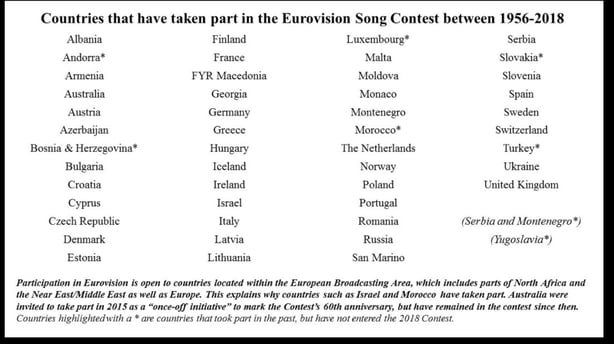 A basic review of Eurovision voting patterns suggests that some countries tend to award high numbers of points to the same countries on a regular basis. This was a characteristic of the jury-voting era, which lasted until 1997, but the tendency towards "bloc voting" seemed to be ramped up further following the introduction of televoting in the late 1990s.
This prompted many accusations of political voting in the 2000s and claims that different countries – particularly the "new" Eurovision countries from eastern parts of the continent – were getting an unfair advantage from such "friends and neighbours" or "diaspora" voting patterns. In turn, this lead to a re-introduction of the voting juries in 2009. Since then, the points awarded by the different countries are composed of both the public vote (50 percent) and votes cast by professional juries (50 percent).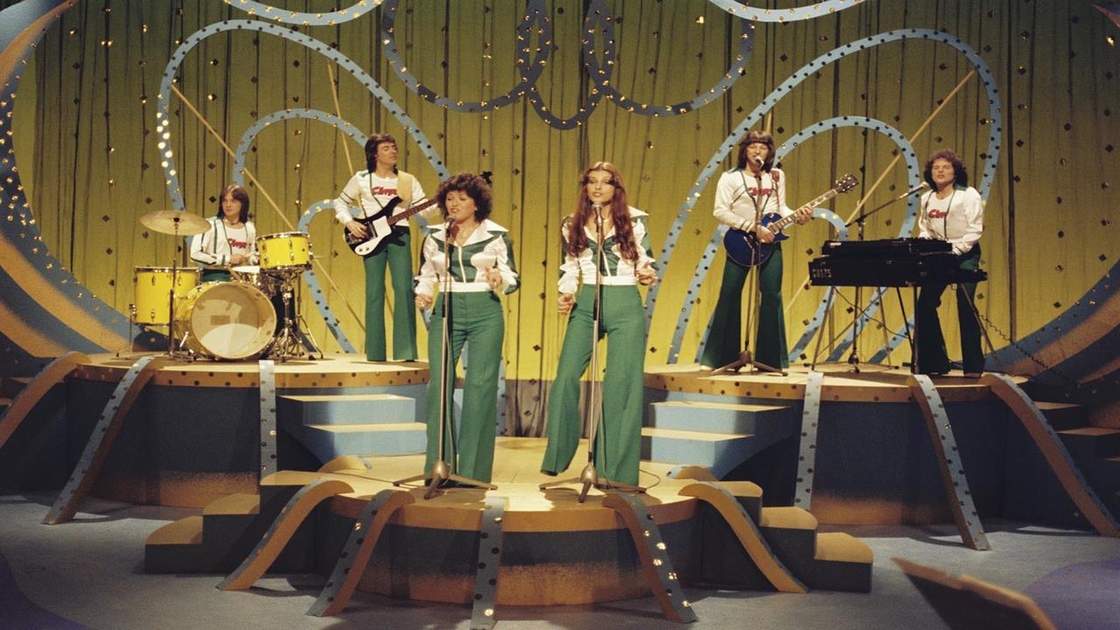 Various rules for combining these votes were used between 2009 and 2015. However, the 2016 and 2017 contests saw each country award separate sets of televote points and jury points (the jury points are the ones announced by different national spokespersons at the Final).
Irrespective of the advantages that certain countries attain due to being able to attract high numbers of "friends and neighbours" and/or "diaspora" votes, recent results have shown that it is possible for any country to win Eurovision. This was very much the case with the 2017 Final, where Portugal, Bulgaria, Moldova and Belgium all featured in the top four, a group of countries that had experienced poor to mixed results at contests during the 2000s. Indeed, before winning in 2017, Portugal's best result at Eurovision had been a sixth place finish at the 1996 Final!
We need your consent to load this YouTube contentWe use YouTube to manage extra content that can set cookies on your device and collect data about your activity. Please review their details and accept them to load the content.Manage Preferences
Salvador Sobral perfoming "Amar pelos dois", the song which won the 2017 Eurovision Song Contest
Other than so-called "bloc voting", there are other factors that can shape Eurovision success levels. One of these factors is language. Statistics suggest that songs performed in English have a better chance of success than those performed in other languages. Following the abolition of the native language rule in 1999, increasing numbers of countries opted to use English for their entries, with this trend peaking at the 2016 contest in which only three of the entries in a language other than English (including a French-language entry from Austria). The success of Portugal's "Amar pelos dois" last year has, however, has led to an increase in the number of entries, performed in other languages, which are being sent to this year's contest.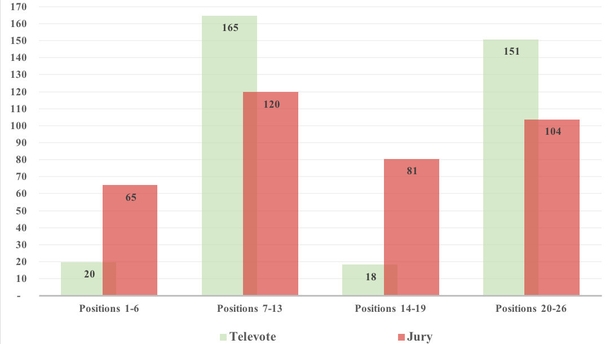 Another significant factor which can shape relative success levels is the position a song receives in the semi-final/final running order. Certain positions in the contest running order are generally less favourable than others – most notably the number two position in the Final running order – while later positions in the running order generally tend to be more advantageous.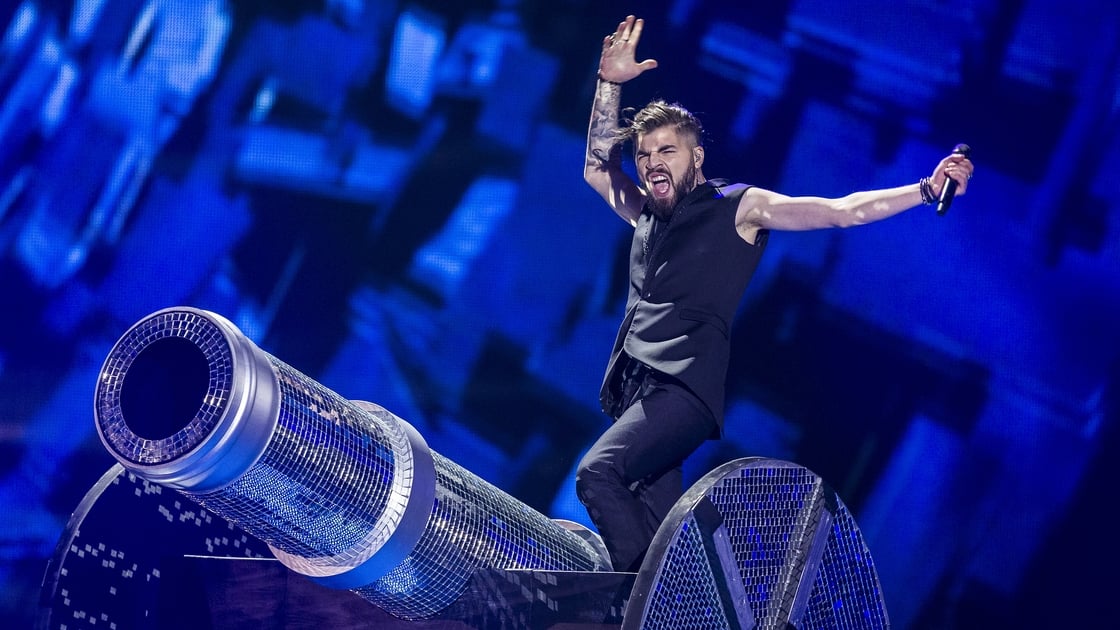 Returning to our discussion of the voting trends, simplistic views of televoting trends during the 2000s have largely viewed these as being political. But while it is fair to note that certain countries still tend to award high numbers of televote points to the same countries every year, these trends may reflect other factors, such as cultural commonalities, rather than politics. In fact, it could be argued that the "real political voting" occurs with the juries, more so that the public vote. When it comes to televoting trends, countries that share a common history (even if it is one based on conflict) tend to be more likely to vote for each other, as in the case of the countries that were formerly part of Yugoslavia or the Soviet Union.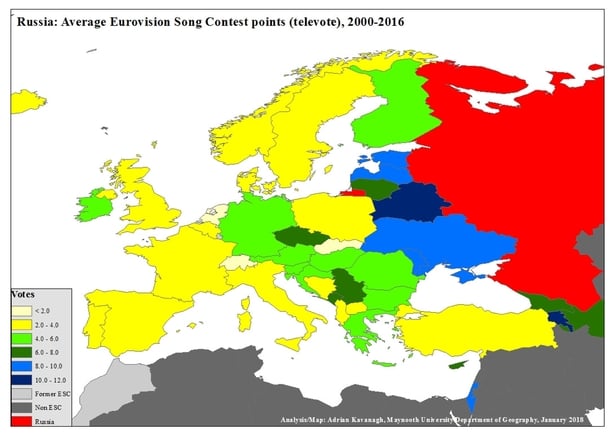 As we can see above, Russia tends to win very high numbers of televote points from other members of the former Soviet voting bloc. Other countries may also take advantage of a large diaspora vote, as is very much the case with Armenia, as illustrated here.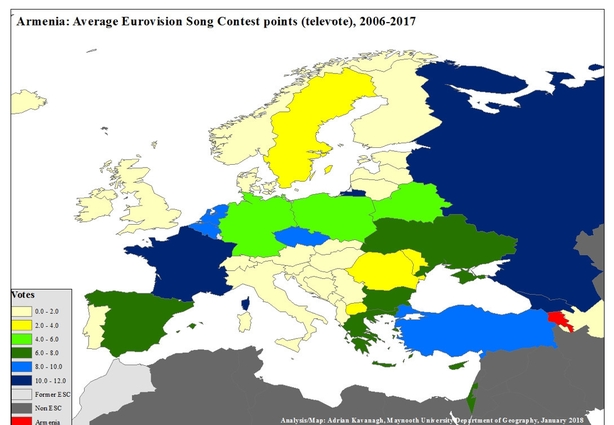 In a similar vein to Russia, Armenia does tend to win high numbers of televote points from a number of the other former Soviet states (but not Azerbaijan). However, Armenia also tends to win high numbers of televoting points from a number of western European countries, including France, Belgium and The Netherlands, thanks to the impact of the Armenian diaspora in those states.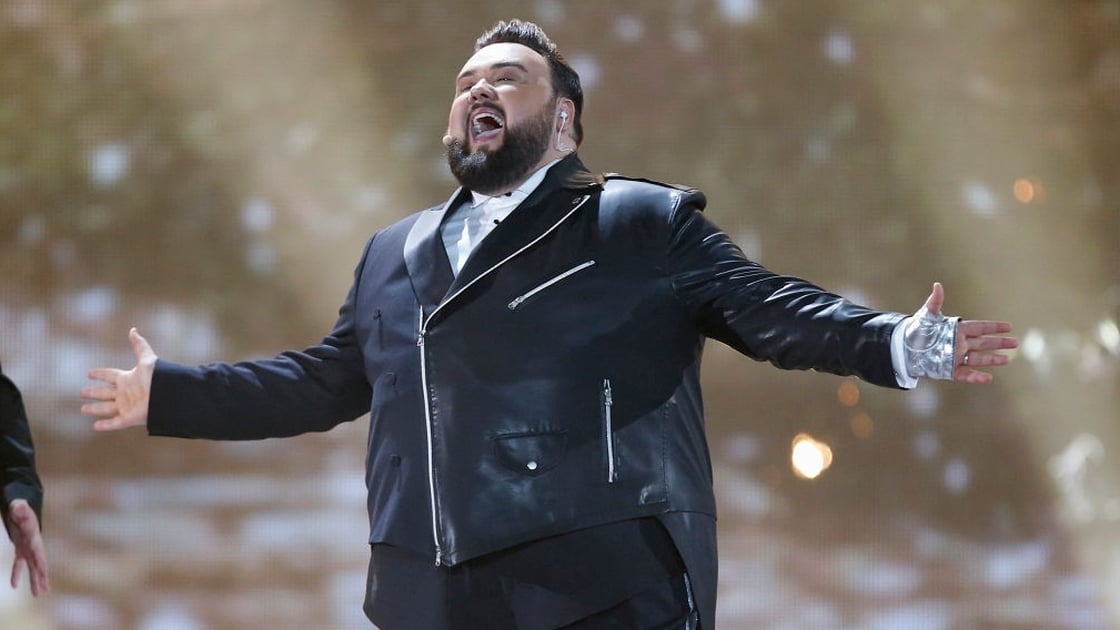 While Irish success levels at Eurovision have dipped notably during the 2000s, Ireland too relies strongly on "friends and neighbours" voting when it comes to winning televote points at Eurovision. Since the introduction of televoting, the United Kingdom has, by far, been the most generous country towards Irish Eurovision acts in terms of awarding televote points.
But while there is a distinct geographical pattern to Ireland's televote pattern, this is not necessarily directly related to geographical proximity. Ireland fares well in terms of winning points from the "Viking Bloc" states in north-western Europe (and especially Denmark), but Irish Eurovision acts have struggled to win televote points from France during this same period. In fact, Ireland is more likely to win televote points from the Baltic States (and especially Latvia) than they are to win points off most other western European countries, including Italy, Germany and Spain, as well as France.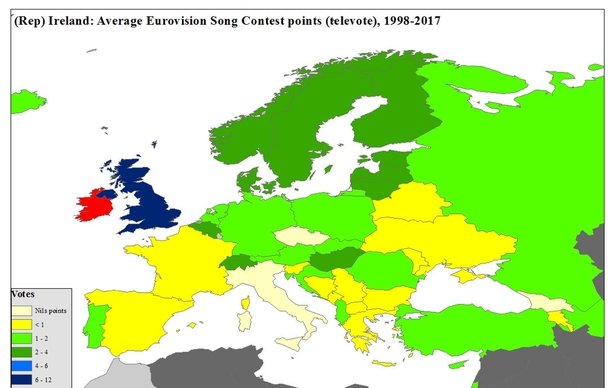 As noted above, the total number of points a Eurovision act receives since 2016 is calculated by adding their total number of votes from the professional juries (composed of five members from each participating state) with their total number of televotes (votes from the public of each state).  As we can see from the graphs below, certain countries in 2017 tended to do notably better in the jury vote than they did in the televote and vice-versa. While there was no difference evident for the overall top scorers, Portugal and Bulgaria, there appears to be a significant disagreement in the ranking of numerous entries between both of the "judging panels" when we look closer at these figures.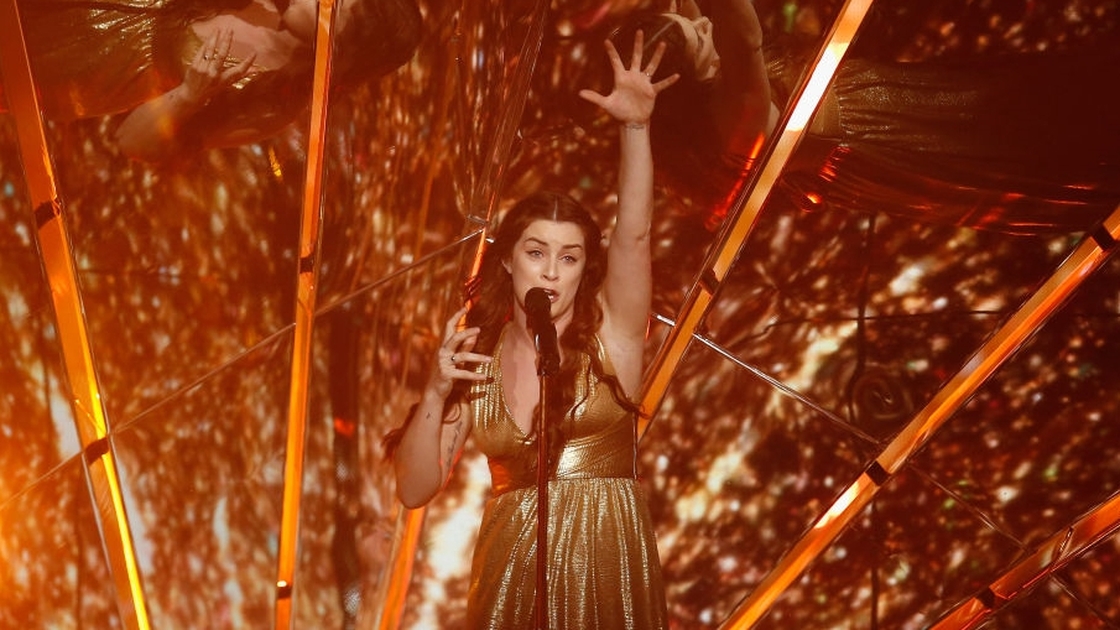 Let's take a closer look at a breakdown of how people voted. While the jury voted strongly for acts such as Australia's Isaiah, Dutch girl group OG3NE and Nathan Trent from Austria, it was a case of points "Don't Come Easy" for the named acts when it came to the televote. This is evident with only two points being awarded to Australia from the televote in comparison to a significantly larger 171 points from the jury vote. The jury was solely responsible for all of Austria's 93 points (ironically, at the 2016 Final, Austria's Zoë did notably better in televote).
On the other hand, the televote favoured acts such as Romania's exquisite yodel/rap duo Ilinca and Alex Florea, the strange-yet-wonderful ethnic/rap fusion from Hungary's Joci Papai and the unique vocals of Belgian act Blanche. Each of these acts were awarded over one hundred points more from the televote than they received from the jury votes.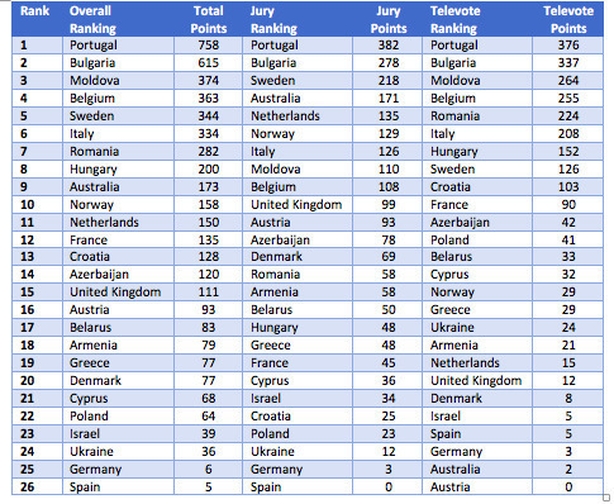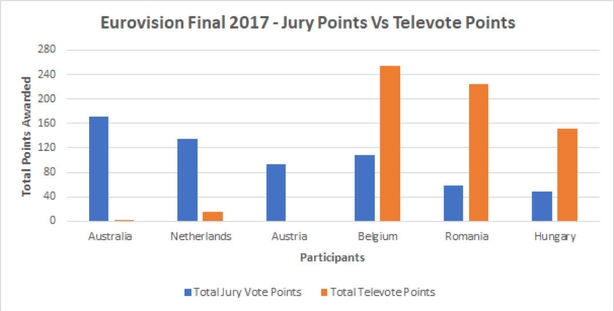 It appears that the acts who failed to benefit from jury points in 2017 tended to have unique styles and fusion song choices, as was also the case with Croatia's Jacques Houdek and France's Alma. These figures suggests that jury members tend to favour more traditional, "safer", songs, while televoters are more voter friendly towards those acts who are willing to take a risk.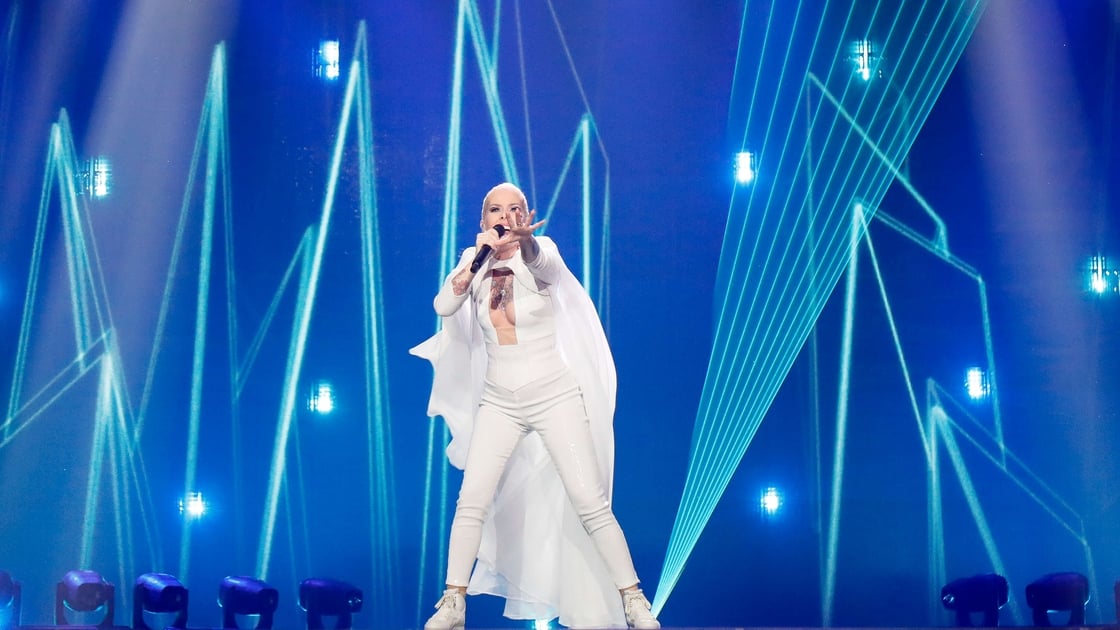 As well as information on their rankings for each act in a Eurovision Final and Semi Final, details on the jury members from each voting panel are revealed each year. These details, in terms of gender, age and geographical location, gives us an opportunity to examine if there are any interesting voting patterns amongst the jury members themselves.

The overall mean ranking of Eurovision acts is based on an averaging out of the rankings awarded by all of the 210 jury members who ranked the 26 acts competing at the 2017 Final. Here, one point is the highest ranking (for a jury member's favourite entry) and 26 the lowest ranking, unless a jury member's own country was in the Final (in which case, 25 was the lowest rank).
Female jurors displayed an above-average ranking for the more traditional acts such as Australia (8.7) and The Netherlands (9.7), while giving Romania a below-average ranking of 16.6. As the figures suggest, older jury voters particularly disliked the yodelling, but "Yodel It!" proved to be more of a hit for jury members from the former Soviet states.
By contrast, Australia attained a much higher ranking from jury members from the Viking Bloc countries (Scandanavia, Ireland, United Kingdom etc.), while female and younger jury members were also more likely to offer Isaiah a higher ranking. However, the jury members from the former Soviet states were not as enamoured with his entry.
It is interesting to note that female jury members, on average, tended to award higher rankings to acts featuring male solo singers in a number of cases, such as Austria, Hungary and Australia. Meanwhile, male jury members tended to award higher points to acts featuring female leads, such as Greece, France and Romania.