Analysis: People in their 60s, 70s and 80s have never been so busy and the smartphone has been particularly important in this transition.
There are not many works about how people get younger. It doesn't happen very often, but in a recent research project based on an anthropological exploration of age, smartphones and health we examine at how these separate threads are woven into a meaningful life in late middle age.
Based on two in-depth ethnographies in Dublin city and the Dublin region lasting 16 months each from 2018-2019, my colleague Daniel Miller and I observed that rather than seeing themselves as `aged' or 'elderly', our research participants were focused on living their best lives in retirement. And, the smartphone was playing an important role in this.
This research is part of a global project called the Anthropology of Smart Phones and Smart Ageing - funded by the European Research Council - and was undertaken by 11 researchers in nine countries. In our Dublin research, we discovered a pretty radical shift in the experience of ageing.
Far from the traditional portraits of family patriarchs and matriarchs on rocking chairs telling stories of yore, our research participants in their 60s, 70s and 80s have never been so busy. They go on long walks, play bridge, do yoga, walk the Camino, and are often involved in several community activities.
The smartphone is particularly important in this transition. Until recently, it was widely-assumed that smartphone technologies represented an insurmountable barrier to social interaction for older people but it has now insinuated itself into the transformations of age and the experience of retirement quickly and profoundly.
Conventional wisdom might assume that smartphones all the same but they are built to be adapted by their user, and the only way to understand how they are expressive of their user's needs and interests is through looking at how they are transformed in use, embedded in everyday lives over time. That is what we as anthropologists studied.
As we conducted our research we found that retirement interests often represent a departure from working lives.
Many choose to do something entirely different at this time, such as contribute to their community in some way, while others prefer to develop skills such as return to education, or embrace sustainability as variously defined - from campaigning to save trees to getting more energy-efficient homes.
In the midst of these busy lifestyles people repudiated the sense of 'being old' and often largely discounted age as their most defining factor. As long as they were in good health, they found a continuation rather than a major milestone when turning 60, 70 or 80.
Not only is the experience of age changing but the experience of family is too. This group of people may also have become the new sandwich generation taking care of their own elderly parents while sometimes retaining responsibilities to children and grandchildren, which they increasingly manage through messaging apps.
Of course there are negatives too. There is clearly a growing digital divide that is excluding older people who struggle to use the latest technologies. People are wary that smartphones are conduits for addiction and fake news.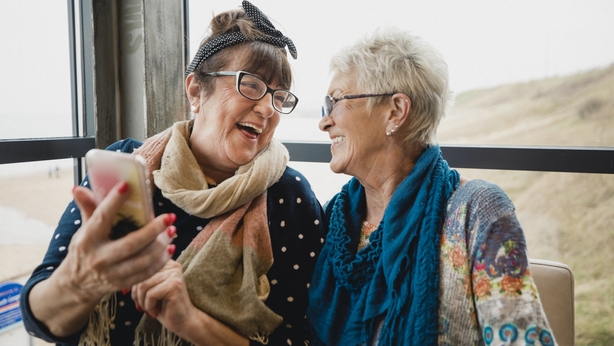 Yet at exactly the same time they said to us that they found it increasingly difficult to access government services except via the Internet. Phoning offices or commercial bodies now seems to take forever and countless everyday tasks just assume you have smartphones like for example in relation to flying or parking.
We also observed that increasingly people feel lost if they are unfamiliar with the latest terminology or app. It is remarkably unhelpful to claim that smartphones are 'intuitive'. A quick reflection shows they are not. If participants are told to download something and they press download they get nowhere.
They wouldn't expect a banking app to be on something called Google Play. And when they are told to go on the Internet, how can they know if it's Safari, Google Chrome, or another app? Older people tend to be worried about breaking their smartphone as would have been the case with prior machines and devices.
So the problem is that unintuitive things have been taken for granted as easy. This means that failure to adopt digital devices increasingly condemns some to a new digital divide and exclusion from services.
But by 2021, a remarkable number of older people have adopted and adapted the smartphone which then becomes a tool that expands their social horizons, and is now vital for organising their retirement activities.
Ireland is ageing, and the older population is now the main growth area in terms of use of digital devices. The Covid-19 pandemic represents an extreme test of lived experience under conditions of ageing with smartphones, revealing the possibilities of both social isolation and new forms of connectivity.
As we move towards a post-Covid-19 world, we need to understand the possibilities and drawbacks that the smartphone brings to lived experience, when it is no longer just a youth technology but everyone's technology.
---
The views expressed here are those of the author and do not represent or reflect the views of RTÉ
---