Analysis: Covid-19 has led to significant challenges for performance and theatre yet rehearsal during lockdown is not only possible, it's full of creative potential.
If the only point of rehearsal was to practice lines and gestures, then actors would have embraced video-calling in their pajamas long ago. Yet all who rehearse during Covid-19 agree that physicality and presence are vital to the creative spark of theatre.
While confronting the challenges and opportunities of rehearsing under Covid-19, myself and my peers in Drama and Theatre Studies at NUI Galway created a performance in response to the testimonies of the Tuam Oral History Project. I led two rehearsals: one over the digital space and one physically distanced.
From this experience, I believe that using techniques from physical theatre and performance art allows students to embody the fundamental principles of performance – presence and community - to create art in their own space. Presence and community are indeed of huge significance in confronting this history, as it is so potently marked by absence and loss.
The Tuam Oral History Project is a survivor led initiative to record and archive testimonies from the men and women who were institutionalized in the Tuam Mother and Baby Home, led by historians Dr Sarah-Anne Buckley and Dr John Cunningham.
The project is supported by NUI Galway and is being incorporated into the student curriculum, including this student-led performance project which responds directly to the testimonies. As an American student, I did not initially know much about the project or the history of the Tuam Home, but I was eager to learn and to devise physical performances in response to the oral testimonies.
During online rehearsals, I noticed that students favored sitting and talking about their ideas rather than moving and practicing. Even when we were allowed back into the studio for rehearsal in a masked, physically distanced setting, students typically preferred to sit and stay within their personal space.
Obviously, we wanted students to stay safe, so the challenge became how to rehearse while following public health guidelines.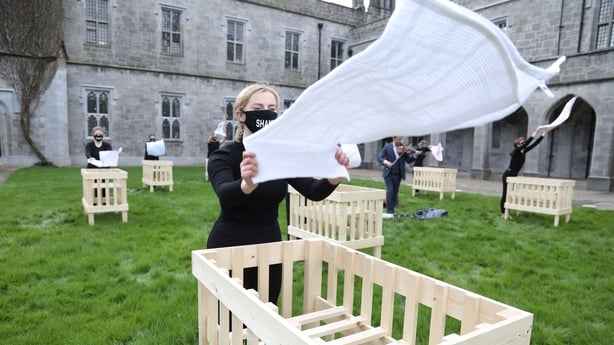 I had two goals for the rehearsals I led. The first was to get the students up and moving immediately instead of spending their time discussing what to do; the second was to empower students to make compelling and important performance in any circumstance, to not wait for things to be 'back to normal'.
The first rehearsal I led was online and to get students moving, I adapted an exercise from the physical theatre company Frantic Assembly. The exercise involves actors facing each other and making simple gestures in response to their partner's gestures.
I liked this exercise for the digital space since it would require students to focus on their partners and create movement in the moment. I split the students into pairs over video-calling, giving specific instructions to begin the exercise as soon as they were in their group.
After ten minutes, I brought them back into the main chat to discuss how the exercise went. Students responded that it was often awkward at first and took practice but soon they developed a flow by focusing on each other's movements.
Some fell into patterns and repetitive motions, while others found themselves making unexpected gestures and creatively surprising themselves. I do think some students struggled with the abstract and self-led nature of the exercise so I decided to give them more structure in the next rehearsal.
As this project is informed by Irish history and politics, I wanted to situate the students' practice within the lineage of Irish performance art. Áine Phillips writes that Irish performance art has always been deeply political and was used "to speak what was before unspeakable", which is exactly the purpose of the Tuam Oral History Project.
The second rehearsal occurred in a physically distanced setting where I focused on performance art using gesture and tempo. I had the students devise their own gesture with a clear beginning, middle, and end, which we then performed over and over again at a medium tempo.
Later I introduced a fast tempo and then a slow tempo to the gestures and asked the students to notice how different tempos changed the gesture.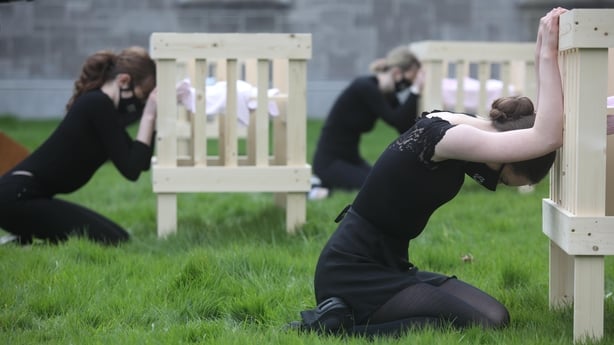 After this exercise, I asked students to devise a two-minute performance art piece in groups of three. Each group was given a prompt inspired by a piece of information from a survivor's testimony, thereby giving them a specific task to focus on. I asked each of the groups to specifically focus on gesture, tempo, and repetition as the basis for their creative devising.
With this guidance and structure in place, the students thrived. By having a very simple task to focus on without the burden of meaning making, they were able to creatively devise gestures that were fantastically expressive. The restrictions of time and gesture allowed the students to focus their attention on creating shapes and movement with their body – the very foundation of theatre.
Rehearsal during Covid-19 is not only possible, but full of creative potential. The limitations of rehearsing under Covid-19 are frustrating, but as Anne Bogart writes: "These limitations invite the actor to meet them, disturb them, transcend them".
Rather than viewing Covid-19 as the death of theatre, performers should respond to the challenge by claiming the importance of their bodies as sites of performance, history, and art.
Nochtaithe is devised, performed and produced by Drama and Theatre Studies in association with the MA Digital Media at NUI Galway, and programmed as part of the Bealtaine Festival, 1-31 May 2021 (bealtaine.ie).
---
The views expressed here are those of the author and do not represent or reflect the views of RTÉ
---