Analysis: The pattern of large groups of carbohydrates, often referred to as glycans, represents a special 'sugar code' that cells use to talk to each other, but this is often exploited by invaders such as viruses.
By Liam Fitzgerald and Prof Paul Murphy, NUI Galway
For most people sugars and carbohydrates are nothing more than an additive in their tea or the bread in their sandwich, however the importance this family of molecules cannot be understated.
As well as sweeting up our lives, these molecules play a central role in many important biological process in our body, such as in our immune systems, energy production and energy storage. Our cells, for example, are coated with forest like structures shown below.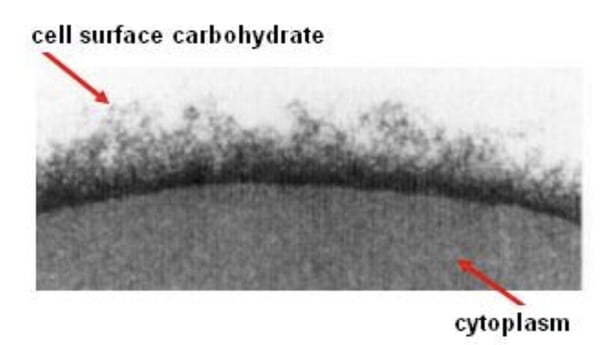 These are simply large groups of carbohydrates often referred to as glycans.
The pattern of these glycans represents a special 'sugar code'. Our cells use this code to talk to each other but this not so secret code is often exploited by invaders such as viruses.
Influenza virus, for example, recognises glycans in our respiratory tract to attach to host cells in the first step of infection. The virus has what is known as hemagglutinin protein which is like a key and unlocks the sugar code.
Many synthetic carbohydrates have been developed taking inspiration from the structure and properties of their naturally occurring cousins. These synthetic sugars include molecules called glycomimetics that have been successfully utilised to treat diseases ranging from influenza to diabetes.
A number of glycomimetics are in investigation as anti-infective agents for therapy of infection associated with cystic fibrosis or for those with chronic conditions like idiopathic pulmonary fibrosis or blood cancers.
We will use this article to discuss some clinically-used glycomimetics and some which are currently under development or in clinical trials.
Role in vaccines
Unfortunately, we have all become familiar with scientific knowledge and terminology about viruses due to the pandemic. However, we have seen with SARS-CoV2 that vaccines have emerged based on this virus's spike protein, which is key to viral infection, like influenza's hemagglutinin.
The spike protein is also coated with carbohydrates found on human cells, making vaccine development more difficult as they protect the spike from being recognised by our immune systems.
An understanding of how the spike is coated with sugars has been investigated to assist with the vaccine design and development.
We need your consent to load this rte-player contentWe use rte-player to manage extra content that can set cookies on your device and collect data about your activity. Please review their details and accept them to load the content.Manage Preferences
On Radio 1's This Week Professor Martin Cormican, Clinical Lead on Infection Control with the HSE, discusses new variants of Covid-19 and the vaccine roll-out.
Another approach is to develop anti-viral compounds which block entry of the virus or its replication. There has been success in developing influenza blockers based on sugars. During the 2010 influenza pandemic, one of the main therapeutics used was Tamiflu developed by Gilead Sciences.
Tamiflu blocks the action of influenza virus neuraminidase which is an enzyme that helps release influenza virus from infected cells so that they can infect new, healthy ones.
The role Tamiflu plays is to be a glycomimetic designed to resemble neuraminidase's natural glycan. Doing this tricks the neuraminidase into binding onto Tamiflu which blocks its action and thus replication of influenza.
This can prevent the release of the viral particles, slowing the spread of the virus in the body. As well as Tamiflu, other carbohydrate-based molecules have been approved to treat influenza such as Zanamivir, Peramivir and Laninamivir.
Carbohydrate-based drugs
While these particular carbohydrates were found to have limited activity against Covid-19, a different carbohydrate-based drug, Dociparstat sodium, has been shown to help treat some of the complications of the disease and is currently undergoing clinical trials.
Dociparstat sodium is a derivative of low molecular weight heparin, which is an example of sugars known as polysaccharides. Heparin will be familiar to many as it is used clinically as an anti-coagulant for prevention of blood clotting.
Excess sugar intake and metabolism to give high levels of glucose is one of the many factors leading to type 2 diabetes. Ironically one class of therapies developed to help people with this illness is with a synthetic glycomimetic called miglitol.
Miglitol is termed an iminosugar which is another type of glycomimetic. In iminosugars, the sugar's ring oxygen atom is replaced with a nitrogen atom instead and the molecule then becomes a blocker of enzymes called glucosidases.
These glucosidases breakdown starch and table sugar (sucrose) ingested in diet releasing glucose, which is then adsorbed in our intestines to be used as energy source for our cells.
By inhibiting glucosidases, Miglitol prevents complex sugars in the diet from being broken down and absorbed, which allows diabetics to control their blood glucose levels.
We need your consent to load this rte-player contentWe use rte-player to manage extra content that can set cookies on your device and collect data about your activity. Please review their details and accept them to load the content.Manage Preferences
From 2FM's Jennifer Zamparelli show, Dr Dom from Himerus Health explains who is at risk from getting it, how to prevent getting it and what your options are if you have type 2 diabetes
Tamiflu and Migitol are two examples of commercially available therapeutic sugars. There are other examples such as Miglustat used to treat Gaucher disease, Topiramate to treat epilepsy, and Arbekacin to treat MRSA.
Some more experimental carbohydrate therapies are currently under development such the work by Polyneuron pharmaceuticals to treat Anti-MAG Peripheral Neuropathy.
This is an autoimmune where immune system produces antibodies against itself, in this case the central nervous system is attacked.
Polyneuron developed a combination of carbohydrates which can trap these antibodies so they can't harm the host. Galectin Therapeutics is a US-based pharmaceutical SME developing carbohydrate based inhibitors.
One of their candidates, Belapectin, is in phase-3 trials. Belapectin is designed to block a protein called galectin-3 which plays a role in the scarring of organs such as the lungs and liver. Belapectin is being developed to treat NASH, a type of liver cirrhosis.
GlycoMimetics, a company in the USA is looking at trialling a wide range of pharmaceuticals based on carbohydrates, treating diseases like cancer and complications of sickle cell disease.
Often in our daily lives, excess carbohydrates are considered unhealthy but with the range of treatments in the works, that statement should be given a second thought.
Liam Fitzgerald is a PhD student supervised by Prof. Paul Murphy at NUI Galway. He is funded by Cúram, The SFI Centre for Research in Medical Devices. Prof. Murphy is currently supported by Science Foundation Ireland with grant funding for research in the area of glycomimetic development.
---
The views expressed here are those of the author and do not represent or reflect the views of RTÉ
---