Analysis: Something unusual began to happen about 2,500 years ago where for the first time, prehistoric people began venturing into the deepest and darkest parts of caves.
Almost 1,000 caves are scattered throughout Ireland, located in limestone landscapes such as the Burren in Clare, the Dungarvan Valley in Waterford, and the Cúil Irra peninsula in Sligo. For as long as people have lived in Ireland they have used caves.
In prehistoric times, caves were associated primarily with ritual activities, burial, religious practices and the dead. Something unusual began to happen about 2,500 years ago in a period known as the Late Bronze Age. For the first time, prehistoric people began venturing into the deepest and darkest parts of caves.
Many of these journeys were relatively dangerous, particularly at a time when subterranean excursions were lit only by simple wooden torches.
At some sites, reaching the deepest parts of a cave took quite some time and involved crawling through low chambers, squeezing through narrow passages, and leaving the world outside for several hours. It is possible that some of these journeys into darkness took several days.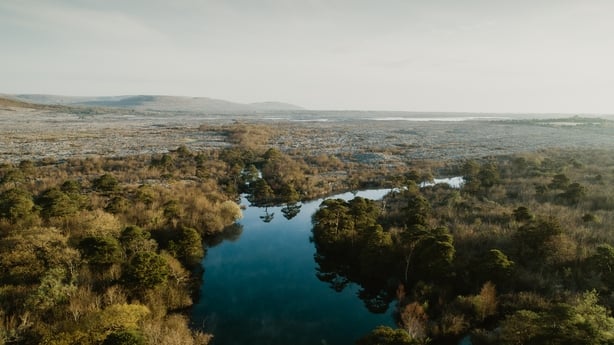 Archaeologists have found evidence of Late Bronze Age rituals at a number of sites. The skeleton of a woman who was over 35 years old when she died was found buried in one of the deepest chambers of Robber's Den in the Burren.
Her corpse had to be hauled up a cliff face, through a small chamber, dropped down into a second chamber, then squeezed through an extremely narrow passage.
After that, her body was arranged in a crouched or foetal position on the cave floor. Two stone rings were found near the skull, and had possibly decorated her hair.
Radiocarbon dating tells us she lived and died about 500BC. Great efforts were taken to bury this woman in a specific location that is extremely difficult to reach. We can only wonder who she was and why she merited such special treatment at death.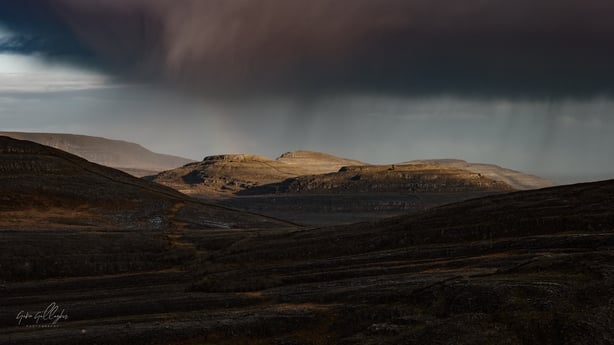 Not far from Robber's Den, Glencurran Cave was also used for burial at about the same time. A young child, between two and four years of age at the time of death, was brought into the deepest part of the cave and carefully placed on a bed of rushes that had been laid out on the cave floor. Beside the child, archaeologists discovered sixty shell beads.
These cowrie shells and periwinkle shells had been collected from the beach and painstakingly perforated by rubbing each shell against a stone. They were then used to make a piece of jewellery or may have been sewn onto clothing, and placed beside the young child.
While this was the only burial in Glencurran Cave, excavations revealed that for several hundred years Bronze Age people were travelling into the deepest part of the cave to leave offerings on the cave floor. These offerings included multiple newborn lambs, newborn piglets, newborn calves, hares and joints of meat.
Strings of amber beads that had originated in the Baltic and would have been prestigious and expensive items in Late Bronze Age Ireland were also placed in the cave.
Perhaps the most unusual offerings were human clavicles – the shoulder bone. These bones must have been collected from different graves or burials outside the cave and brought in as offerings.
The families or communities that used Glencurran Cave for religious purposes were evidently prosperous and well off, but these rituals may have been instigated by economic, social or political problems caused by factors such as climatic downturn.
On RTÉ One on Sunday, 'The Burren: Heart of Stone' captures the raw and complicated beauty of the Burren and traces the genetic story of the Irish people.
North of Glencurran Cave, outside the village of Ballyvaughan, Moneen Cave was also the focus of Late Bronze Age activities. This small cave is located near the summit of Moneen Mountain.
To enter the chamber it is necessary to drop down through an opening in the cave roof. A massive boulder dominates the chamber and in Late Bronze Age times, people descended into this dark chamber and left offerings on the boulder.
The offerings included sherds of pottery, joints of meat and an unusual hammer or macehead made from a red deer antler. It is likely that the journey up the mountain was an important part of these rituals.
Proceedings may have been watched by people gathered at the foot of the hill until the person carrying the offerings literally disappeared through a hole in the rock.
Archaeologists work at interpreting the artefacts and materials left behind in these caves, but we can never know the full story. The burials and ritual offerings deposited underground in Late Bronze Age Ireland took place at least a thousand years before written records.
The gods or ancestors or supernatural beings that Bronze Age people may have associated with caves are not known to us. We can tell part of the story, but much of it is lost to the darkness.
Dr Marion Dowd is an archaeologist specialising in Irish cave archaeology at the School of Science at IT Sligo. She is a former Irish Research Council awardee.
The Burren: Heart of Stone is available to watch on the RTÉ Player
---
The views expressed here are those of the author and do not represent or reflect the views of RTÉ
---