Analysis: the number of Irish households donating to charitable organisations has more than halved in the last 30 years 
By James Carroll, TCD; Oonagh Breen, UCD and Patricia Quinn, Benefacts
Our perception of national generosity is a source of pride. Indeed, a nation's level of charitable giving and volunteering seems a reasonable proxy for a society's level of public concern and care. Ireland's non-profit sector comprises more than 32,000 organisations, of which approximately one third are registered charities.
Benefacts has been gathering data on the non-profit sector (including charities) since 2014. This shows that charities are to be found in every part of Ireland with significant involvement in the areas of arts and recreation, education and research, health and social care, local development and housing, social services, and religion. 
Since 1951, at approximately five year intervals, the CSO has carried out the Household Budget Survey (HBS) measuring household expenditure to update our Consumer Price Index, our main measure of inflation. The survey records all of a household's expenditures over a two-week period.
From RTÉ Radio 1's The Business, Liam Geraghty looks at the business of charity fundraising
One of its many questions relates to how much a household donates to charitable organisations. Our study looked at 30 years of data (from 1987 to the most recent survey in 2015) and our analysis reveals a concerning trend: a downfall in both the number of households giving to charity and the value of donations.
Back in 1987, 79% of all respondent households donated to charity during their two-week survey window. By 2015, this figure had halved. Year on year, the number of donating households consistently declined to 38% in 2015. The trends in the average donation amount are only marginally better: donation value grew between 1987 and 2004 before falling dramatically between 2004 and 2015, back, in fact, to levels not seen since the 1980s (adjusted for inflation).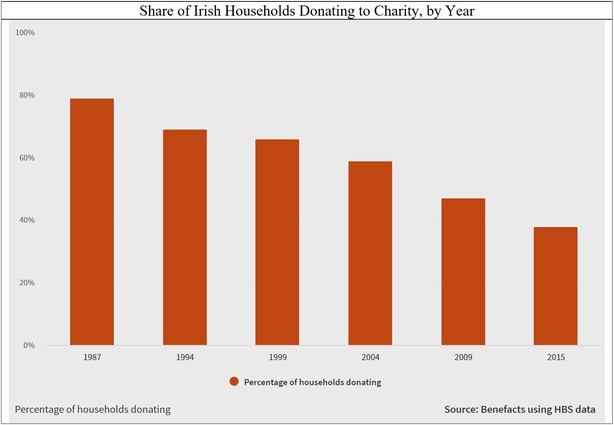 What is driving these trends? Are they a symptom of post-Celtic Tiger boom and bust Ireland? Are we, as a nation, simply less generous than our forebears when it comes to charity? Or, is the answer more complex as familial ties and sense of place evolve in modern Ireland? 
Traditionally, Irish giving has tended to be a spontaneous act: the person making the ask is known by the solicited individual, and a donation naturally follows. In the past, these moments of charitable interaction occurred weekly at the church gate or in the local pub or at your front door. A decline in regular church attendance, mass movement from rural to urban areas and less hard cash in a more 'cashless society' may be factors in a reduction of successful solicitation opportunities within many Irish households.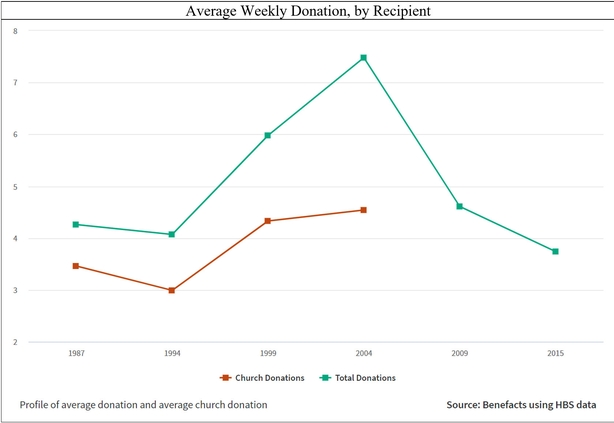 Our study of the data provides some other fascinating findings, worthy of further research. Looking at the types of households that give the most, we see that low income households are unquestionably the most generous in relative terms. While higher income households give more in absolute terms, low income households give a considerably higher share of their disposable income to charity.
In 2015, low-income households (bottom 20% by income) donated 1.5% of their disposable income. High-income households, by contrast, donated a mere 0.3% of their income. In other words, those who can least afford it give a higher proportion of their disposal income to charity than those who are comparatively better off – a true example of the biblical 'widow's mite' in action.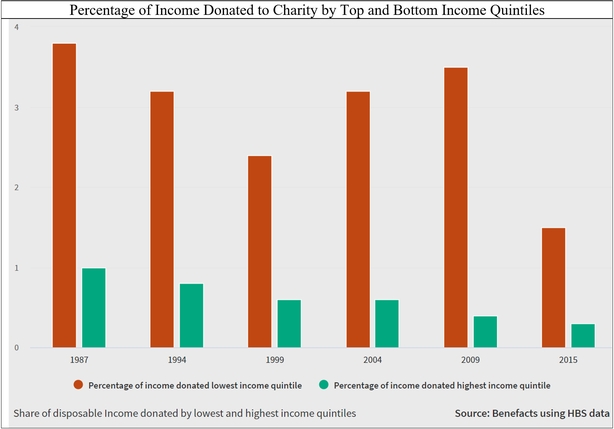 There are many other significant insights in the data. For example, once we control for income levels, older individuals and those living in rural areas give more (28% higher than urban). What explains this? Perhaps personal interactions around the act of giving are in play. For example, older individuals are more likely to attend religious services, while rural households may know their neighbours better and thus respond more positively to a charitable solicitation request.
Gender also appears to be a driver, with female-headed households giving 15% more. This finding is even more surprising given that females generally earn less. Are women simply the more generous gender? Research from other countries would suggest as much. Then there's education: those with a college degree give about twice as much as those with less than a Leaving Certificate, again controlling for income. Is it possible that our time in education increases our awareness of societal needs, thus fostering a higher sense of social responsibility, regardless of our disposable income levels?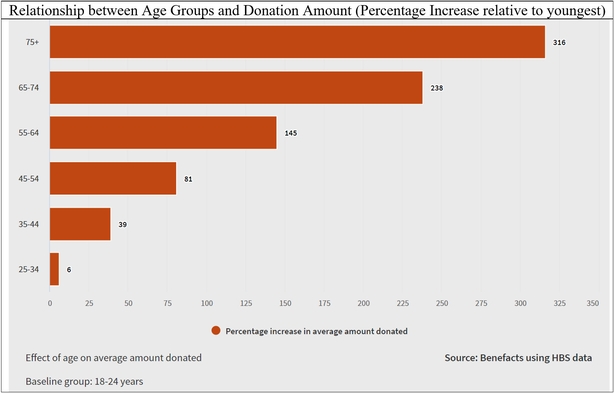 Much research remains to be done to unpack what the survey is telling us about charitable giving. Despite the size and importance of charitable giving and philanthropy to Ireland, there is very little consistent empirical research of donor motivations and attitudes across time. Good policy in this sphere is dependent upon good information and informed understanding. To achieve this, we need to be able to join the dots between opportunities and rationales for giving in the first instance, charitable gifts made (whether living gifts or legacies after death) in the second, and ultimately to track the sector's reports on charitable funds received and tax refunds leveraged.
Dr James Carroll is a Senior Research Fellow in the Department of Economics at TCD. Prof Oonagh Breen is Professor of Law in the Sutherland School of Law at UCD. Patricia Quinn is the founder and managing director of Benefacts.
---
The views expressed here are those of the author and do not represent or reflect the views of RTÉ
---