Analysis: it was Charles Curtis rather than Kamala Harris who was America's first biracial vice-president
By Joseph Hammond, Royal Holloway University of London
This week, Kamala Harris will be sworn in as vice-president of the United States. Her election has been hailed for being the first woman, first person of Asian heritage and first African-American vice president. While several media outlets have misreported that Harris was the first biracial vice president, that honour belongs to Charles Curtis, who was elected as vice-president for Herbert Hoover's administration in 1928. A member of the Native American Kaw Nation, Curtis was the first person with any Native American ancestry to reach either of the highest offices in the United States.
We need your consent to load this rte-player contentWe use rte-player to manage extra content that can set cookies on your device and collect data about your activity. Please review their details and accept them to load the content.Manage Preferences
From RTÉ Radio 1's Morning Ireland, American novelist Bonnie Greer explains the significance of Kamala Harris's victory as vice-president
While he may be little known to us today, Curtis spent 50 years in politics. This ranged from local politics in Kansas and long stints in Congress and Senate to two ill-fated presidential campaigns in 1924 and 1932 as well as his four years as vice-president. He also played an essential role in the fights to get women the right to vote and citizenship for Native Americans.
He was a direct descendent of Chief White Plume, who went to the White House in 1821 to negotiate on behalf of the Kaw Nation. President James Monroe greeted him and his delegation of Native American leaders, who also performed war dances on the White House Lawn. Little did Plume know that his great-great-grandson would later come within in a heartbeat of being president himself.
Like Thomas Jefferson, Curtis believed that assimilation was the best path for native Americans, but his part in this process has often been mischaracterized. While Curtis played a role in the passage of legislation, he came to regret his involvement in the Curtis Act of 1898, which ended up abolishing tribal governments.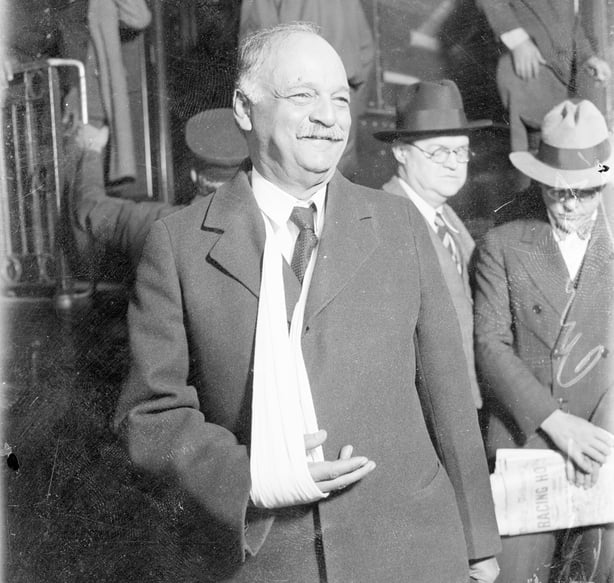 "Curtis supported the gold standard, high tariffs, prohibition, restrictive immigration, deportation of aliens, and generous veterans benefits", explained scholar William E. Unrau. He also "opposed the League of Nations; and took the view that depressions were natural occurrences that inevitably would be followed by periods of prosperity, championed female suffrage, government assistance to farmers".
Despite the overall political milieu of the era, there seems to have been little mention of his Native American heritage, though Curtis wasn't the only notable Native American politician of the period. In 1920, Oklahoma Democrat senator Robert Latham Owen launched a presidential campaign. Given the Cherokee name Oconostota by his mother, Owen caught the attention of William Jennings Bryan, one of the Democratic Party's elder statesmen.
As vice president, Curtis was proud of being a Christian, a Native American and a Kansan. He was first to take the oath of office on a bible and the first to light the White House Christmas tree in 1932. He was also a vocal supporter of prohibition.
Curtis had risen to local prominence as a jockey in the rough and tumble world of local horse racing which brought him to contact with tough, underworld characters
He opened the 1932 Los Angeles Olympics. In attendance was legendary athlete Jim Thorpe, a fellow Native American, who was invited by the Vice President to sit in his box. Thorpe was recognized by the crowd of 105,000 with a standing ovation. Curtis decorated his vice president's office with items reflective of Native American culture and often posed in Native American garb.
Curtis reached the White House after two ill-fated presidential runs. In 1924, he declared that he would run for president but his wife's death left him devastated. He ran again in 1928, building in part on his close ties to Calvin Coolidge. Indeed, even Hoover conceded that Curtis "was a natural selection for Mr Coolidge's type of mind," When a Coolidge movement collapsed at the convention, Curtis sought to rally the president's supporters to his cause, but it was a losing effort. Instead, he agreed to be Hoover's vice-presidential running mate in 1928 after a poll at the convention found him to be the overwhelming choice of delegates.
As vice president, Curtis was largely ignored, though he attended a few cabinet meetings. However, he was believed to have pull in the Mid-west and with farmers so he was kept on the ticket in 1932. At one campaign stop, he was accosted by a crowd for his unfortunate role in the 1932 Bonus Army march of First World War veterans on Washington as his official senate history notes. "Why had he not fed the veterans in Washington? they yelled. "I've fed more than you have, you dirty cowards!", Curtis shouted back at the crowd, "I'm not afraid of you!"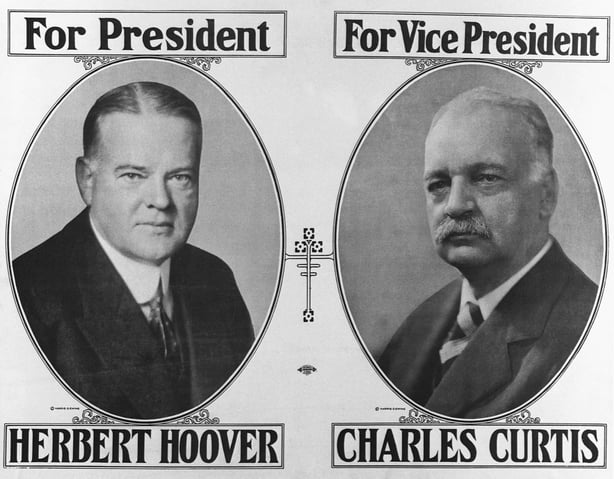 And there was little doubt that he wasn't. Curtis had been a passionate supporter of the veteran's cause as his father had been a civil war veteran. He had risen to local prominence as a jockey in the rough and tumble world of local horse racing which brought him to contact with tough, underworld characters.
Losing the 1932 election was a severe blow, but he had known defeat before having lost a nomination for a vacant seat in the US House of Representatives in 1886 by a single vote. After Franklin D. Roosevelt's landslide victory, Curtis stayed on in Washington after the peaceful transition to the new administration to work as a lawyer until his untimely death in 1936.
Joseph Hammond is a research affiliate at the Centre for Islamic and West Asian Studies at Royal Holloway University of London
---
The views expressed here are those of the author and do not represent or reflect the views of RTÉ
---