Analysis: it's a process which threatens the accumulation of valuable business and engineering know-how for future generations
A product's lifecycle originates in a concept and ends in after-sales service. Many believe that manufacturing adds least value in that lifecycle and is disposable. That's a big mistake. Companies who outsource all manufacturing production to lower cost destinations typically do so to reduce costs. Such companies concentrate resources on activities that add value and generate more profit, following a "We Think, They Sweat" model. But future generations of design engineers in their home country pay a high price for any costs saved. 
German firm Faber-Castell was one of the first export-oriented foreign companies who moved manufacturing to Ireland in 1954 to reduce costs and access British Commonwealth markets in a pre-European Union era. No doubt they were welcomed to Fermoy in Cork with open arms, not least by the Fermoy Progressive Association who had actively promoted the town as an investment location since the early 1950s. The move initially offered Faber Castell a cheap, educated, English-speaking workforce and later capital and training grants and favourable tax rates, while their pencils became ubiquitous in schools throughout the country. 
We need your consent to load this YouTube contentWe use YouTube to manage extra content that can set cookies on your device and collect data about your activity. Please review their details and accept them to load the content.Manage Preferences
From Faber-Castell, how 10,000 hectares of forest in the southeast of Brazil are cultivated to provide pine trees for the company's pencils

Factories are routinely moved to lower cost destinations, often following competitors who sell products cheaper for equal or higher profit, where they are perceived to be more welcome. Other attractions include less regulation, often at the cost of employees' health and safety and emission standards.
Despite such benefits, moving production abroad poses a number of risks for companies including (i) brand image damage due to domestic layoffs, (ii) moral or image issues with products made in "sweat shops", (iii) communication challenges due to time zones or language differences, (iv) cultural barriers, (v) reduced control, (vi) potential shipping delays and (vii) increased IP theft risk. But companies accept such risks in the hope of reducing costs and increasing profits with the result that many western companies continue to hop from country to country in search of low costs and high productivity. 
From Minute MBA, why outsourcing is bad for business
However, trade disagreements and the pandemic have caused companies to reconsider decisions to move all manufacturing abroad. Ongoing trade tensions between China and the United States, as well as Brexit, is causing uncertainty in supply and increases in import/export tariffs. Covid-19 has caused additional uncertainties through border closures, inspection and shipping delays, increased shipping costs and difficulties securing supplies of key components. Some national governments, such as Japan, have incentivized companies to return manufacturing to ensure reliable and timely access to critical parts and systems, such as healthcare goods and personal protective equipment. Such incentives will increase as countries strive to access supplies critical to national security. 
But the biggest danger to outsourcing a company's entire manufacturing is the loss of knowledge which damages long term company success even if short term costs reduce. This danger takes longer to recognize and may only be noticed when it's already too late. With fewer domestic manufacturing plants, student engineers have fewer places in which to conduct internships. Novice engineers are far removed from the factory floor and experienced engineers lose touch with the reality of manufacturing. A gulf emerges between design and production that can be difficult to bridge. 
When engineers design new products, they typically begin by studying what worked and didn't work in the past. They try to learn lessons from manufacturing previous products. They identify practices from refining and problem solving manufacturing processes that can be incorporated into new designs. After analyzing prior efforts the design process begins and when the new product is complete engineers can, in turn, review their experience and retain this knowledge to inform future designs.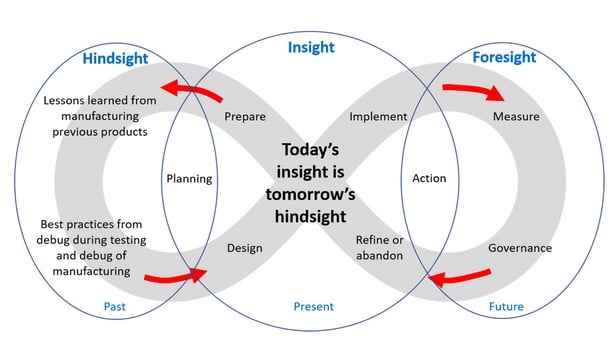 If all manufacturing is outsourced, the hindsight of previous manufacturing knowledge will dissipate. Experienced engineers' knowledge will perhaps sustain them until the engineers with real manufacturing knowledge are transferred or retire and are replaced by new engineers without manufacturing experience. These engineers will be unable to rely on the benefit of hindsight and their designs may be far removed from the manufacturing process.
The problem is compounded because competing manufacturing engineers and technicians in the country to which manufacturing is outsourced have opportunities to increase their technical skills as they debug and resolve teething manufacturing issues on the factory floor. Such knowledge give engineers in the second country a big advatnage when its come to designing future products. 
If all manufacturing is outsourced, the hindsight of previous manufacturing knowledge will dissipate
When tempted to outsource production, Irish manufacturers would be well advised to keep at least some of their manufacturing at home. Moving manufacturing from Ireland or Europe threatens the accumulation of engineering design skills which are required to sustain the design, development and manufacture of products for future generations.
Faber-Castell ceased pencil production in Ireland in the 1990s, but continues to outsource production to low-cost settings such as Indonesia. Crucially, however, they have retained production alongside their research and development in Stein, Germany. The ninth generation of the founding family runs the company and, despite forays into low-cost manufacturing settings, have ensured that engineers remain in touch with production by keeping manufacturing close to home.
---
The views expressed here are those of the author and do not represent or reflect the views of RTÉ
---