Analysis: Frank Broome's Shelbourne days came at the end of a career which included playing against Germany on the eve of the Second World War
The 1950s in Ireland established few fashions, but soccer was an exception. For a while, it became trendy for international class players, just past their prime, to offer their talents to whatever Irish club could afford to pay them most.
Shelbourne FC somehow always found the money to hire these ex-household names to liven up grim Saturday afternoons. Rivals taunted Shels by calling the club 'The League of Nations.' Then again, there was very little entertainment around at the time. Some of these imported players were extremely skilful and some just had a story to tell. Frank Broome was one of these and his story would echo down the years.
Broome started his career with Aston Villa and played seven times for England. He was regarded as 'a terrific marksman, speedy and extremely dangerous inside the penalty area'. He played for Shels from February to April 1955 and earned £5 per week, though a newspaper reported that it cost the Ringsend Reds an additional £10 a week to fly him from Birmingham to Dublin and back home again. This may not sound much in comparison to Mesut Ozil's £350,000 per week at Arsenal, but Broome could at least guarantee his place on the team sheet.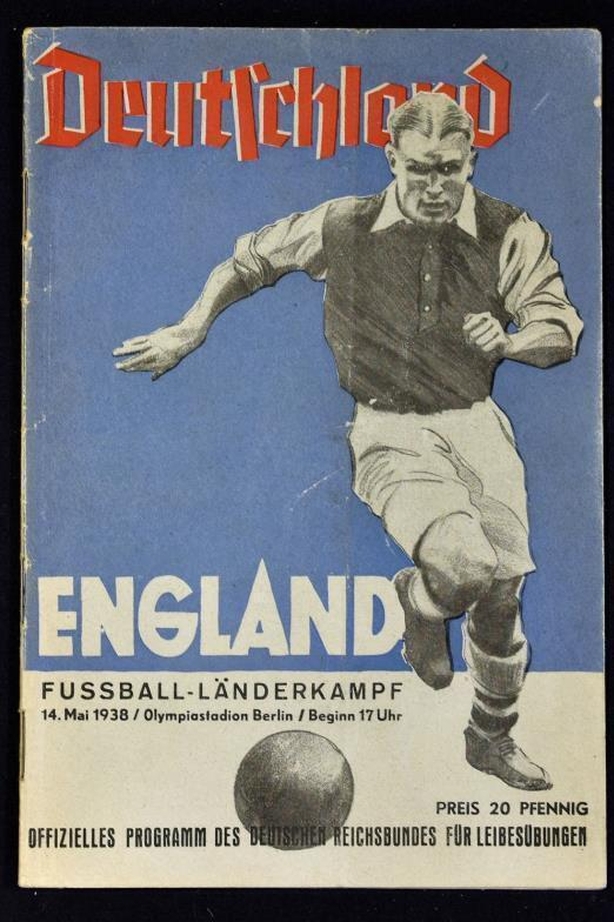 While Broome went down well with the Shels fans because of his talent, less commented on was the fact that he was one of the English players who had offered the Nazi salute at an infamous match in Berlin in 1938. This incident, at what was Broome's debut with the team, left the English FA scratching around for excuses and fearful that the papers would spot what later because known as England's 'sporting shame'. 
The game, which was played in front of 115,000 in the Olympic Stadium in Berlin, raised high expectations in Hitler's Germany. The home team trained for two weeks in the Black Forest to prepare for the contest and 400,000 Germans applied for tickets.  Hitler would have been in attendance if it were not for a previous engagement with Mussolini. Instead, the Fuhrer sent his subs bench of Rudolf Hess, Herman Goering, Joseph Goebbels, and Foreign Minister von Ribbentrop.
England won the match 6-3 (and Broome scored one of the goals), but what happened beforehand caused an International furore that would remain for decades. While the English players were in the dressing room, an FA official informed them that they must give the raised arm salute during the German anthem. "The dressing room erupted", said Broome at the time, "there was bedlam. The England players were livid and totally opposed to this." However, the FA official returned to report that he had a direct order from the British Ambassador in Berlin, Neville Henderson, to say that the political situation was now, 'so sensitive that it needed only a spark to set Europe alight.' The players obeyed.
We need your consent to load this YouTube contentWe use YouTube to manage extra content that can set cookies on your device and collect data about your activity. Please review their details and accept them to load the content.Manage Preferences
From British Movietone, the English soccer team give the Nazi salute during the German national anthem at a 1938 match in Berlin.
Perched high in the stands were Broome's teammates from Aston Villa as the Birmingham team had been invited to take part in games in Berlin, Dusseldorf, and Stuttgart on the back of the international 'friendly'. According to reports, Villa players gave the Nazi salute before the exhibition games, but it was their use of a new-fangled footballing tactic that angered German supporters. The offside trap was met with derision, whistling and shouting from supporters and this hostility led to Villa players being escorted from the pitch by SS guards and Stormtroopers.
A mere 15 months later,  the 'spark' which Henderson spoke about was indeed ignited, and a bigger game was afoot in Europe when Hitler invaded Poland and the world was thrown into chaos for the second time. The war lead to the postponement of League football in England, but Broome continued to play at that time because he believed that football helped to provide beleaguered citizens with some sense of normality.
He was almost 40 years old when he turned out to play for Shels in Dublin, an assignment that meant he had to travel 240 miles every weekend.  However, he did make his mark during his time in Dublin, with The Irish Times speculating that he may well be the "guiding genius that the young Shels team requires."
We were never to discover how far-seeing that might have been, because Shels were about to encounter yet again a relentless opponent it could never shake off: a deteriorating balance sheet. By the middle of 1955, the newest credit crunch saw Broome and the club's then manager David Jack (the first man to score a goal in Wembley) released so that they could find their own way back to England.
---
The views expressed here are those of the author and do not represent or reflect the views of RTÉ
---