Opinion: the storming of the US Capitol was an act of terrorism intended to put an end to the democratic process
The relationship between democracy and violence is complicated, especially in the United States where 42% of percentage of households own one or more firearms. It is estimated that American civilians are the proud owners of 393 million guns.
Gun ownership notwithstanding, there is a story people living in liberal democracies like to tell. According to them, democracies have a special disposition towards peace, since democracies provide dissenters with peaceful ways to achieve their ends. The punchline of this story is that political violence is less likely in a functioning democracy because there is no need for it. In a democracy, ballots replace bullets, so violence has become redundant.
This is a heart-warming story, but it's only a story. In fact, it's a myth. Empirical evidence suggests the opposite: democratic elections are a trigger for political violence, either before or after elections. James Madison would agree. The fourth president of the United States is considered to be one of the founding fathers of American democracy due to his role in drafting the Constitution of the United States and the United States Bill of Rights. In Federalist Paper #10, he wrote that the liberty necessary for democracy, or 'popular government', will also stimulate dangerous passions. Madison wrote this in 1787 but, judging by yesterday's events in Washington DC, he could have written this today.
We need your consent to load this rte-player contentWe use rte-player to manage extra content that can set cookies on your device and collect data about your activity. Please review their details and accept them to load the content.Manage Preferences
From RTÉ Radio 1's Morning Ireland, RTÉ Washington correspondent Brian O'Donovan reports from Washington DC on the pro-Trump riots on Capitol Hill
Not all violence is illegitimate. Sometimes violence in democratic states voices legitimate political discontent with policies or some aspect of the system. This is the case of civil disobedience, which plays a crucial role in the life of any modern democracy. Civil disobedience is often peaceful, but it can also be violent, although the violence is directed at objects rather than people. The Suffragettes are a perfect example of violent (but not lethal) civil disobedience, with paintings in art galleries being slashed, mail boxes set alight, and windows smashed. 
There are two key aspects to civil disobedience. First, civil disobedience is an act of protest that occurs within and for the sake of a just society. Civil disobedience is a political act which occurs when members of civil society accept and recognise that they live in a society that is not perfectly just but is mostly just, notwithstanding some occasional violation of justice.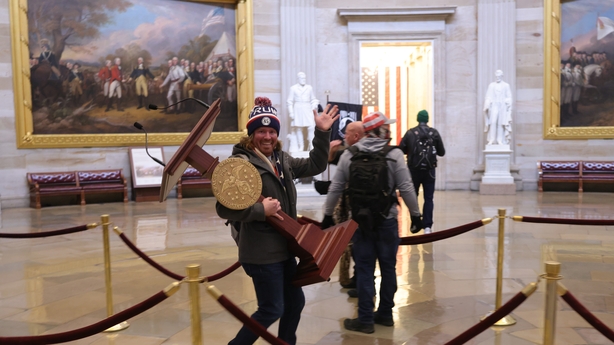 Secondly, civil disobedience occurs when someone intentionally and publicly violates certain laws, and is even prepared to accept the punishment for breaking the law. The law being violated may be the target of one's protest; for example, dodging conscription to the army during the Vietnam War. Alternatively, the civil disobedient may have no objection to the law being violated, but may do so as a symbolic act to draw attention to other laws that are deemed unjust, as in the case of sit-ins in public places.
What we saw last night should never be confused with civil disobedience. The images that went around the word as Trump supporters stormed US Capitol suggest that these protesters were rejecting the outcome of a fair and legitimate election, putting into question the very essence of democracy.
Some of the damage caused inside the Capitol Building after hundreds of President Donald Trump's supporters stormed the US Capitol in a stunning bid to overturn his election defeat. I Read more: https://t.co/PtaGPIwO5M pic.twitter.com/GIQQ9Aofnr

— RTÉ News (@rtenews) January 7, 2021
What we witnessed was mob rule at its worse. The storming of the US Capitol was a deliberate act of political intimidation, a statement of intent to remind us that democratic procedures are hanging from a thin thread. The message last night was clear: democracy can be overrun by violence. That's what happened in Ancient Rome in 45 BC when Julius Caesar brought the Roman Republic to an end by declaring himself dictator for life, and it can happen again.
There are two ways to assess the disturbing images of chaos on Capitol Hill, when protesters smashed windows and forced the joint session of the US Senate and House of Representatives to be adjourned. A charitable interpretation is that these were mere acts of misguided opportunism, a pathetic excuse to cause havoc for the sake of bragging rights.
We need your consent to load this rte-player contentWe use rte-player to manage extra content that can set cookies on your device and collect data about your activity. Please review their details and accept them to load the content.Manage Preferences
From RTÉ News, report on yesterday's violence events at the US Capitol in Washington DC
As the TV cameras were capturing the unfolding of unprecedented events in the US capital, one is struck by the myriad of people holding up their mobile phones taking selfies of themselves, such as a young pro-Trump supporter taking a selfie while sitting on the House Rostrum. To paraphrase Andy Warhol, Trump supporters are people desperate for their 15 minutes of fame. As such they are idiotic, but harmless.
But a more sinister interpretation is that the storming of Capitol Hill was an act of domestic terrorism. This protest was not spontaneous, but was organised and orchestrated from the top. In fact, from the very top – by the current president of the United States himself. His clear intention was to put an end to the democratic process in a desperate effort to hold on to power. The protesters did not want to break a few windows, they wanted to smash the foundations on which the edifice of democracy rests: fair and legitimate elections. This is not civil disobedience, it's terrorism.
The next few months will be crucial for American democracy. If there are no repercussions for the protesters -  or for Trump - then American democracy has its days numbered.
---
The views expressed here are those of the author and do not represent or reflect the views of RTÉ
---