Analysis: just why has this talented sculptor been overlooked by most accounts of Irish art history to date?
By Billy Shortall, TCD
The story of an angel appearing to Joseph warning him to flee with Mary and the baby Jesus since King Herod was seeking to kill the child is one well-known to most people in the Christian world. The account of their flight into Egypt is frequently told in paintings, such as Landscape with the Rest on the Flight into Egypt, painted by Rembrandt in 1647 and hanging in the National Gallery of Ireland. 
300 years later, Irish artist Hilary Heron depicted the scene in a much rarer sculptural form. Heron was a talented Irish sculptor who won numerous prizes for her work throughout her career. One such prize, the Mainie Jellett Travel Scholarship, enabled her to travel to Paris and other locations in Europe in 1948.
With her prize Heron bought a motorbike and travelled through England to Paris. The destruction of the Second World War was still everywhere to be seen. In Paris, her contact was the Irish playwright Samuel Beckett, to whom she was related through marriage. She briefly stayed with him and his partner Suzanne Dechevaux-Dumesnil before settling in a more permanent base in the city. Heron socialised with Beckett and Dechevaux-Dumesnil and the writer, in particular, was her ticket to the Paris art world and regularly introduced her to artists, critics, galleries and exhibitions.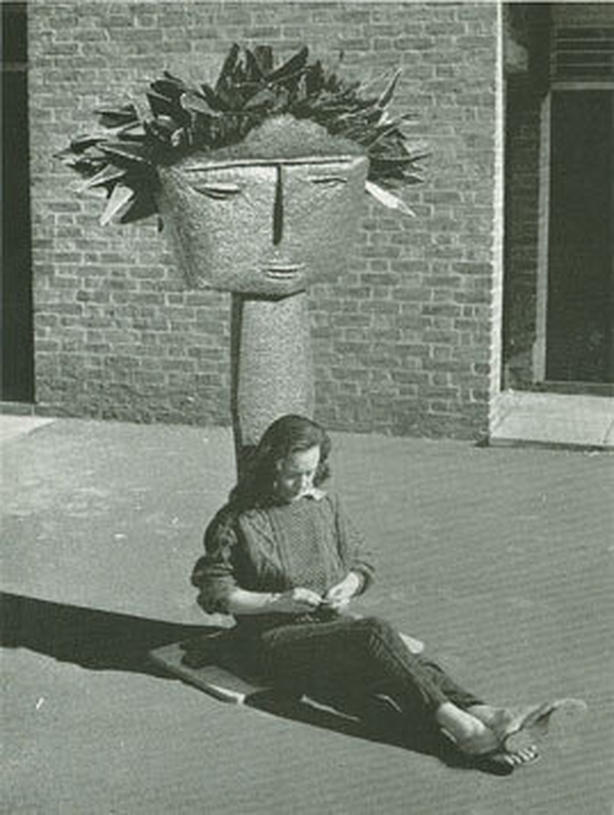 Art changed in the post-war period, particularly in Paris, where there was an outburst of ideas and creative energy, enriched by an interplay between art, literature, cinema, music, philosophy and photography. Many artists who had worked in an abstract and surreal style before the war, returned to a period of figuration as a means of reasserting the importance of the human figure after witnessing its destruction in war. Men and women destroyed by war would be put back together in art.
Philosopher Jean-Paul Sartre published and lectured on existentialism and was an important influence on the creative environment. Existentialism in Paris defined the epoch after the calamity of the war and the horrors of the Holocaust when a generation had lost their faith in perpetual peace, progress and hope for the future. The nuclear threat was a reality.
Influenced by Beckett, the creative Paris environment, and the destruction she saw, Heron created her Flight into Egypt as an allegory for the existentialist threat to the human race. Influenced by sculptors Brancusi and Henry Moore's modernist ideal of 'direct carving' and 'truth to materials', Flight into Egypt is typical of Heron's early approach that was to first mark her sculpture as modern. She worked with a variety of material including wood, bronze, steel, welding, enamels, terracotta and found objects.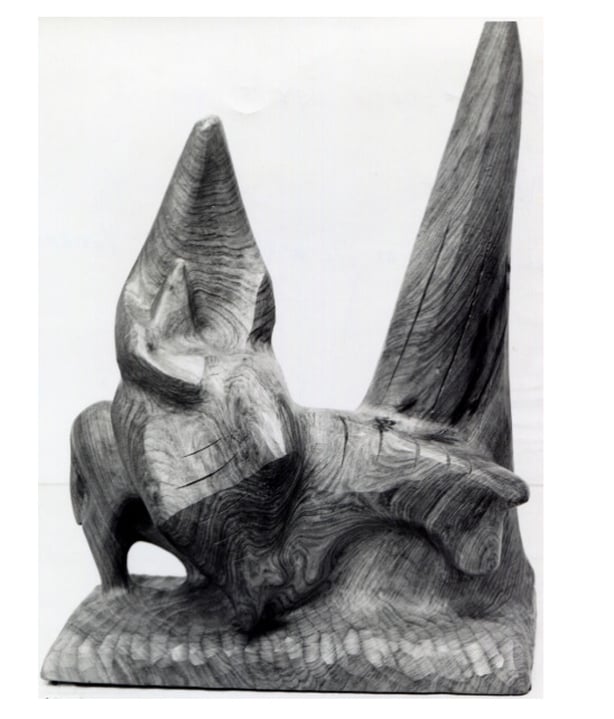 A pioneering Irish modernist, Heron was the first Irish sculptor to use welding, the medium of ambitious modern sculpture in the 1940s and 1950s, and in so doing influenced a succeeding generation of Irish artists. As a student in the National College of Art, she won the important Taylor Art scholarship in three consecutive years to 1946. She exhibited with Waddington Galleries in Dublin, holding her first solo exhibition there in 1950. When the Gallery moved to London later that decade, Heron was one of only two artists from their Dublin list that the gallery continued to exhibit in solo shows, the other being Jack B. Yeats.
Heron held her last London exhibition in 1964. A year earlier, she was unable to borrow back her work for a retrospective in Belfast because most of her 'better pieces' were in American and European collections so she made mostly new work for that exhibition. The market for Heron's modern sculpture was abroad, but she had a difficult reception in Ireland. In order to secure a hearing in a sometimes conservative country, Heron referenced Irish medieval art and, as seen in the Flight Into Egypt, religion. She presented the new as a return to the very old to gain a wider acceptance for her modernist sculpture.
In 1948, she met Picasso at his first ceramic exhibition in Vallauris while she was on her way to Venice to see the Biennale which included an exhibition by sculptor Henry Moore. Eight years later, Heron represented Ireland at the same prestigious Venice event with Louis le Brocquy.
We need your consent to load this rte-player contentWe use rte-player to manage extra content that can set cookies on your device and collect data about your activity. Please review their details and accept them to load the content.Manage Preferences
From RTÉ Archives, Peter McNiff reports for Newsbeat on the Irish Exhibition of Living Art at the Municipal Gallery, Dublin in 1965
During her lifetime, Heron was an influential figure in the Irish art world and active and vocal in Irish life as a committee member of the Irish Exhibition of Living Art and a member of the RTÉ Authority. Embracing modernist culture enabled Heron to live a life outside what might be predicted for a woman of her era. Her independence, travels and engagement with artistic life was a means to escape a woman's traditional place and destiny of her generation.
But the art history account of modern art in Ireland and women modernists in particular, has not been very modern until recently. With a few exceptions, Heron has been omitted or only received passing mention in accounts of Irish art, leading to her own flight into obscurity.
Dr Billy Shortall is a recent PhD graduate in History of Art from TCD
---
The views expressed here are those of the author and do not represent or reflect the views of RTÉ
---