Analysis: it would allow us to assess the consequences of policies, projects and programmes on population health
By Monica O'Mullane, UCC and Ben Cave, International Association for Impact Assessment 
In times of crisis, we struggle to survive, keep money coming in andadjust to the 'new normal,' such as living through a pandemic. Public health is the way society protects and promotes our individual, community and socio-economic health across the whole of society. It comes more to the fore of national consciousness in times of crisis, as with Covid-19 at present. 
Until the Covid-19 outbreak the term 'public health' was little known outside the health sector and government. Public health concepts such as epidemiology and the R-number are now part of everyday speech and trip off the tongues of politicians and pundits alike.  
Improving public health means getting science to policymakers, and giving good advice that accounts for what people want, believe and value. In this sense, public health is a bridge between the health sector and communities and government.
How we rely on low-paid workers to keep Ireland running during the crisis: "not all heroes wear capes, scrubs or gowns - some wear aprons & overalls." Video based on piece by @maeveosull @UCC @nuttyprof @UL & Jonathan Lavelle @UL @IrishResearch https://t.co/lbsla0N0kF pic.twitter.com/gHexq3DxHe

— RTÉ Brainstorm (@RTEBrainstorm) April 8, 2020
Covid-19 has made health inequalities worse for people and communities who experience greater life stress, shortened life expectancies and higher rates of disease and ill-health. Research shows that the pandemic is reinforcing existing, and creating new, health problems in urban centres and has also put undue stress on frontline workers, working tirelessly to protect our lives.
The European Anti-Poverty Network (EAPN) Ireland tells us that governments have had limited success in addressing systemic health inequalities in our society and the pandemic highlights this fact. We see many vulnerable groups in precarious living situations, in uncertain jobs or without employment, social protection and minimal benefits.
Denise Cahill, coordinator of Cork Healthy Cities, believes that having this knowledge, is "the key to responding to the gaps in health is to put health high on the agenda of decision-makers and to mobilize action for health and health equity in all local policies."
Does what we eat as children affect our future health? The Brainstorm radio show @RTERadio1 Weds 10pm presented by @ellamcsweeney with guests @janasharrington @UCC @LizOSullivanPhD @WeAreTUDublin & Grace O'Malley @RCSI_Irl - video by @_LauraGaynor pic.twitter.com/0Z21XxoaNk

— RTÉ Brainstorm (@RTEBrainstorm) August 25, 2020
What is a health impact assessment?
A health impact assessment puts health high on the policy agenda. It's a process and methodology that allows us to assess foreseen and unforeseen consequences of policies, projects and programmes on population health. It communicates good advice based on scientific evidence and local views to policymakers. If public health is the bridge between the health sector and communities and government, then a health impact assessment is a way to strengthen this bridge.
In Ireland, the concept is supported by the Institute of Public Health and is mentioned in some government health strategies The process is outlined in the Institute's guidance document, which has been developed as a tool for governing structures, communities, NGOs, statutory bodies, higher education institutions and companies seeking to conduct such an assessment. 
The story in Wales and Scotland
Health impact assessments on government responses to Covid-19 have been carried out in Wales and Scotland. Such assessments help us look quickly into the future and provide structured information for governments, as there is little evidence currently available on population health impacts of quarantine and isolation measures.
In Wales, the reports have brought together the positive, negative, and unintended impacts of the policies on public wellbeing and the findings are being used by the Welsh government to inform future policy directions. The reports especially noted the importance of mental health of children, young adults and older people, and proposes opportunities to address the challenges, such as building on the momentum of community responses during the pandemic.
In Scotland, an assessment was conducted on the physical distancing Covid-19 measures. It showed early on the impact of these measures on the economy and family relationships. Mental wellbeing as a result of lockdown was highlighted in particular for vulnerable groups, including parents and children at risk of domestic violence and abuse in their home (which has also been the experience in Ireland). The ways in which social distancing measures affect our health speak volumes about the breadth of the impacts we are all experiencing.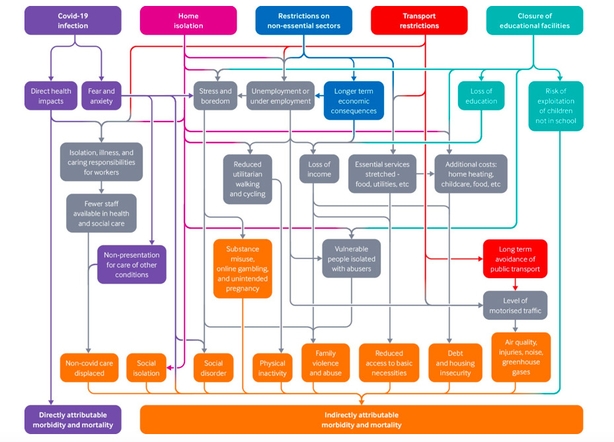 Since the pandemic hit, Scottish government decisions have been framed by a 'Four Harms Approach.' This basically means that decisions made during the pandemic will consider the direct, societal and economic impact of Covid-19 on population wellbeing across health  and non-health policy sectors.
The assessments conducted in Wales and Scotland are excellent examples for governments on the island of Ireland. We need to understand what lies ahead as we move on with the pandemic. Health impact assessments can provide structured evidence for policy-makers and communities alike. It can help alleviate the burden of Covid-19 on society, particularly on vulnerable groups, and will help us all to look ahead and see beyond the crisis.
Dr Monica O'Mullane is an EC funded Marie Skłodowska-Curie research fellow at the Institute for Social Science in the 21st Century at UCC. Ben Cave is president of the International Association for Impact Assessment and a director of BCA Insight Ltd. 
---
The views expressed here are those of the author and do not represent or reflect the views of RTÉ
---