Analysis: research has found that a simple running test will invoke a similar heart rate response to a boxing bout
By Craig Dowling and Donal O'Gorman, DCU
Whether you are an elite athlete on your way to the Olympics or more of a weekend warrior, you have probably been exposed to some form of fitness testing in your lifetime. Fitness testing is designed to assess physical attributes, skills or a combination of both and can be used for talent identification or to optimise training by detecting strengths and weaknesses in athletes. 
When choosing a fitness test, it is important to have an understanding of the physical attributes required for success and to pick a test that accurately measures the desired qualities. These key performance indicators (KPIs) might include things such as aerobic fitness, anaerobic capacity, muscular endurance, speed, strength, agility, flexibility, balance etc.  
Ireland's most successful Olympic Sport is boxing, a sport that commonly uses fitness testing to assess its athletes. Boxing, known as the "Noble Art", is an ancient sport dating back as far as 3000 BC. The sport consists of a wide variety of technical and tactical skills carried out in quick bursts that require well-developed aerobic and anaerobic systems.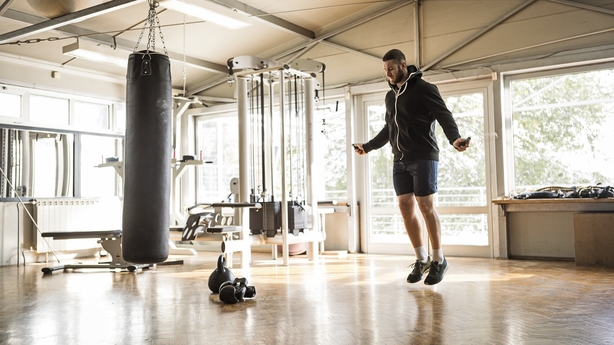 The anaerobic energy system provides energy very quickly to allow boxers launch or defend against attacks. The aerobic energy system on the other hand takes longer to provide energy for the muscles, but can produce much larger quantities over a boxing bout and is vital for recovering between attacks and between rounds.
Just like Rocky Balboa running through the streets of Philadelphia training to take on the formidable opponents of Apollo Creed or Ivan Drago, the Irish Olympic boxing team regularly use running in their training to improve general aerobic and anaerobic fitness. The team commonly use a running-based fitness test known as the 3 x 800m running test to measure fitness and as a non-specific training tool. This fitness test, which is implemented by a number of high-ranking boxing nations, is used because of the constraints of time, the ease of set up and a full team of boxers can be tested at the same time. 
Amateur boxing bouts consist of 3 x 3-minute rounds with one minute rest between rounds. The 3 x 800m running test has a similar pattern as boxers generally complete 800m close to 3 minutes and each run beginning at  four minute increments (0, 4 and 8 minutes). The test is scored by combining the total running time for the three rounds.
'No significant difference'
Although this is a well-known test in boxing, the team's strength and conditioning coaches at the Sport Ireland Institute noted there was little evidence to suggest it was an effective and specific test for boxing performance. With this in mind, the High Performance Unit of the Irish Athletic Boxing Association, the Sport Ireland Institute and Sport Institute Northern Ireland collaborated with DCU and final year student Craig Dowling to investigate.
We wanted to determine if the physiological response to the 3x 800m run was similar to, or different from, 3 x 3-min rounds of sparring in the boxing ring. We measured heart rate throughout both trials and how difficult they felt each session was – this is their Rate of Perceived Exertion (RPE). For the sparring session, we also videoed the session to analyse the offensive moves used by the boxers.
Interestingly, there was no significant difference between the heart rate response measured in both trials. Heart rate measurements in both the running test and boxing bouts were very closely matched for each of the three rounds and followed the same rising trend across the three rounds. This finding highlighted that the 3 x 800m running test was a useful fitness test for the boxing team if they wanted to elicit a similar heart rate response to a competitive boxing match without the attrition of the sport itself.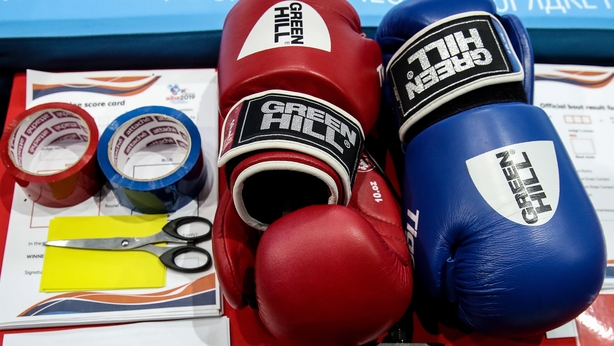 There was a significant difference in RPE scores between the two tests, with the boxers reporting the 3 x 800m running test to be more difficult. This may be because the group tested were elite international boxers who are used to training in their natural habitat of the boxing ring. Although their heart was working at a similar level, the boxers' running technique may be less efficient than their boxing technique, and the muscles and mechanics used are quite different. Adding to this is the fact that activity in boxing involves more short, sharp bursts of activity with boxers working for 5-10 seconds and then recovering actively, where running is a continuous effort. 
The total running time for the 3 x 800m running test and heart rate measurements recorded during this test and the boxing bouts showed some interesting associations with boxing offensive actions. For example, the data showed that boxers that were able to complete the 3x800m in a faster time and who could maintain a lower heart rate while running and boxing also threw more punches, punch combinations, and feints during the bout, all key performance indicators for success in the ring.
Logically this makes sense, and would be in line with previous research which showed international boxers with higher world rankings had a higher aerobic power and better ability to delay the onset of fatigue. Boxers are scored according to criteria which include domination of the bout and competitiveness. Although volume and output of offensive actions do not always equal success, they create more opportunities to deliver the highest number of quality blows to the target area of the opponent, the most important factor for scoring points in a boxing bout. However, we need to be careful to point out that this is just one test and should not be used by coaches to predict who will be more offensively active or accurate within the ring.
While the 3 x 800m running test had traditionally been used in amateur boxing at the international level, there was a lack of research on this test.
It can be easy to turn a blind eye and accept the use of certain fitness tests just because other high-level athletes, teams, coaches, and sports use them. That said, it is important to do your homework and know why you use the test and how it relates to the KPIs of your sport. Every training session counts at the elite level and it is important to use time wisely.
While the 3 x 800m running test had traditionally been used in amateur boxing at the international level, there was a lack of research on this test. The findings of this project have shown that the 3 x 800m running test can be used as an effective and time-efficient fitness test or training tool which will invoke a similar heart rate response to a boxing bout without the blows.
Although there was a general trend in the data showing that fitter and faster boxers were more active in the ring, this was not always the case. Many boxing coaches believe that the fittest boxer is not always the best boxer. Boxing is a highly skilled sport and there are boxers who may not have world class cardio, but can still operate at a world class level through their efficiency and guile. Boxing coaches should be aware that boxers may find this test more difficult than a bout of sparring and so, training should be planned with this in mind.
Craig Dowling is a DCU Sport Scientist graduate who is currently working with Cycling Ireland's High Performance Unit in the run up to the Tokyo 2020 Olympic and Paralympic Games. Dr Donal O'Gorman is Interim Director of the National Institute for Cellular Biotechnology at the School of Health and Human Performance at DCU.
---
The views expressed here are those of the author and do not represent or reflect the views of RTÉ
---