Analysis: charming, witty, cosmopolitan and 'extremely rude', Donal Óg O'Callaghan helped lay the foundations on which Ireland was built
Born in Peacock Lane, Cork, on June 23rd 1891, Donal Óg O'Callaghan went to school at Eason's Hill and the North Monastery, where he gained a reputation as an outstanding Irish speaker. After finishing school, he was involved in a variety of Republican organisations, including the Ancient Order of Hibernians, the Volunteers, the Irish Republican Brotherhood (IRB) and Sinn Féin. He worked tirelessly on behalf of the Volunteers and helped to develop the organisation in the towns and villages of Cork.
In the aftermath of the 1916 Easter Rising, O'Callaghan focussed much of his energies on Sinn Féin, where he worked diligently behind-the-scenes to support Terence MacSwiney, Tomás Mac Curtain, Liam de Róiste and J.J. Walsh. This quartet all won seats on Cork Corporation in the municipal elections of January 1920 and MacCurtain was elected Lord Mayor. Within two months, O'Callaghan himself was on Cork Corporation and attended his first meeting at City Hall on March 12th 1920, a meeting chaired by MacCurtain, who was murdered eight days later at his home.
O'Callaghan contested the Cork County Council election in June 1920 and comfortably topped the poll with nearly double the quota in the Ballincollig electoral area. The 28 year old now held a dual mandate as an elected member in both the city and county. At the first meeting of the new Cork County Council, he was elected Chairman and told his fellow councillors in Irish that their work should be guided by loyalty to Dáil Éireann, the Government of the Irish Republic.
We need your consent to load this rte-player contentWe use rte-player to manage extra content that can set cookies on your device and collect data about your activity. Please review their details and accept them to load the content.Manage Preferences
From RTÉ News, a report on why Cork was to be the focus of 1920 centenary events
While chairing a lengthy meeting of the County Council in the Courthouse on August 12th, he was informed by prominent Republican activist, Liam Deasy, that British troops were likely to raid City Hall that night. After the meeting ended, O'Callaghan left the Courthouse at 6pm intending to warn MacSwiney, but returned to the Courthouse an hour later, having failed to deliver the warning.
MacSwiney was arrested in the subsequent raid on City Hall and died in Brixton Prison, London, after a 74-day hunger strike. O'Callaghan issued a statement mourning the death of MacSwiney: "The Republican hold on the Municipal Chair of Cork ceases only when the last Republican in Cork has followed Tomás MacCurtain and Terence MacSwiney into the grave. Death will not terrorise us".
On November 4th, O'Callaghan was unanimously elected as Cork's third Republican Lord Mayor of 1920. Uniquely, he now simultaneously held the positions of Lord Mayor and County Council Chairman. Five weeks later, much of Cork city was burned to the ground, including City Hall and the Carnegie Free Library.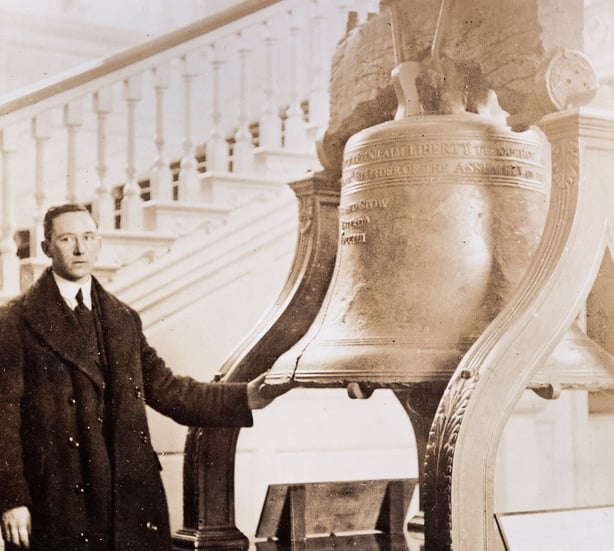 A devastated O'Callaghan, who had received multiple death threats and was living as a fugitive moving house each night, departed Cork as a stowaway on board the steamship West Cannon. He spent the next eight months in America, where he gave evidence to the Commission on Conditions in Ireland, delivered a series of high-profile speeches across the country and helped to secure a loan for Dáil Éireann, acting as the emissary of Michael Collins.
When O'Callaghan returned to Cork in August 1921, he did so as a member of the second Dáil, having won an unopposed seat in May's general election. As a TD, he took an anti-Treaty stance, delivering a landmark speech on January 3rd 1922 in which he criticised the rancour of the Treaty debates. "I take the view that every member of the Dáil", he told his fellow deputies, "has sufficient brains and sufficient intelligence and a sufficient conception of his responsibility from every point of view to decide for himself or herself what the course of action to be taken is".
At the end of the month, O'Callaghan accepted the nomination of Éamon de Valera to attend the Irish Race Convention, held in Paris. In June, he suffered a humiliating defeat in the 1922 general election. Despite being Lord Mayor and an incumbent TD, O'Callaghan finished last of seven candidates in Cork city. The Cork Examiner noted that perhaps the electorate had decided one person should only have one job. It also reasoned that the Lord Mayor's "anti-Treaty proclivities weighed against him".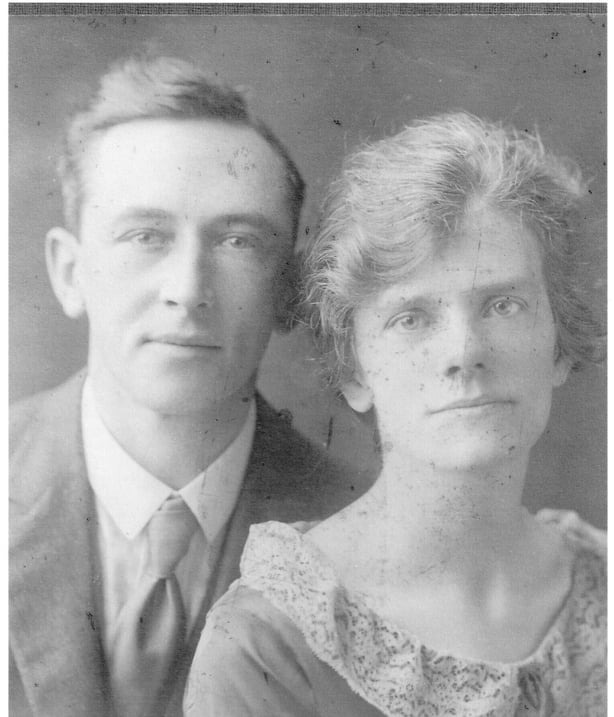 O'Callaghan left Cork in August 1922 and never returned. He had no stomach for the Civil War, which was moving south, and he was broken-hearted by the deaths of two close friends, Cathal Brugha and Harry Boland. Having witnessed the centre of his native city destroyed during the War of Independence, he had no intention of seeing it ruined again in a battle between Irishmen anddeparted for Europe where he spent three months pursuing his interests in literature, theatre and travel.
It was de Valera who brought an end to O'Callaghan's sabbatical. Believing that the second Dáil had not been properly dissolved, de Valera formed an alternative Republican cabinet which featured O'Callaghan as Acting 'Minister' for Local Government (Seán T. O'Kelly was in prison) and later 'Minister' for Foreign Affairs. In June 1923, de Valera appointed O'Callaghan as the Republican Envoy to the US, replacing Laurence Ginnell. O'Callaghan worked closely with the Irish-American community and raised funds for the August 1923 general election, which was won by the new pro-Treaty Government party, Cumann na nGaedheal.
With de Valera in prison and a new pro-Treaty Government in place, O'Callaghan began to withdraw from political life. On January 25th 1924, he resigned his position as Lord Mayor of Cork. That summer, he married Eibhlín Ní Shuilleabháin in London, at the Holy Trinity Church in Bermondsey. They lived in London and later in Strasbourg before returning to Ireland in 1929. O'Callaghan secured a job as an accountant in Athlone, and then Dún Laoghaire, for the Electricity Supply Board (ESB).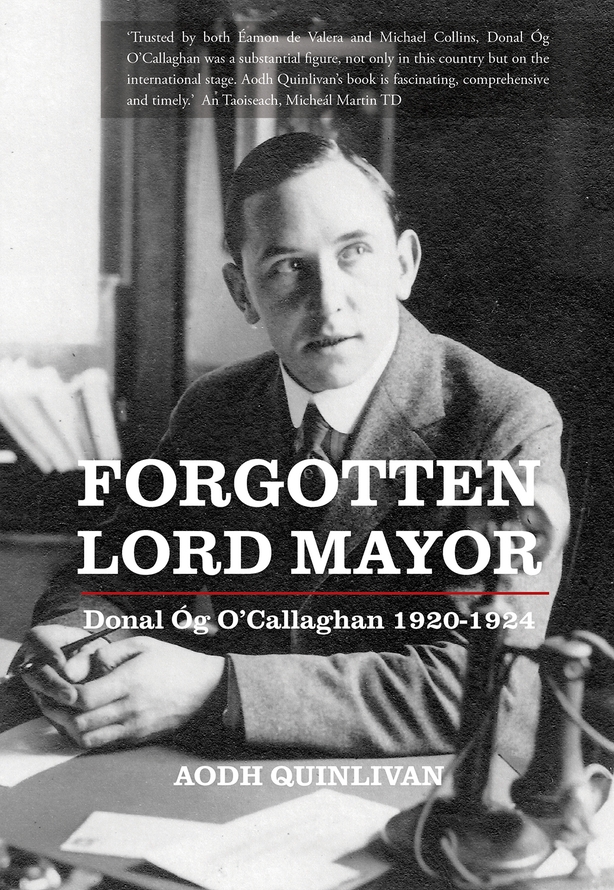 It is remarkable that a man who was such a central character in the Republican cause from 1916 to 1924, someone who had been a trusted ally of both Collins and de Valera, withdrew so quickly and quietly from politics and the public spotlight. O'Callaghan was a very strong-willed and stubborn man and, once he made his mind up to walk away and begin a new chapter in his life, he was not for turning.
He shunned the limelight, did not write an autobiography, did not keep diaries and was unwilling to provide a written statement to the Bureau of Military History. He also refused to be interviewed by his former colleague, Ernie O'Malley, who travelled around Ireland in the 1940s and 1950s, speaking to survivors of Ireland's struggle for independence. O'Callaghan's refusal was a firm one, leading O'Malley to describe him as an "extremely rude bastard" in one of the books in his The Men Will Talk to Me series. O'Callaghan died in Dublin at the age of 71 and Cork's forgotten Lord Mayor is buried in Dean's Grange Cemetery in Blackrock, Dublin.
There were many different levels to O'Callaghan but it would be incorrect to call him a complex man. He was straightforward, honest and, above all else, principled – perhaps to a fault. Those who knew him well (and there were not many who did) found him to be charming, witty, cosmopolitan and cultured.
During a turbulent four-year period, from 1920 to 1924, his life was interwoven with the most notable events and figures in Irish political history: the War of Independence, the Burning of Cork, the Treaty, the Civil War, MacCurtain, MacSwiney, Collins and de Valera. As a Gael, solider, patriot, staunch Republican and devoted public servant, O'Callaghan helped lay the foundations on which Ireland was built. Until now, he has been largely forgotten and erased from history. At the very least, he deserves to be remembered.
Forgotten Lord Mayor: Donal Óg O'Callaghan, 1920-1924 by Dr Aodh Quinlivan is now on sale
---
The views expressed here are those of the author and do not represent or reflect the views of RTÉ
---