Analysis: Irish cinemas went on a highly publicised hygiene spree in their struggle with public-health authorities
Like elsewhere around the world, cinemas in Ireland are closed because of the current pandemic. But during the deadly 1918-19 influenza pandemic, most Irish cinemas stayed open and attempted to carry on business as usual.
Cinemas struggling after the hardships of the First World War were reluctant to see further curbs on their business. They had already faced many difficulties: the U-boat blockade of the Atlantic had disrupted the supply of films from America; male employees had joined up and those that remained went on strike for better pay. Curfews imposed during and after the 1916 Rising necessitated early closing, while additional regulations had been sought or introduced both by such reform organisations as the Irish Vigilance Association and by government in the form of the Defence of the Realm Act (1914) an Amusement Tax (1916) and a Lighting Order (1918).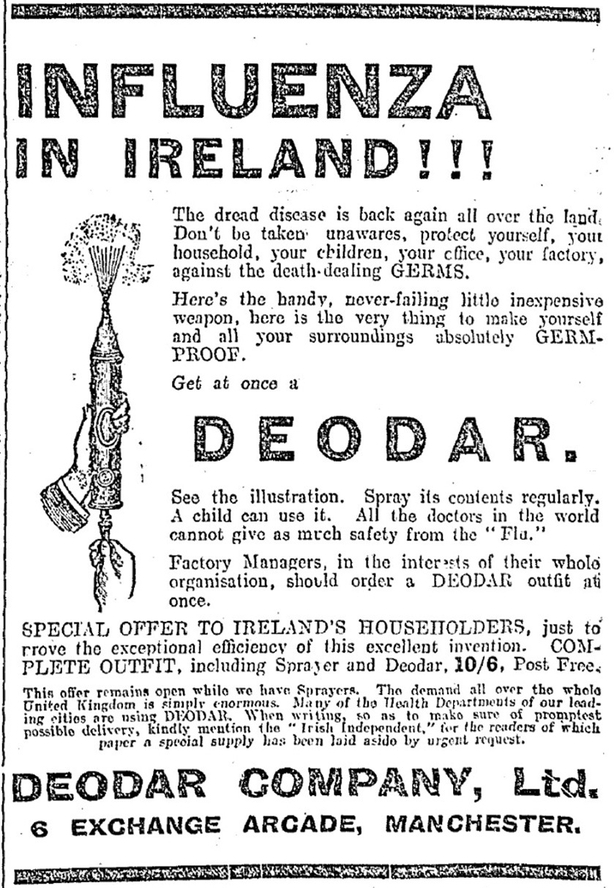 The cinemas' struggles with Dublin's public-health authorities in autumn 1918 is indicative of their resistance to further restrictions. Dublin's Superintendent Medical Officer of Health Sir Charles Cameron was the Tony Holahan of his day, the key figure in the city's response to influenza, including what happened in relation to cinema.
Cameron's initial warnings and advice focused on children. On October 10th 1918, he advised parents through the newspapers to keep their children out of school. He believed that the epidemic would reach its peak and begin to decline towards the end of the month but, two weeks later, he again wrote to the papers, pointing out that children should also have their play monitored, including avoiding cinemas and theatres. Drawing on international practice, he advised that "places where for hours large numbers of people congregate" should be avoided and possibly closed, as were theatres, music halls and even churches in America and as were children's cinemas in Liverpool.
Even if Cameron did not have the power to close cinemas or theatres, proprietors saw that it would be prudent to make some concessions. They agreed to deny entry to children under 14 and to close their premises for ventilation between 6pm and 6.30pm. In addition, they introduced a highly publicised hygiene regime using disinfectants and deodorizers.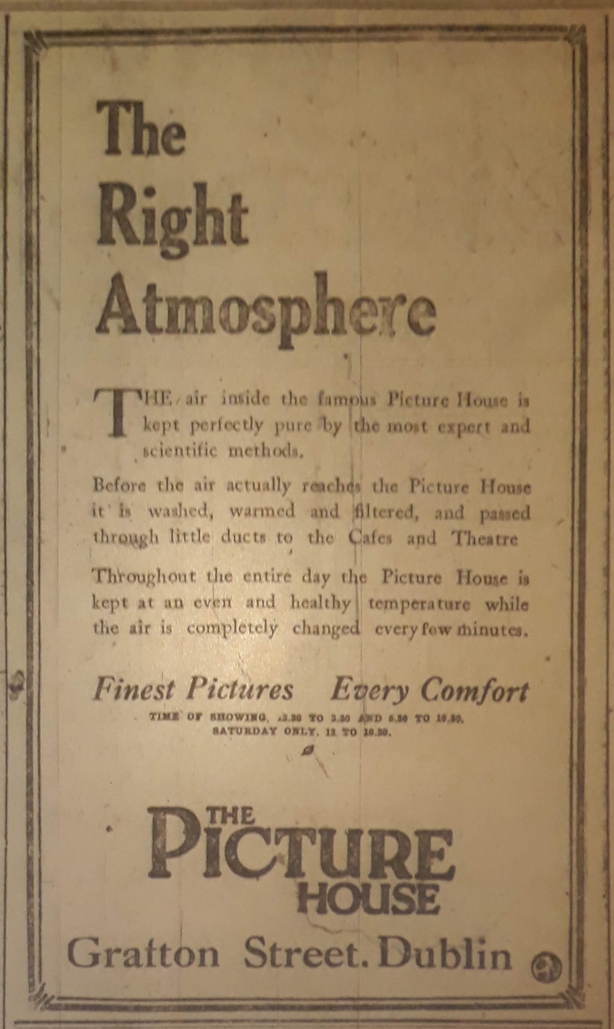 On October 31st, the Irish Times reported on this "germicidal campaign," using the language of war:
Proprietors and superintendents of places of public amusements are using the most powerful agents of sanitary science to wage war on the deadly micro-organism which has given the influenza its present reign of terror. In the Theatre Royal, Gaiety, Queen's and Abbey, in the Empire and Tivoli and various cinema houses, throughout the city special attention is given daily to having the buildings most thoroughly ventilated; while the most approved disinfecting preparations are used freely night and day.
The Weekly Irish Times on November 2nd reported a substantial fall in audiences at cinemas, "some of which had a drop of £150 in their booking receipts for the last week." The theatres and cinemas sought to attract back their audiences by convince them that they were safe because they used proprietary cleaning products whose brand names were assumed to instil confidence. It was safe to go to the Theatre Royal, not just because of its rigorous cleaning and ventilation routine, but also because it used Jeyes Fluid and Deodar essence.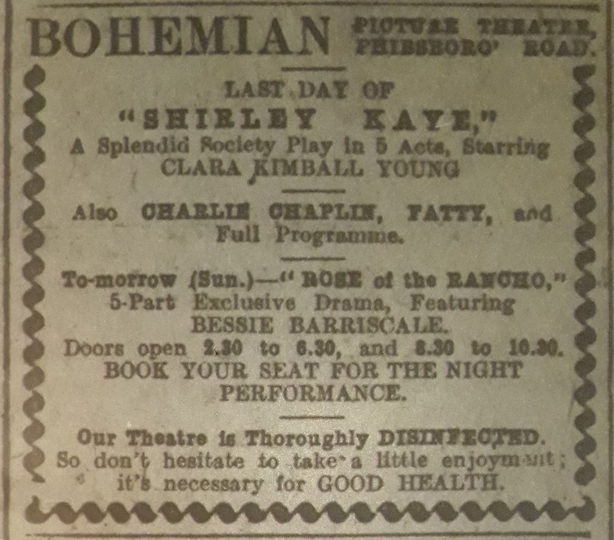 Whatever that combined smell was like, it was no doubt easy for patrons to detect and assumed by the management to provide the necessary reek of reassurance. Ads for Jeyes Fluid and other disinfectants and deodorant sprays appeared in daily newspapers, listing cinemas among the places where they could be sprayed.
Although not all cinemas used the Royal's strategy, several of the ones that appealed to an upmarket audience did, such as the Picture House on Dublin's Grafton Street. It claimed that it had the right atmosphere because its air "is kept perfectly pure…is washed, warmed and filtered [and] completely changed every few minutes."
The north-city Bohemian Picture Theatre merely claimed to be thoroughly disinfected and that its programme was a tonic. These cinemas elaborated on these advertising strategies over the weeks and severa others added lines about disinfection to their ads.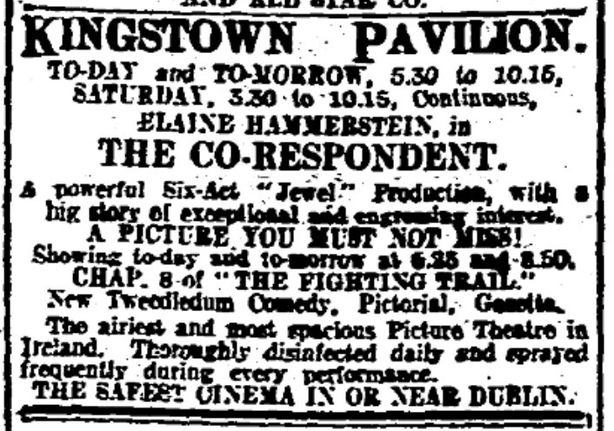 The suburban Kingstown Pavilion went a step further. It claimed to be the safest cinema in or near Dublin not just because it was disinfected daily but also because it was sprayed frequently during every performance. It's worth emphasizing that the Pavilion's air was sprayed during performances as audiences sat in the auditorium.
A February 1919 ad for Bacterol in the Irish Times is particularly informative. "Bacterol is the most potent non-poisonous germ destroyer known," it begins reassuringly. "It scientifically sterilizes the air, is a perfect deodorizer, absolutely harmless to fabric, furniture, clothes, and person, and is positively beneficial to all who breathe it."
Whether or not audiences believed claims about the harmlessness and even benefits of inhaling such products is unclear. These were, nonetheless, the ways that Dublin cinemas sought to avoid having to close during the influenza pandemic of 1918-19.
---
The views expressed here are those of the author and do not represent or reflect the views of RTÉ
---