Analysis: here's how some previous hurling and football matches have had to deal with Ireland's notoriously disobedient weather
Gaelic games are ideally suited to a combination of specific weather conditions: warm but not too humid, bright but overcast, with little or no wind, excellent visibility and a firm ground surface. This is a lot to ask of Ireland's notoriously disobedient weather. As the GAA prepares for a championship which begins in late autumn and concludes in the depths of winter, here's a look at matches which have been played in the most adverse of weather conditions.
On Sunday September 3rd, 1939, the British prime minister Neville Chamberlain announced that Britain was at war with Germany following Hitler's invasion of Poland and and the Second World War was declared. On that same day in Ireland, minds were concentrated on a confrontation of a different kind as Cork and Kilkenny battled for victory in the 1939 All-Ireland Hurling Final. 
Early in the second half, with Kilkenny leading 2-6 to 2-2, a first flash of lightning lit up the dark skies around Croke Park and was followed by a loud and lingering roll of thunder. Moments later, the heavens opened and torrential rain descended on the pitch. The game continued, despite the dreadful conditions that lasted until the end of the game, which Kilkenny won by a single point. The match has come to be remembered ever since as the "Thunder and Lightning Final".
We need your consent to load this YouTube contentWe use YouTube to manage extra content that can set cookies on your device and collect data about your activity. Please review their details and accept them to load the content.Manage Preferences
Coverage of the snow-swept Sigerson Cup match between Sligo IT and Queen's University Belfast in 2015
In Gaelic games, hands play an important role and low winter temperatures can be a distinct hazard as the sensitivity of the hands is lost in cold conditions. The freezing temperatures took their toll on the quality of hurling during a Division 2A league match between Meath and Kerry in March 2019. Played in heavy snow in Fitzgerald Stadium, Meath failed to register a single score in the second half. By the end of the game, the Killarney pitch was covered in a blanket of snow.
A Sigerson Cup match between Sligo IT and Queen's University Belfast was played in a similar snow-swept environment in 2015. It makes you wonder how Oulu Elks, the most northerly GAA club in the world, manage to play a game given Finland's vicinity to the Arctic Circle. 
Rain can often become central to how a game goes as damp conditions can cause a pitch to become greasy with footing also affected. This was certainly the case when Dublin took on Kerry in the 2015 All-Ireland decider. The day was unforgettable for the horrendous rain, but the match itself was entirely forgettable and the scrappy encounter ended in Dublin capturing the Sam Maguire. But can dank conditions be to blame for players committing brazen fouls? Did the rain cause Philly McMahon's finger to creep into Kieran Donaghy's eye socket for example? Met Éireann failed to comment on the incident during the post-match interview.
The world's most northerly football match between the Oulu Irish Elks and the Helsinki Harps
On the other hand, rain can also provide a fierce backdrop for a ferocious challenge, one which was definitely provided by the hurlers of Kilkenny and Limerick in 2014. It was ponchos galore for the 45,000 spectators at the All-Ireland semi-final on a soggy Sunday afternoon in August. Aside from a brief pause early in the second half, the rain fell heavily throughout and the floodlights came on well before half-time. The harsh elements added to the battle which Kilkenny emerged victorious. Brian Cody's heavy-duty tracksuit and baseball cap ensemble were 100% on trend that day.
There is a tendency in Ireland to be preoccupied with the weather and it has saved many a lull in conversation. Teams are not completely blindsided by adverse conditions and can prepare accordingly by adjusting warm-ups and wearing under armour. Despite all forms of preparation, God speed to any free-takers in Pearse Stadium in Salthill, a place eternally tormented by an angry breeze.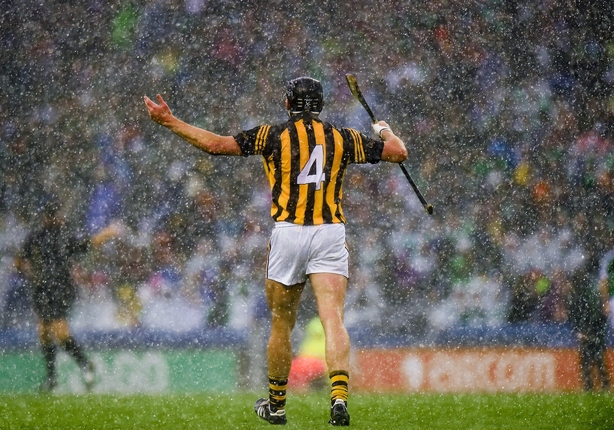 On a good day, weather is a pleasant companion that is greeted with appreciation as seats are taken in the stands. On a bad day, it is a fierce foe that makes usual activities harder and in some cases impossible. Opt for the uncovered terrace at your peril.
While the 2020 championship is extraordinary before a ball has even been thrown in, weather conditions will undoubtedly play havoc in the coming weeks. Winds will change direction, temperatures will drop and downpours will fall but, most importantly, those storms will be weathered.
---
The views expressed here are those of the author and do not represent or reflect the views of RTÉ
---