Opinion: does anthropology hold the answer to why the Kingdom has seen fewer infections than elsewhere in the country?
By Ciarán Walsh
There is a widely-held view that Covid-19 never got a hold in Kerry. Despite the country being one of the most popular choices for staycations, the current surge in community transmission is not reflected in infection rates. 362 cases were listed in the county on September 18th, 1.1% of all infections in the state, which put Kerry in 23rd place in terms of cases, even though it is the 10th largest county by population.
Perhaps early anthropology has the answer to why this is so and especially research that used blood type to analyse racial variation in Irish populations. This is relevant to Covid-19 because current research shows that blood type influences infection rates and outcomes which connects with other studies into the relationship between ethnicity and Covid-19.
The idea that Kerry people are ethnically distinct may seem absurd, but anthropologists have always treated the modern Irish population as a product of invasion and colonisation. Before DNA, anthropologists had to rely on biological markers like complexion, skull shape and blood type in their efforts to unravel the racial origins of the Irish, a significant aspect of anthropology between the 1860s and 1950s.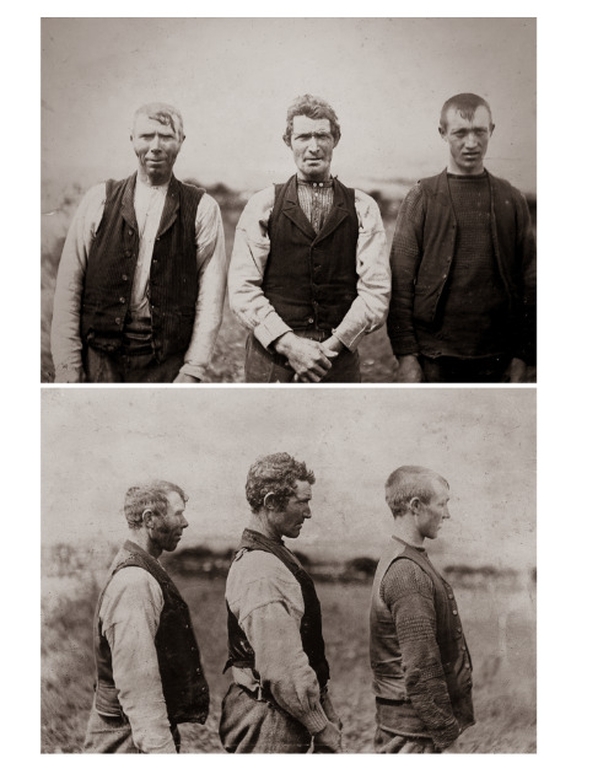 In 1957, anthropologist Wilton Krogman wrote that "the Irish, bless 'em, emerge as one of the best-known (anthropologically speaking) peoples of our time." In Discovering Kerry, a 1976 guide to the history, heritage and topography of the county, Tom Barrington reviewed the research and concluded that blood type made Kerry people ethnically distinct. He focused on skulls and blood type and believed that the original population was mostly Type O, but had an infusion of just over 10% of European Type A genes, "compared with 26% for the 26 counties as whole."
Barrington used this to portray the Kerry people as an older and ethnically distinct population. In the context of Covid-19, this is an interesting finding because blood groups have become a hot topic in coronavirus research and the question now is if this explains the low rate of infection in the county.
The first hint about the link came in March, when researchers in China observed that the number of individuals with Type-A blood who became ill and died was higher than the incidence of Type-A in the population and that the opposite applied to Type-O. Researchers at Columbia University subsequently found that individuals with Type A were more likely to test positive for the coronavirus. The New England Journal of Medicine published a study that analysed genetic data from Spain and Italy and found that a variant in the region of the human genome that determined blood type was associated with a greater risk of severe illness and death.
We need your consent to load this YouTube contentWe use YouTube to manage extra content that can set cookies on your device and collect data about your activity. Please review their details and accept them to load the content.Manage Preferences
From BBC News, why do blood groups matter?
In July 2020, Kim Schive of the Massachusetts Institute of Technology reported on possible links between blood type and Covid-19 and concluded that blood type and the virus are linked. This might in turn, connect the racial origins of Kerry people, the historical dominance of Type O and possibly the low number of Covid-19 cases in Kerry.
The problem is that anthropologists became wary of race as a biological category in the 1890s and began to think of populations in socio-cultural terms or ethnicity. The relationship between biology and ethnicity has become a controversial aspect of the pandemic. The disproportionate impact of Covid-19 in Black, Asian and Middle Eastern (BAME) communities focussed attention on possible links between ethnicity and the virus on the one hand and biology and ethnicity on the other.
Zubaida Haque of The Guardian argued that any link is the result of pre-existing socio-economic inequalities and racism rather than biology. The Centre for Disease Control warned that the relationship between ethnicity and Covid-19 is uncertain, even if there is a body of evidence that individuals from BAME communities have worse outcomes that white individuals. The Lancet defined ethnicity as a complex mix of genetics, social/cultural identity, and behavioural patterns and described it as "a crude tool" for analysing differences amongst populations.
The researchers are still scratching their heads as to exactly what might be going on
Dr Rosita Zakeri from King's College London is certain that there is link, but admits that "the researchers are still scratching their heads as to exactly what might be going on". It's unclear if biological factors, interaction between ethnicity and underlying health conditions, or socio-economic factors are driving higher rates of infection in BAME communities. In this context, the predominance of Type O blood in Kerry points to a biological factor, but researchers agree that socio-economic factors cannot be ignored.
Yes, there is something going on in Kerry. Early anthropologists established subtle differences in ethnicity in Irish populations, but experts agree that the link between ethnicity and Covid-19 is not fully understood and is complicated by socio-economic factors, which points to a much wider problem.
For example, A recent Brainstorm piece identified the precarious position of the lowest-paid workers who kept the country going during lockdown and who, as we can see from from data, are often associated with large outbreaks and clusters. In this context, linking Covid-19 and ethnicity exposes the bigger problem of structural inequalities that put people in harm's way.
Dr Ciarán Walsh is an independent curator and writer. He is a fellow of the Royal Anthropological Institute, a member of the History of Anthropology Network and the European Association of Social Anthropologists. He holds a PhD from Maynooth University and is a former Irish Research Council awardee.
---
The views expressed here are those of the author and do not represent or reflect the views of RTÉ
---