Analysis: a new study has found that time spent on social media was a strong predictor of mental health during the pandemic  
By Eric Whelan and Louise Hopper, DCU
People aged 18 to 29 years of age reported significantly greater mental health issues during the pandemic than those aged 50 and above, with females reporting significantly poorer mental health during the pandemic than males. Young adults also reported significantly higher levels of loneliness, less tolerance of uncertainty and lower perceived control over anxiety related events. Furthermore, they tended to spend significantly more time on social media than older adults.
The Adjusting to COVID-19 research study from Dublin City University's School of Psychology has identified significant differences in how various demographic groups have adjusted to the "new normal" we have experienced since the pandemic arrived in Ireland. The study took place from April to July, with 207 participants ranging in age from 18 to 83 reporting their experience once a month for three months. The study period included complete lockdown as well as the gradual reopening of the country, and explored the factors involved in adjusting to the public health measures introduced to combat the spread of Covid-19 in Ireland.
Loneliness and its problematic effects were, and continue to be, a concern during the pandemic. Loneliness and social isolation are typically linked with older adults , but we found that younger adults reported significantly greater feelings of loneliness than people aged over 50. Despite spending more time on social media and rating it as beneficial for social contact, young adults experienced greater feelings of isolation and loss of connection.
We need your consent to load this rte-player contentWe use rte-player to manage extra content that can set cookies on your device and collect data about your activity. Please review their details and accept them to load the content.Manage Preferences
RTÉ Brainstorm podcast on how we deal with traumatic events
Time spent on social media was a strong predictor of mental health during the pandemic. People who spent more time on social media, particularly in excess of 4 hours per day, reported significantly poorer mental health. The relationship between mental health and social media is becoming a hot topic for social scientists and it has been shown that excessive use can be problematic for self-esteem, sleep and anxiety.
Why does this occur? In this study, females aged 18 to 29 years of age reported more severe mental health scores compared to any other gender-age group. Young females also reported the greatest amount of time spent on social media. This does not mean that social media use directly results in poorer mental health, but it points towards a specific relationship between how young people, particularly young females, use and think about social media and their general mental health.
Young people appear to attribute more pressure to attaining the standards set by the content they consume through social media compared to older people. For example, 18 to 29 year olds reported significantly greater perceived pressure from social media to exercise during the lockdown phases than any other age group.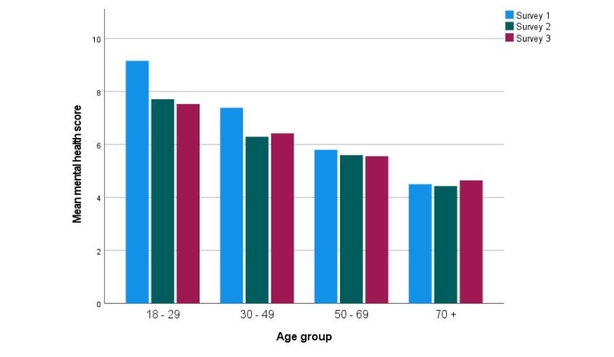 Everyone engages in social comparison and there are plenty of circumstances and situations where it is important to compare one's own behaviour with those around you. There is a greater tendency for comparison among young people as their lives tend to be more similar. They can compare themselves to others based on relationships, activities, appearance, wealth, grades and general social status. Previous research has highlighted the link between poorer mental health, depressive symptoms and unfavourable comparison with others.
The greater potential for comparison through age-related similarities, combined with increased exposure to social media content that invites self-comparison and self-judgement, could be the driving force behind the greater mental health difficulties experienced by younger people during the pandemic. Furthermore, the consistent comparison with others through social media may prompt unattainable standards in other areas of life and create a constant feeling of pressure to reach a perceived social ideal. With limited physical social interaction to combat these perceived standards from social media, the lockdown phase of the pandemic may have created an environment that allowed problematic self-perceptions to fester without being challenged in the real world.
We need your consent to load this rte-player contentWe use rte-player to manage extra content that can set cookies on your device and collect data about your activity. Please review their details and accept them to load the content.Manage Preferences
From RTÉ Radio 1's Drivetime, psychiatrist Fiona McNicholas from Our Lady's Hospital for Sick Children and Ian Power from Spunout on the impact the pandemic has had on the mental health of teenagers
Another factor contributing to the poor youth mental health observed in this study is their lower tolerance of uncertainty. Young people have experienced a greater proportion of their lives trying to live with the virus. Assuming adult life begins at 18, an Irish 21 year old has spent about 16% of their adult life having to consider the implications of Covid-19 and public health measures, whereas a 60 year old has spent about 1% of their adult life dealing with the restrictions imposed by the virus.
This period of early adulthood can be one of the most uncertain and challenging periods in a person's life as they forge their identity and set the path for the rest of their life. The addition of a society altering pandemic makes it understandable why intolerance of uncertainty was so much higher for young people in this study.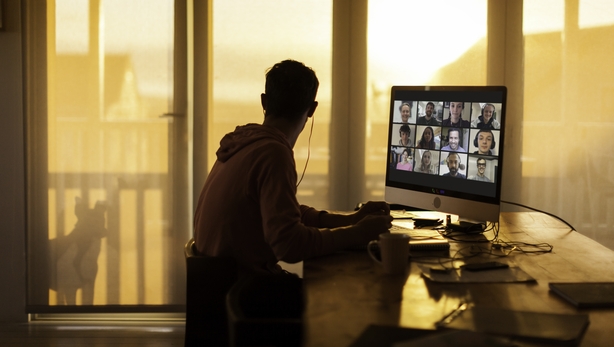 The public health measures introduced to prevent hospitals from being overwhelmed with Covid-19 patients who require intensive care were effective for their primary purpose. However, there is a clear secondary impact of these measures that needs to be carefully considered when reintroducing such measures in the coming months.
Our study observes that the loss of structure and physical social interaction coupled with lower tolerance of uncertainty and less perceived control over anxiety-provoking events played an important role in the decline in young adult mental health. Considering the potential that there may never be a viable Covid-19 vaccine to facilitate a return to our pre-pandemic way of living, a fine balance must be struck between the desire to minimise risk and the desire for good quality of life. We must use this period as an opportunity to create structures and accessible resources which promote positive well-being and optimal ageing.
Eric Whelan is a researcher in the School of Psychology at DCU. Dr Louise Hopper is an Assistant Professor in the School of Psychology at DCU. 
---
The views expressed here are those of the author and do not represent or reflect the views of RTÉ
---