Opinion: wildlife crime comes in many guises and affects almost all of Ireland's large wildlife species
By David Duffy, University of Florida; Paul Duffy, University of Leicester; Jenny Whilde, Trinity College Dublin and Emma Higgs, Wildlife Rehabilitation Ireland
The red kite coasts on the light breeze, suspended in the updraught with a cool nothingness flush around her body. Torqueing her broad forked tail, she wheels in slow revolutions, watching the heathered slopes below – watching for the antennae-like twitch of the broom or heather signalling the passing of something small like a rat, a vole or a shrew below. Over the valley, her mate circles low over the grassland, and between, from the stand of Scots Pine, the cries of their fledglings rise faintly.
She scans the grazed heath along a stream for carrion, anything that might have died overnight such as a hare, a deer or a lamb. On a bare dome of rock, she sees a lamb, its neck twisted, its belly torn open and the red glisten of the flesh vibrant against the muted colours of the hillside. Two rooks and a jackdaw circle dubiously, scattering noisily as the shadow of her wings comes over them.
The red kite descends with a high, keening screech and her mate breaks off his circling over the valley and follows the sound. She lands on the rock, her wings folding as she touches down and with her hooked beak she begins to tear pieces of the exposed meat, eating until her stomach is full, filling her crop and mouth with more to bring back to the nest.
We need your consent to load this rte-player contentWe use rte-player to manage extra content that can set cookies on your device and collect data about your activity. Please review their details and accept them to load the content.Manage Preferences
RTÉ Lifestyle video on the red kite
But as she jumps into the air and spreads her wings, a sudden constriction fills her chest. She beats her wings vigorously, the swoop of their wide arc an audible parting of the air. The pain persists, spreading through her lungs and into the muscles of her chest. Her mate passes her descending towards the carcass as she loses altitude, her muscles no longer obeying her, her lungs in spasm. She crashes into the heather, the hollow bones of her wings splintering, her body functions shutting down in agonising paralysis. From the stand of Scots Pine, the cries of her fledglings can be heard as her world goes dark.
While we can only imagine how a raptor poisoning plays out from the victim's point of view, such wildlife crime is all too real. Criminal bird of prey poisoning occurs disturbingly frequently and wildlife crime affects almost all of Ireland's large wildlife species.
Wildlife crime is a significant and growing threat to species conservation, animal welfare and the environment. Globally, approximately €24 billion is generated annually in wildlife crime-related activities (offences). Wildlife crime comes in many guises, including illegal wildlife destruction through deforestation for timber harvesting and beef and soya farming, and harvesting of animal parts for herbal remedies, tourist souvenirs and hunting trophies.
We need your consent to load this rte-player contentWe use rte-player to manage extra content that can set cookies on your device and collect data about your activity. Please review their details and accept them to load the content.Manage Preferences
From RTÉ Radio 1's Morning Ireland, there have been calls for a wildlife crime unit after a mass buzzard poisoning, the worst poisoning of birds of prey in Ireland in decades
On top of that, you have the ivory trade, consumption of protected species (bushmeat, egg poaching, shark finning etc), the exotic animal pet trade (when animals are sourced from wild populations) and intentional poisoning due to perceived threats to domestic animals or fisheries. Even pointless cruelty is inflicted upon wild species at a worrying scale.
Wild animals deserve protection and not only for their inherent value. A functioning environment is one in which species at all levels, from predators to prey to plants and micro-organisms, co-exist in a healthy balance. A properly functioning environment has proven benefits to both native flora and fauna and human health and wellbeing. Healthy and productive wildlife and habitats return ecosystem service benefits back to the human population, including enriched soils, crop pollination, carbon sequestration, clean air and fresh water.
There is a well-established link between ecosystem and animal health and human health. In contrast, the pressures and destruction humans have caused to wildlife has been shown to increase the rate of emerging diseases leading to human pandemics such as Ebola, SARS and Covid-19. 
We need your consent to load this rte-player contentWe use rte-player to manage extra content that can set cookies on your device and collect data about your activity. Please review their details and accept them to load the content.Manage Preferences
From RTÉ Radio 1's Mooney Goes Wild, a look at the wildlife crime underworld with Superintendent Martin Walker who's co-ordinating a new Garda initiative targeting gangs of poachers
Given its international reach, illegal wildlife trade also affects Ireland, but we also have home-grown sources of wildlife crime. As highlighted by recent mass poisoning events, wildlife crime continues to threaten Ireland's natural heritage and poses a serious risk to local communities and domestic animals. The unlicensed persecution of predators such as otters, pine martens, foxes, badgers, birds of prey and seals, as well as native prey species such as hares and deer continues unchecked. Some of these species are in danger of extinction, and all of them play crucial roles in the proper functioning of our native habitats. 
Although not well recorded, wildlife crime in Ireland is reportedly on the increase, while prosecutions remain static. To help counter this growing threat to our wildlife, a forum of organisations including conservationists, land managers, welfare groups and statutory agencies have joined together to form the Partnership for Action Against Wildlife Crime (PAW) Ireland. PAW Ireland brings these organisations together with the common goal of tackling crimes against wildlife in Ireland through awareness, engagement, and monitoring.
In Ireland, wildlife crime falls under the remit of both the National Parks and Wildlife Service and An Garda Síochána. Suspected incidences should be reported to these agencies. PAW Ireland is developing a wildlife crime reporting  app to facilitate and promote enhanced reporting by citizens, which is vital to quantifying the true level of wildlife crime in Ireland and facilitating prosecutions.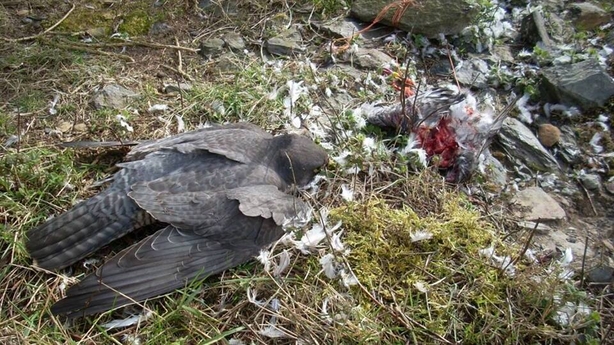 The app will help minimise cruelty, torture, maiming and killing of innocent wildlife, by allowing users to record and report suspected wildlife crime from anywhere (at the scene or afterwards) via their smartphone. It will provide simple guidelines on what to do and what not to do at a wildlife crime scene, and allow users attach photographs from the scene which are automatically tagged with a GPS location reference. The app will be available free to the general public for use on smartphones, and will be formally launched in October.
Recognising the critical importance of biodiversity and functioning ecosystems to the future of human life on this planet, the European Union is pushing to restore at least 30% of the continent to its natural state by 2030, to halt the decline of plant and animal species, and restore carbon sinks to address climate change. If this ambitious target is to be reached, we need to provide the land and ocean area and adequately protect the wild animals we will need to inhabit it.
Countering wildlife crime in Ireland needs the support of the general public. With such support, we can finally lift the veil on wildlife crime in this country and help protect our native species that, in turn, support Ireland's unique and beautiful ecosystems.
Dr David Duffy is an assistant professor of Wildlife Disease Genomics at the Whitney Laboratory for Marine Bioscience and Sea Turtle Hospital at the University of Florida. Paul Duffy is a PhD student at the University of Leicester. Dr Jenny Whilde hold a PhD. in Behavioural Ecology from Trinity College Dublin. Emma Higgs is a Director of Wildlife Rehabilitation Ireland and a founding member of PAW Ireland.
---
The views expressed here are those of the author and do not represent or reflect the views of RTÉ
---