Opinion: how Joan Lingard's young adult novels explored deeply political themes about the Troubles and the world
By Alison Garden, Queen's University Belfast
In 1978, Derry band The Undertones gave us the ultimate anthem for young lust in the shape of Teenage Kicks. But Northern Ireland in the 1970s also inspired one of the world's most enduringly popular narratives of teenage love: Joan Lingard's Across the Barricades series of books. 
The Scottish author published The Twelfth Day of July in 1970, the first of five novels chronicling the love story of two Belfast teenagers, Protestant Sadie Jackson and Catholic Kevin McCoy. Defying the advice of her agent not to write a book about the Troubles for young people, The Twelfth Day of July was a commercial success. This was quickly followed by Across the Barricades (1972), arguably Lingard's most famous novel. Into Exile was published in 1973, A Proper Place appeared in 1975 and the final part, Hostages to Fortune, was published in 1976. 
Tellingly, Lingard had only planned to write one novel about Kevin and Sadie, but the relentless nature of the violence meant that she had enough material, and motivation, to keep writing new books. The novels' persisting popularity is also revealing: translated into tens of languages, the books have never been out of print in the 50 years since the first one was published.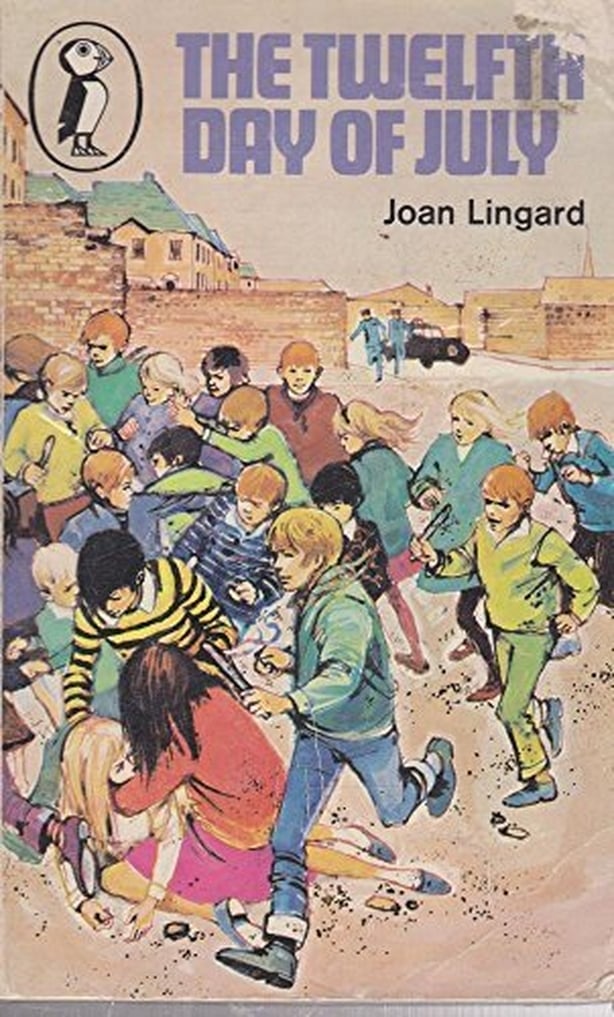 Despite their astonishing commercial success, Lingard's books have received only glancing academic attention. While the study of children's literature is fast gaining critical ground, you can't help but wonder if it's their status as 'young adult fiction' - or, perhaps more damningly still, 'young adult romance' - that has kept scholars from taking Kevin and Sadie seriously. In an interview with Tom Hubbard for the Scottish PEN Centre in June 2005, Lingard herself said that her novels lacked the complexity of adult fiction.
The series might gloss the North's political situation, but Lingard's novels are deeply political in their depiction of the overlooked, everyday fabric of working class life in Belfast and, subsequently, Britain. In The Twelfth Day of July, the teenage Kevin and Sadie meet on a Belfast street, when Kevin catches Sadie trying to deface a gable wall in his Catholic neighbourhood with sectarian graffiti. Despite the geographical proximity of the teens, their identities meant it was highly unlikely the pair would have met otherwise. This meet-cute carries a resonance denied to most love stories, creating a backdrop where the putatively private world of the domestic and the public world of politics are bedfellows: people quite literally paint their politics onto the walls of their houses.
Belfast in the 1970s was becoming increasingly divided, something that gained pace throughout the Troubles as city planners constructed more and more architecture of division. Lingard's first two novels chart this escalation of militant separation, barbed wire barricades and armoured cars. The teens can only enjoy the physical aspect of their love away from the Belfast streets they grew up in. They start their romance on Cave Hill, have their first kiss in Bangor and, presumably, only consummate their relationship after eloping to Gretna Green.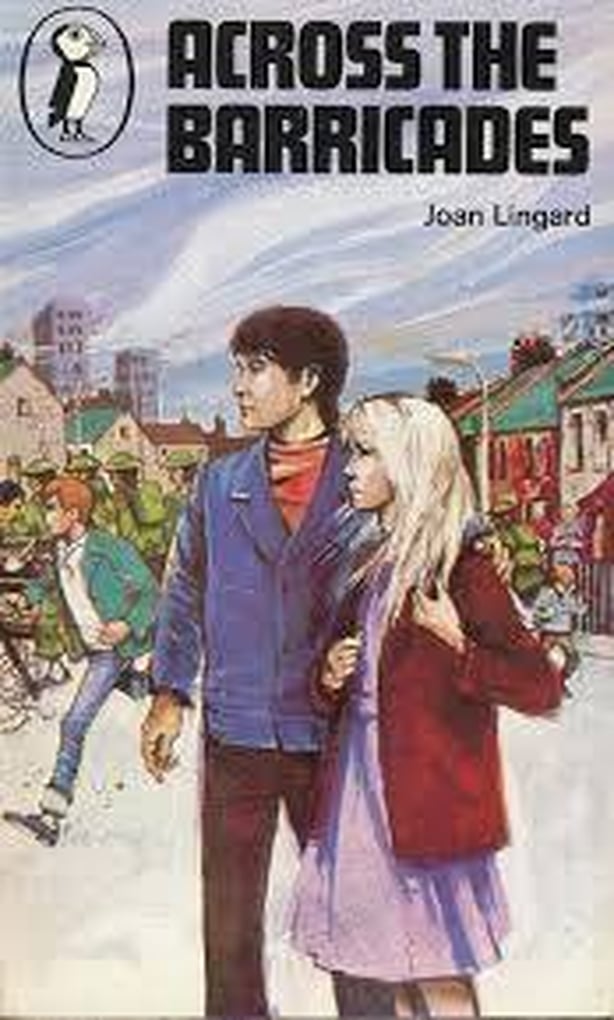 This is a series for young adults, so it's not surprising that the novels are relatively quiet on the sexual side of Kevin and Sadie's romance. That said, the novels certainly thrum along with the pulse of Sadie's desire for Kevin. She is bold and assertive in her longing for him, and it is the power of this desire that enables her to move past their different — and entrenched — political and religious beliefs. 
Although the novels consistently alternate chapters from the perspectives of both, Sadie is a much more fully realised character. In some respects, this is welcome. There's something powerful in giving girls the space to articulate their own sexual wants and agency. There's something especially radical about giving working class, Northern Irish girls the space to do so, something that gives Lisa McGee's Derry Girls a sense of blistering irreverence, even now.
On the other hand, the novels are much more engaged with Sadie's sectarian ideas and the novels repeat offensive stereotypes about Catholics and 'the Irish', as well as strikingly gendered comments about acceptable behaviour. Likewise, the British military are always a benign presence and Loyalist paramilitary activity never entertained at all, despite the Irish Republican Army being a consistent, if intermittent, presence throughout all five novels. 
Across the Barricades video by Frida Strømmen
When the couple have to leave Belfast to pursue their love, they end up in London, Liverpool and then Wales. Kevin's suggestion that they move to Dublin is met by Sadie with outrage and then incredulity. As Siobhán Kilfeather argued in the Field Day Anthology of Irish Writing Volume 4 (2002), the assumed reader for the series is British, despite the global success of the books, not least on both sides of the Irish border. 
Both Kevin and Sadie are described as restless and easily bored, so it is ironic that their youthful defiance involves them embracing the most expected institution of all: marriage. At times, both of them feel the constraints of their life choices and voice uncertainty about whether the sacrifices they have made were worth it.
But there's an important and optimistic energy about Kevin and Sadie's love story and the ability of young people to envision a different future for Northern Ireland. Young people are often championed as the voice of the future. For example, the power of punk, as a dissenting youth culture, to transcend sectarian identities in the North is well-documented. Parallel to this narrative, however, is the crucial role that teenagers and young adults played in paramilitary and state security organisations.  
Lingard's novels show how great the human cost of the conflict was through these two exiled lovers, miles away from their communities and unable to go home
The attraction of star-crossed lovers isn't just an Irish thing, of course, although it has a long history in Ireland. There is, however, so much at stake in these takes on Romeo and Juliet, where Kevin and Sadie's teenage rebellion could have fatal consequences for themselves and those they love. 
Ultimately, Kevin and Sadie never made it back to Belfast. They had to give up everything for each other. Far from being apolitical, Lingard's novels show how great the human cost of the conflict was through these two exiled lovers, miles away from their communities and unable to go home.  
Dr Alison Garden is a Marie Skłodowska-Curie Fellow at Queen's University Belfast. 
---
The views expressed here are those of the author and do not represent or reflect the views of RTÉ
---