Analysis: why did so many exhibitionist carvings appear on churches, tower houses and town walls in medieval Ireland?
By Gary Dempsey, GMIT
The term Sheela-na-Gig has been used since the 19th century to describe medieval exhibitionist figures in Ireland and Britain. These carvings are largely female, with a focus on large breasts and prominent vulvas. There are 114 existing carvings in Ireland, with a further 23 reported as missing or stolen. 
During Ordnance Survey field work in Tipperary in 1840, Thomas O'Conor reported an "immoral" carving on side a medieval church at Kiltinan and this distaste was echoed by his colleagues. It also sparked an interest in the carvings, and soon reports of similar carvings began to emerge. From this time, the term Sheela-na-Gig became associated with these carvings. 
We need your consent to load this rte-player contentWe use rte-player to manage extra content that can set cookies on your device and collect data about your activity. Please review their details and accept them to load the content.Manage Preferences
From RTÉ Radio One's Documentary on One series, A Tale of Two Sheelas looks at gangs accused of looting the ancient treasures of Ireland, including Sheela-na-gigs
Male and female exhibitionist figures have been a feature of medieval churches since the 11th century across Europe. Early examples are found on corbels and pillar capitals in British churches. The carvings are associated with the style of masonry known as Romanesque popular between the 11th and 13th centuries. 
An example of an early exhibitionist figure can be found on the chancel arch of the Nuns' Church at Clonmacnoise. This 12th century figure is part of the 'acrobatic' exhibitionist style, in which carvings are presented with the legs placed behind the head, and the body contorted to display the face and genitals. 
Most of Ireland's Sheelas' are much larger than the Clonmacnosie example, and can be found on churches, tower houses and, in some cases, town walls. These carvings date from the 14th to the 16th century, a period marked by the growth of Norman dominance in medieval Ireland. After their arrival in the 12th century, the Normans brought about major political and social change. A building boom followed, which was marked by the construction of tower houses and parish churches. This expansion in medieval building benefited both the Norman settlers and Gaelic families. It must have been a great time for Irish stonemasons whose skills would have been in high demand.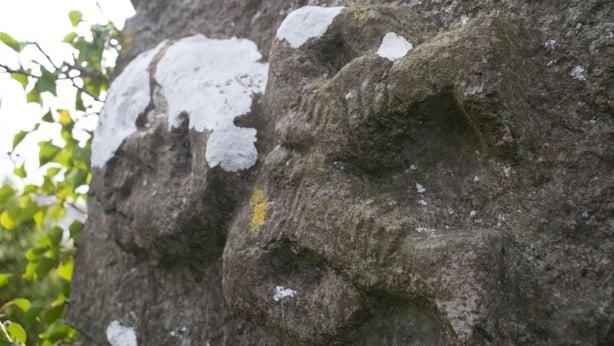 It is within this new social context that we find Sheela-na-Gigs. They are often found within a secondary position, either lying loose in graveyards or recovered among building rubble. Where carving have been found in place on buildings, there is often evidence of improvement works either within the medieval period or at a later period when unstable buildings were secured. 
Within the wider European context, exhibitionist figures are found at church sites, and only within a religious context. In Ireland, the carvings also occur within secular context associated with public spaces, such as town walls in Fethard and Thurles or private spaces like Bunratty Castle. There is no clear explanation as to why people would choose to place exhibitionist carvings at prominent points on their homes. This has sometimes led to suggestions that these carvings have a pre-Christian origin, but there is no evidence for this as no carvings have been found outside of a medieval context. 
By the time these carvings were re-discovered by antiquarians in the 19th century, their use and function were long forgotten. This missing memory can be attributed to a fall in the dominance of Norman families, church reform and a large number of parish churches and smaller Norman settlement sites falling into disuse. English soldiers and their horses have often been blamed with the destruction of decorative church carvings in local folk traditions. 
There is a mystery around Sheela-na-gigs which draw peoples' attention and we may never fully understand these medieval carvings
There is evidence that Sheela-na-gigs were used to taunt local families with a connection to the English in the 19th and 20th centuries. In Taghboy Co. Roscommon, a local folk tale suggested that a Sheela carved on the gable of the medieval parish church was placed there by the parish priest as a depiction of a local woman who assisted English soldiers. 
The loss of the decorative material on medieval buildings means that carvings can be difficult to see due to weathering and bio-growth such as lichen. Medieval stone carvings would likely have been more visible to people in the past.
Researchers in England have shown that medieval churches were places where official and folk aspects of religion intersected. Superstition was a common feature of medieval church life, and carvings displayed both scenes from scripture alongside images from heraldry and mythical beasts. It is likely that the Sheelas fulfilled a function within the lives of superstitious Christians. One suggestion is that exhibitionist carvings formed a function in dispelling the 'Evil Eye', a curse which could be passed from an unknown carrier to animals or other people within a household. There is a mystery around Sheela-na-gigs which draw peoples' attention and we may never fully understand these medieval carvings. 
New carvings are rare, but have been discovered in 2017 and 2019. If readers have a carving, they believe is unrecorded, they should report it the National Museum of Ireland and National Monuments Service. 
Gary Dempsey is a digital heritage expert who lecturers in Design and Heritage Studies at Galway Mayo Institute of Technology. He is the coordinator of the Sheela-na-Gig 3D project
---
The views expressed here are those of the author and do not represent or reflect the views of RTÉ
---