Analysis: if half of all car journeys under 6km switched to cycling or walking, we'd see a fall of 0.12 million tonnes of emissions in a year
By Vera O'Riordan, Fionn Rogan, James Fitton and Brian Ó Gallachóir, UCC
The Programme for Government has big plans for Irish transport. Spending the equivalent of €1 million per day on infrastructure will "enable a step change in the number of people taking daily journeys by foot and bicycle". So what could be the impact of such a change on transport sector emissions?
Walking and cycling have many benefits. They are good for personal health and well-being, good for the environment, are free or cheap to do and they generate zero CO2 emissions. According to SEAI, the transport sector generated 15.4 million tonnes of CO2 emissions in 2018, representing 40% of total energy related emissions. Until the Covid-19 pandemic, transport emissions had been rising steadily for years despite mandatory reduction targets.
Transport emissions come from cars (40%), planes (21%), and freight (14%). To quantify the impact of an increased share of active modes of transport (i.e. walking and cycling), we used data from the 2016 National Travel Survey. The data collected included the number of journeys made, trip purpose, transport mode (by foot, bike, public transport, by taxi, by private car as a driver or passenger), trip duration and distance travelled.
From RTÉ News, calls for more investment in Ireland's cycling infrastructure
We looked at the switching potential for journeys under six kilometres, which would take less than 30 minutes to cycle. Currently, two out of three journeys under six kilometres are completed by car, and only 20% are completed by walking or cycling. In total, walking and cycling represents 1.5 billion kilometres, or 3% of the total passenger kilometres in Ireland, and driving represents 85%. Relatively short journeys are a good opportunity to switch from carbon intensive modes (such as driving) to zero carbon modes (such as walking and cycling).
If 45% of all journeys under six kilometres were completed by cycling or walking instead of driving, annual transport related carbon dioxide emissions would decrease by 0.12 million tonnes of emissions in one year. Such a change wouldn't happen overnight without significant infrastructure investment and changes to people's travel routines. If we assume sufficient policy interventions over the decade 2021-2030 and walking and cycling increases to a 45% share by 2030 (for journeys under 6km), this would achieve cumulative emissions reduction of 0.66 million tonnes of CO2 emissions.
To put this into perspective, the EPA recently published figures on the projected impact of the current Climate Action Plan for 2021-2030, which includes the very ambitious target of nearly 1 million electric vehicles by 2030. The EPA estimate road transport emissions could be reduced by 21 million tonnes by 2030.
From RTÉ's You OK? podcast, coaching psychologist, Lecturer, author and former UN peacekeeper Hugh O'Donovan on the value we can glean from even the simplest of walks
Our estimate of a 0.66 million tonnes reduction by 2030 shows that walking and cycling can contribute to Ireland reaching climate targets. This is based on a very modest increase from 3% to 4% in the share of active modes in overall passenger km. The estimate for savings from cycling and walking could be much higher with faster take up (like in Paris) or with higher shares for journeys longer than 6km.
Our analysis is preliminary and relies on a number of assumptions. It shows that switching to active modes can lead to significant reductions in emissions, but it also shows that all modes matter when it comes to transport and all modes will have to decarbonise.
Switching from cars will also improve other pressing environmental and resource based issues in densely populated areas. These include reduced land-use for parking, air that is safer to breathe, less noise from engines and reduced vehicle congestion for essential vehicle users or for those in remote areas for whom walking and cycling is not an option.
From RTÉ Six One News, EPA says Ireland will hit its 2030 target for cuts to gas emissions
A policy mix of discouraging private car use and providing real alternatives that people will choose is key to reducing transportation emissions. In Ireland, there is a lack of well-designed cycling infrastructure networks that adequately protects cyclists from other road users. Increases in the number of journeys completed by cycling could be achieved by investing in cycling infrastructure. Additional measures, such as provisions for showers in workplaces will also help.
One of the barriers to increased shares of cycling is the misconception that our cities are unsuitable for cycling. For example, a local councillor in Cork City recently stated that the city was too hilly to cycle. However, analysis shows that most of the roads are at gradients that are easily cyclable, especially in the city centre.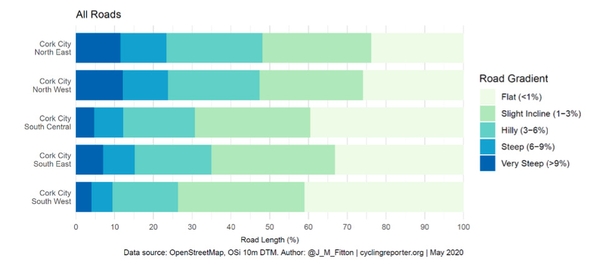 There are many other perceived barriers to cycling in Ireland, such as the climate being too wet and windy. But studies from countries with similar climates have shown it is concerns about safety that is the key reason people choose not to cycle.
The Programme For Government also has a commitment for Ireland to achieve "net zero emissions by 2050". While this might seem abstract and far away, it means that on average everybody's carbon footprint must be zero - that is zero emissions for all our heat, electricity and transport needs. While this will require large-scale technology deployment (e.g. energy efficiency, renewable energy and negative emissions), it will also require supporting, enabling and expanding those existing modes of active travel – cycling or walking – which are already zero-carbon.
Vera O'Riordan is a PhD Researcher at the SFI MaREI Centre at the Environmental Research Institute at UCC. Dr Fionn Rogan is a research fellow at the SFI MaREI Centre at the Environmental Research Institute at UCC. Dr James Fitton is a Post Doctoral Researcher at the SFI MaREI Centre at UCC. Prof. Brian Ó Gallachóir is Professor of Energy Engineering at the School of Engineering and is Director of the SFI MaREI Centre at UCC.
---
The views expressed here are those of the author and do not represent or reflect the views of RTÉ
---