Analysis: the lockdown brought massive changes to our daily lives and especially our eating and food habits
Our food choices are influenced by many factors, from personal preferences, allergies, intolerances and social acceptance to availability, price, affordability and your ability to prepare, cook and enjoy the food. Those with families also need to consider multiple needs and preferences, and almost everybody tends to have limited time when it comes to preparing food.
Throughout the past few months of lockdown, life has slowed down for many of us. This slowdown has facilitated changes to our food environments and our relationships with food. Recent research in the UK and Italy found that lockdown has influenced changes to peoples' lifestyles and eating habits. Almost 40% of UK adults report that they are eating more than usual in lockdown, 20% claim they are eating healthier during lockdown and 25% claim less healthy eating habits. Research on Irish habits is currently underway.
The results confirm what we already know about healthy habits: different people act differently in different situations. For some, lockdown has been a real struggle, and perhaps eating more junk/snack food has been a way of coping. For others, lockdown has provided an opportunity for people to focus more on their diets, taking time to experiment in the kitchen and prepare some new recipes.
We need your consent to load this rte-player contentWe use rte-player to manage extra content that can set cookies on your device and collect data about your activity. Please review their details and accept them to load the content.Manage Preferences
From RTÉ 2fm's Louise McSharry Show, The Gastro Gays on the new normal when it comes to food shopping
The time constraints from regular daily life, be it travelling to work, working long hours or having days packed with activities for different family members, often affect the types of food we eat during the week. As more people began working from home, or had to stop working altogether, many found they had more time available to prepare healthier meals, and to experiment with new recipes or learn new cooking skills. Children were home from school, so many families began baking together, giving an opportunity to learn cooking skills, interact as a family and, most importantly, eat home-baked goods!
As evident from the queues outside every supermarket, popping to the shop was no longer an easy option to pick up a quick snack. Many people found themselves writing detailed shopping lists, planning meals in advance to ensure that one shopping trip fulfilled all their needs for the next week. Planning out meals and snacks is a great way to improve your eating habits. It can help prevent excessive snacking on treat foods, help ensure you have enough of each food group to make balanced meals, and can help save money.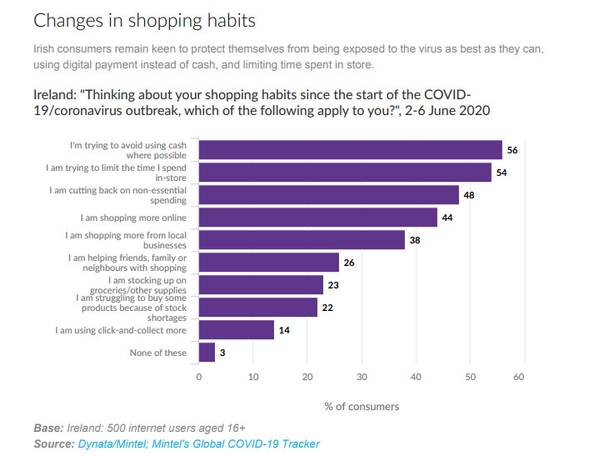 Similarly, fewer opportunities to eat out led to more home-cooking. Although takeaway services remained available throughout lockdown, many people chose not to have them. While this may have been done to minimise contact with others or for financial concerns, many no longer felt the need for a spontaneous takeaway since they had cupboards and fridges full of food ready to eat, and had the time to prepare it.
On the other hand, spending more time at home has had a negative impact for some people. Many feel their eating habits are less healthy than usual, with more mindless snacking more from boredom or stress. The structure of the work day can be helpful to keep order around eating.
While this is a challenge during lockdown, it can also be an opportunity to train yourself into more mindful eating habits, responding to your hunger with food and responding to your boredom with other activities, like exercise or reading. Snacking isn't inherently bad, but why and how you snack can be addressed now and those habits can be continued as life begins to move back to the new normal.
We need your consent to load this rte-player contentWe use rte-player to manage extra content that can set cookies on your device and collect data about your activity. Please review their details and accept them to load the content.Manage Preferences
From RTÉ Radio 1's Today with Sarah McInerney, dietician Louise Reynolds on how to effectively use your freezer to avoid unnecessary trips to the supermarket
In the early stages of lockdown, supermarket shelves were often devoid of many staple foods. Fruit and vegetable sections lay bare and eggs and flour became prized possessions. This was annoying as a shopper but, as a nutritionist, I was happy to see people placing great importance on these key, nutrient-rich foods. People have learned to embrace tinned and frozen foods more, often forgotten sources of nutrition.
Anecdotal reports point to people making use of everything in their cupboards, fridges and freezers before making that dreaded trip to the supermarket queue. We saw people get more creative with meals and reduce food waste. If we can continue these habits after lockdown, multiple benefits will follow.
Those who were in self-isolation, cocooning or working more than usual faced different challenges with access to food. The WHO published a list of simple tips for eating during self-quarantine, but these actually relate to us all, during lockdown and in regular daily life. Eating well is less about the individual foods you eat, and more about your patterns of eating: how, why, when and where you eat, and how you interact with and relate to your food. By recognising your reasons for eating, you can make informed food choices to suit your needs and your situation as it changes day by day.
---
The views expressed here are those of the author and do not represent or reflect the views of RTÉ
---