Analysis: there has been a long and colourful relationship between Gaelic games and cinema home and away.
While Gaelic games are among the most popular sports in Ireland, few will be aware of the long tradition of depicting these games in the cinema, a tradition that goes back to the earliest days of the cinema. In fact, as early as 1901, the Irish Animated Photo Company filmed a Cullen's Challenge Cup hurling game between Rovers and Grocers played at Jones' Road – now Croke Park – and the film was screened as part of a "Grand Gaelic Night" at the Rotunda on Parnell Street the following week.
In subsequent years, Gaelic games have repeatedly provided filmmakers with a resonant motif to represent perceived aspects of Irish identity, perceived as these representations have been neither straightforward nor unproblematic. In international productions in particular, Gaelic games have been employed on occasion as a short hand for regressive stereotypes associated with Irish people, including their alleged propensity for violence.
How hurling conquered Hollywood: @SeanCrosson @HustonFilmNUIG @nuigalway on the long & colourful relationship between Gaelic games & cinema home & away. Video by @_LauraGaynor & recorded at @PalasGalway pic.twitter.com/NhVwgoFpOg

— RTÉ Brainstorm (@RTEBrainstorm) July 1, 2020
But for domestic film makers, Gaelic games afforded distinctive Irish cultural practices and were employed to promote and affirm the Irish nation, particularly as an indigenous film culture began to develop in the aftermath of the Second World War. From the late 1960s onwards, a critical turn became evident in these homegrown productions, though contemporary depictions of Gaelic games still occasionally reveal the more problematic stereotypes associated with Ireland and Irish identity.
In Ireland, the historical relationship between sport and film has been complicated by the fact that much of this film emerged from British and American production companies. While an Irish film culture was slow to develop post-independence, the representation of Gaelic games in the inter-war years depended almost entirely on foreign newsreel companies such as British Pathé and British Movietone. The surviving footage from these companies – of which there are fortunately a significant number of examples – provides an important record of Gaelic games in these years, and some of the finest players from both codes.
We need your consent to load this YouTube contentWe use YouTube to manage extra content that can set cookies on your device and collect data about your activity. Please review their details and accept them to load the content.Manage Preferences
British Pathé coverage of the 1937 All-Ireland football final
However, their presentation sometimes reveals prejudiced perspectives and a limited understanding among producers of the games being filmed. While the rather contrived, clipped, upper-class "Oxford" accents evident in newsreel commentary are standard for British newsreels of the period, they seem rather incongruous for reports of Gaelic games.
These accents may have conferred a certain respectability and international recognition on the sports featured, but they also contributed the occasional mispronunciation, as in the case of Cavan ("Ca-vinn") in a 1937 British Pathé newsreel of that year's All-Ireland football final and Laois ("Leese") in footage from the 1936 All-Ireland football final from the same company. Commentators also occasionally resorted, rather erroneously, to other sports to explain the action, for example with county teams being referred to on one occasion as "clubs" and a reference to the beginning of a Gaelic football game as a 'kick-off' rather than a throw-in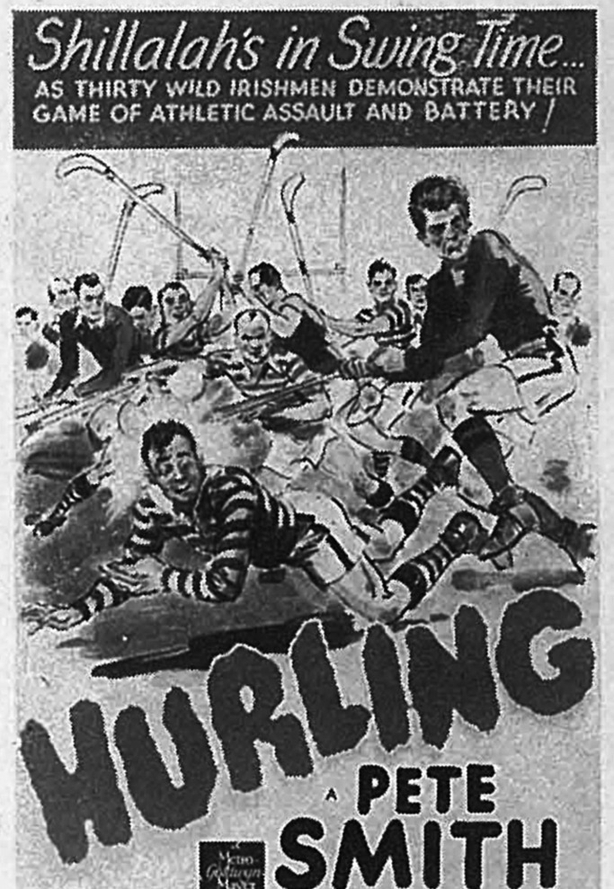 A further fascinating aspect of the story Gaelic games on film is the enduring relationship between hurling and Hollywood. Several of the major Hollywood studios, including MGM, Paramount and Warner Bros, have produced films which focus on this most distinctive of Irish sports. Hurling first appeared in a number of Warner Bros shorts' series released in cinemas in the early 1930s, including two episodes of series presented by the seminal American sport broadcaster Ted Husing.
In 1936, MGM released a short entitled Hurling as part of their highly-popular "Pete Smith Specialities series". This described hurling as Ireland's "game of assault and battery" and drew heavily on established and problematic stereotypes concerning Ireland and Irish people at the time. The peak for Hollywood short films on hurling came in 1955 when Three Kisses was nominated for an Oscar. Featuring leading Cork hurlers of the time and games from the 1955 hurling championship, Three Kisses is a fascinating rendering of hurling, Ireland and Irishness from a Hollywood perspective.
We need your consent to load this YouTube contentWe use YouTube to manage extra content that can set cookies on your device and collect data about your activity. Please review their details and accept them to load the content.Manage Preferences
Excerpts from Rooney (1958)
By the 1950s, references to hurling and hurlers in particular featured in a range of feature films, including The Quiet Man (1952), The Rising of the Moon (1957) and Young Cassidy (1965), all work by the legendary and multiple Oscar-winning Irish-American director John Ford. Indeed The Rising of the Moon remains one of the most controversial films of the 1950s for its depiction of battered and bruised hurlers returning from a game on stretchers, provoking strong protests from the GAA and considerable, often hilarious, comment from Irish Times' columnist Myles na Gopaleen (better known to many as author Flann O'Brien).
The game itself or references to the sport has continued to be a feature in major international productions including Rooney (1958), about the hurling exploits of a Dublin binman, and brief scenes in Ryan's Daughter (1970), The Crying Game (1992), and British crime thriller Blitz (2011). More extended sequences appear in Ken Loach's Palme D'Or winning The Wind that Shakes the Barley (2006), while Neil Jordan included a reenactment of one of the most infamous moments in Gaelic football history, 1920's Bloody Sunday, in his historical biopic Michael Collins (1996).
While these international depictions of Gaelic games provide revealing insights into the depiction of Ireland and Irish culture often from afar, the emergence of a domestic film culture is inextricably linked to the representation of Gaelic games. The earliest surviving depictions we have of Gaelic games – a 1914 actuality of the all-Ireland football final replay of that year between Kerry and Wexford and a sequence in the 1918 feature film Knocknagow, emerged from the efforts of pioneering companies and individuals in the story of Irish cinema, including the Irish Animated Picture Company (the first indigenous film producer and distributor) and the Film Company of Ireland, Ireland's first producer of feature films.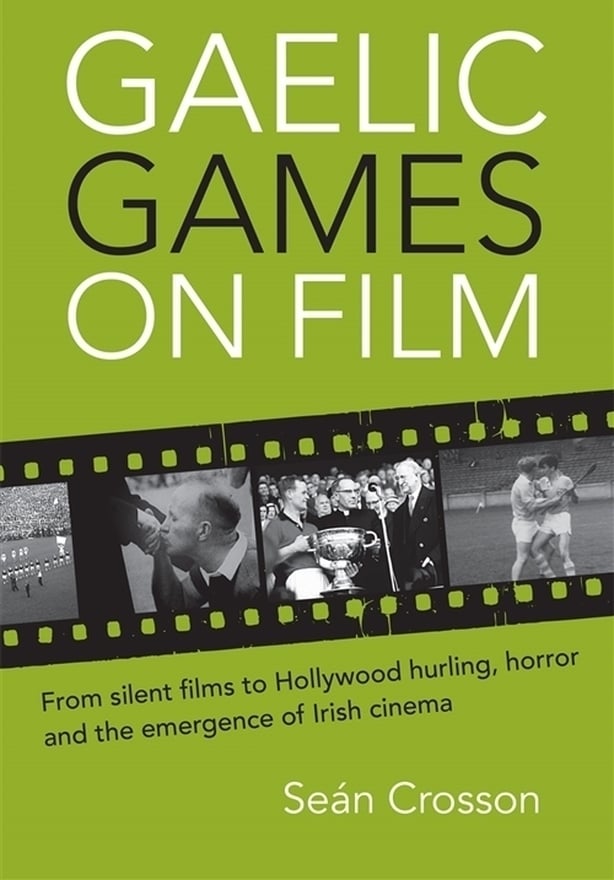 In the aftermath of the Second World War, an Irish film culture began to coalesce around the efforts of the National Film Institute of Ireland and subsequently Gael Linn. For both organisations, film depictions of Gaelic games were key concerns and featured among their most popular productions, including Gael Linn's coaching films Peil (1962) and Christy Ring (1964). In the later 20th century, Gaelic games continued to feature prominently in independent Irish productions including Fergus Tighe's Clash of the Ash (1988), Pat Comer's influential feature documentary A Year 'til Sunday (1998), and the horror work of Conor McMahon, including The Braineater (2001) and Dead Meat (2004).
From the first moving images captured in 1901 to more recent productions, the representation of Gaelic games on film has evolved significantly in response to developments in the sports concerned, Irish society and technology. Indeed, for those who watch these sports on TV or attend major games in Croke Park today, significant parallels exist with the history of cinematic depictions of these sports, both in the manner in which games are televised for broadcast and the in-stadium experience itself, complemented today by the relaying of action on the pitch onto the two permanent big-screens in the stadium. While television is undoubtedly the key medium for contemporary moving image depictions of Gaelic games, these representations are nonetheless indebted to the extraordinary legacy of the cinema and cinematic depictions of these sports.
Seán Crosson's book Gaelic Games on Film: From Silent Films to Hollywood hurling, horror and the emergence of Irish cinema (Cork University Press, 2019) will be launched in the Irish Film Institute, Dublin on Wednesday May 15th at 6pm.
---
The views expressed here are those of the author and do not represent or reflect the views of RTÉ
---