Analysis: new research finds that 7% of recyled European polyethylene ended up in the ocean in 2017
What happens after you've done your bit for the environment and placed your plastic waste into the correct recycling bin? New research finds that a significant proportion of this plastic may end up in the oceans and quantifies this pathway for the first time.
Typically, your disposed recycling is collected and sent to a materials recovery facility, where materials are separated, typically by plastic type. The sorted waste is then transported to a reprocessing facility. In these reprocessing facilities, the plastic is recycled into resins where closed-loop recycling (the recycled material substituting virgin material to create an identical product type) or open-loop recycling (the recycled material mostly substituting other materials) occurs.
We need your consent to load this rte-player contentWe use rte-player to manage extra content that can set cookies on your device and collect data about your activity. Please review their details and accept them to load the content.Manage Preferences
From RTÉ 2fm's Dave Fanning Show, what happens with our rubbish when it goes in the bin and how much of this leaves Ireland for processing
One of the most common plastic to be recycled is polyethylene, an extremely versatile material and is one of the most common types of plastic in Europe. It is primarily used in packaging and can be found in bottles, trays, films and plastic bags and accounts for about 30% of European plastic.
While European countries have developed world-leading waste management infrastructure, the increasing quantities of plastic waste now being recycled is putting pressure on these systems. This pressure has been partially relieved through the exportation of plastics destined for recycling, to countries outside of Europe, which until recently was spearheaded by China.
Currently, 46% of European separated plastic waste is exported outside of the country of origin to be recycled. A large share of this plastic is transported thousands of kilometres to countries with poor waste management practices, largely located in southeast Asia. Once in these countries, much of the waste is then rejected from recycling plants into overburdened local waste management systems, which have been found to contribute significantly to ocean littering – a global pollution phenomenon of increasing environmental concern.
We need your consent to load this rte-player contentWe use rte-player to manage extra content that can set cookies on your device and collect data about your activity. Please review their details and accept them to load the content.Manage Preferences
From RTÉ Radio 1's News At One, Joan O'Sullivan reports on the impact of poorly run plastic recycling plants in Northern Malaysia which are causing environmental and health problems
New research undertaken by the NUI Galway and the University of Limerick quantifies this hitherto unidentified pathway of polyethylene plastic into the ocean in a study published in the scientific journal Environment International. The study estimated that up to 180,558 tonnes, or 7% of exported European polyethylene, ended up in the ocean in 2017. These results indicate an important and previously undocumented pathway of plastic debris entering the oceans, which will have considerable environmental and social impacts on marine ecosystems and coastal communities.
Plastics can survive for hundreds of years, polluting the environment. Animals can become entangled within the plastics, such as netting, or ingest larger plastic fragments, such as turtles mistaking plastic bags for food. Larger plastics can also degrade into smaller plastics, known as microplastics. As well as be eaten by smaller animals, microplastics can leach chemicals into the surrounding environment, resulting in toxicity which impacts both humans and animals.
The results showed that countries exporting a higher share of plastic outside of Europe, such as UK, Slovenia, and Italy, see a higher share of their recyclable plastic waste end up as ocean debris. This is cause for concern over how the reporting of recycling in undertaken. Given that such a large share of waste destined for recycling is exported, with poor downstream traceability, this study suggests that 'true' recycling rates may deviate significantly from rates reported by municipalities and countries where the waste originates. In fact, the study found that up to 31% of the exported plastic wasn't actually recycled at all.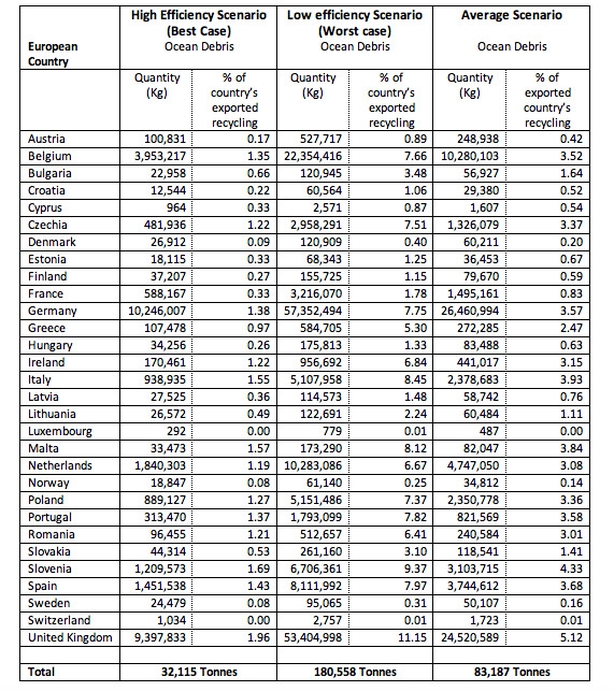 To successfully move towards a more circular economy (an economic system aimed at eliminating waste) in line with European policy, the authors conclude on the need for European municipalities and waste management companies to be held accountable for the final fate of "recycled" waste. This may involve extended audit trails, or "on-shoring" of recycling activities. There is considerable work to be done to improve aspects of these plastic recycling chains, to reduce the 'leakage' of these systems.
Increasing attention on environmental impacts of this plastic in some destination countries is changing the market for plastic waste. Many countries, such as the main importer, China, are implementing new policy, banning the importation of plastic waste. This is likely to have further consequences for the fate of European plastic waste. However, the true extent of this global system change remains unknown. Although, early reports suggest that the plastic waste that would have been exported to these countries are being diverted to countries with a higher risk of ocean littering, thus increasing the problem.
However, the authors caution that these findings should not discourage people to recycle, as it remains one of the best waste management treatments for plastic waste. Every year, more plastic is recycled globally, reducing our dependence for non-renewable fossil resources. Check with your local municipality on how you can improve your recycling habits from home today.
The study was part of the Science Foundation Ireland funded Innovative Energy Technologies for Bioenergy, Biofuels and a Sustainable Irish Bioeconomy: IETSBIO3
---
The views expressed here are those of the author and do not represent or reflect the views of RTÉ
---