Analysis: long before Amazon or Deliveroo, Irish people used the post office parcel service to send and receive everything from turkeys to tea
This article is now available above as a Brainstorm podcast. You can subscribe to the Brainstorm podcast via Apple, Stitcher, Spotify or wherever you get your podcasts.
One of the most noticeable features of the pandemic appears to be an ability to ensure ongoing delivery of essential products thanks to technology, high level logistics and open economies. Amazon and other online services have enjoyed increased demand as physical retail outlets have been forced to close.
But could our highly sophisticated modern system safely, efficiently, and economically deliver a fresh turkey, parcelled and posted, by, say, an Irish mammy in Cork to her son in London in less than 24 hours? Over 100 years ago, this was considered normal. A parcel with fresh food, posted in Cork at 3.15pm would be delivered in London by 11am the following morning. Up to World War II, overnight delivery was standard, driven by collection and delivery of Irish post at least twice a day, seven days a week, including Christmas Day.
The genesis of this was when the Post Office started parcel delivery in 1883. They budgeted high volumes in year one - 27 million parcels - and the service was immediately popular. In Ireland, 750,000 parcels were posted in the first eight months of 1883, followed by a Christmas peak of over 131,000, rising to over 2.7 million in 1888. By 1909, the London Great Central Parcels Office complained that it didn't have enough room in their "cold storage safe" for all the poorly labelled turkeys, which got lost in transit.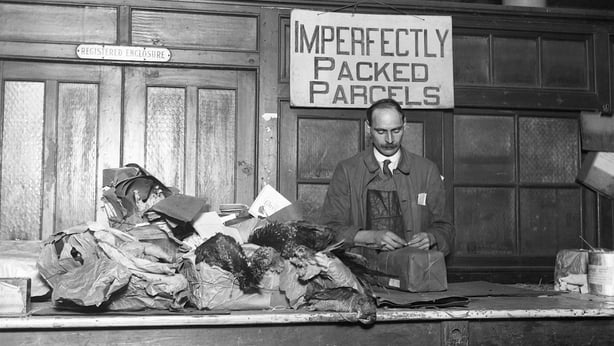 From early on, users had high expectations of what a postal service could do, and this continued until the mid-20th century. In 1886, the 32nd Report of the Postmaster General gave some clues as to what people thought it was possible to put in a parcel, even if contrary to regulations: two hens, eight mice and two hedgehogs are among the items posted. By 1925, there are anecdotes around illegally hiding a pound of sausages or rashers in newspapers bound for Irish relatives in Britain.
There were two factors driving this explosion in sending long distance food parcels during the restrictions imposed by the 1929 Great Depression, world wars, the emergence of the Irish State and the subsequent Anglo-Irish economic war. First, researchers in UCC's EMIGRE project estimate that about 10 million people emigrated from the island of Ireland in the years since 1800, with Bernadette Whelan highlighting that net female emigration (mostly single and under 30 years-old) was higher than that of males between 1871-1971.
Up to 1830, more Irish crossed the Irish Sea than the Atlantic Ocean, but this was reversed for the next 100 years until the 1929 Great Depression, when emigration traffic reverted to Britain. This ensured that the Irish Post Office was an atypical national system where more items were arriving than leaving, as emigrant families and friends looked after each other at times of considerable hardship.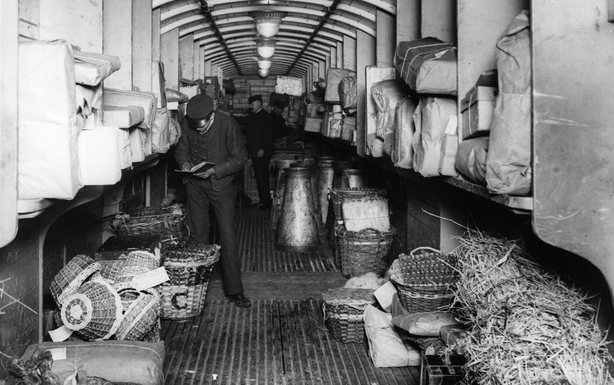 The second factor was the technological innovation which provided railways and transatlantic shipping with improved speed and capacity. The demand for postal services prompted legislation in 1873 and 1882 which ensured that that Post Office business had priority over all other traffic, resulting in the use of carriages as mobile sorting offices, for example.
By 1905 the fastest voyage from Cobh to New York was under six days so all mail between the United States and Britain was routed by rail via the Dublin/Holyhead mailboat to Cobh. It was so busy that the Cork Examiner reported that observers from the American Post Office in Cobh in 1905 saw 1,200 sacks of outbound mail being loaded in 32 minutes, along with 1,800 inbound sacks unloaded in a similar time. Suitably impressed, they established an American Parcel Post in Cobh, and ships were fitted with sorting offices. By 1924, there were six shipping companies handling 40,000 sacks of mail annually.
So what did all these parcels contain? The traffic was largely defined as the "5lb Food Parcel", which included tins of meat, fruit, vegetables, spiced and corned beef and honey, provided that each item was no more than 2 pounds weight (1 kg). Fresh beef or mutton was also allowed, or a dozen eggs.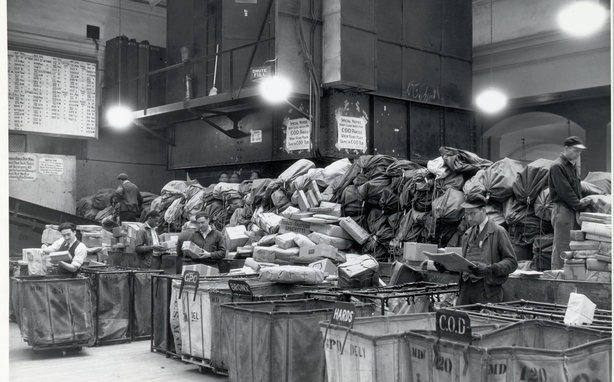 In 1948, the Irish government changed the rules for families who had sons or daughters working in Britain which had an immediate effect. Between December 6th and 22nd 1948, 56,000 parcels, mostly food gifts, were sent to England, compared to 25,000 in 1946. This substantial increase in volume was estimated to be worth £1.5 million in 1949 (equivalent to £53 million today).
In terms of turkeys, 116,000 licences to send gift turkeys were issued in 1949; a significant figure when one considers that total Irish exports numbered 446,000 birds. From 1952, Christmas parcels could include one turkey, one goose, one duck or fowl, fresh fruit, fresh vegetables, tinned vegetables, fish (other than salmon), honey, jams, cakes, sweets and chocolates. By the end of the 1950s, sending turkeys retained its popularity. Oral history records show that the 9.30pm post on December 21st 1959 from Longford contained 550 bags of turkeys, with an average of five turkeys (each around 12lb) in a bag, to destinations such as London, Birmingham, Manchester and Crewe.
Compared to Britain, American parcel post was relatively simple. Far more parcels were received in Ireland (an average of 170,000) than sent to the States (16,000) annually and the "American parcel" was highly anticipated, as it contained both food and goods from family members. The Connacht Sentinel noted that 981 bags of mail were landed in Galway port from New York for Christmas in 1931. The Irish Independent, commented that "the depression in the Great Republic of the West does not extend to that proportion of its citizens having Irish affiliations" as it observed that 1,200 bags of "parcel mails" arrived in Cobh in 1931.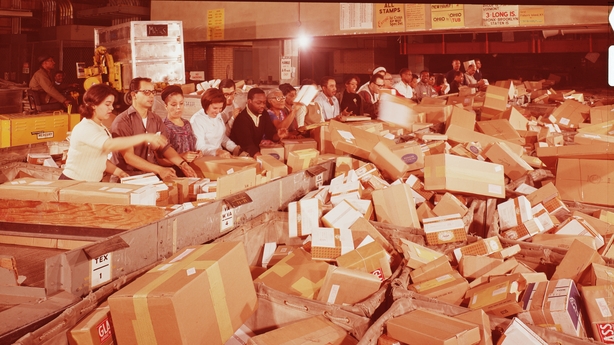 World War II brought a revival of American parcels, which brought "loads of sultanas to almost every postal district in Connemara". Only half a pound of tea was allowed in each American parcel, but the restriction was circumvented by sending a parcel to each member of the same family. Similarly, large volumes of parcels arriving in Kerry and Limerick for Christmas 1945 with dried fruit, oranges, tea and rice.
Over 70 years later, the fascination with parcels remains strong in Ireland, though the contents are much more likely to be electrical equipment, books and clothes than foodstuffs. However, despite of technology and major advances in air and sea travel, one would struggle to match the efficiency and speed of delivery of the last century.
This piece is based on Eating Abroad, Remembering Home: Violent Disruption, the Irish Diaspora, and their Food Parcels, 1845–1960, a paper delivered by the author at the Dublin Gastronomy Symposium 2020
---
The views expressed here are those of the author and do not represent or reflect the views of RTÉ
---