Opinion: from plays to co-founding the Abbey, Lady Gregory had a profound influence on Irish literature and culture
By Melissa Sihra, Trinity College Dublin and Barry Houlihan, NUI Galway 
Walking up the imposing marble steps of the New York Public Library earlier this year, one was greeted by a large image of Lady Augusta Gregory and her proud declaration "ALL THIS MINE ALONE". The title of a major exhibition, Gregory's statement appears in the manuscript of Kathleen Ni Houlihan, the play which she co-authored with W.B. Yeats, but for which was never acknowledged. On the 88th anniversary of her death on 22 May 22nd 1932, how do we remember one of Ireland's greatest cultural figures?
The author of 42 plays, a book of sonnets, a translator, a folklorist, and co-founder of Ireland's national theatre, the Abbey, Lady Isabella Augusta Gregory (Persse) was born in 1852 and has had a profound influence on the Irish literary and cultural revival of the early 20th century. She can be regarded as the genesis of the Irish literary theatre.
At their core, her plays are about the power of language and the artist to transform everyday life. Gregory invented the unique dialect of Hiberno-English which influenced John Millington Synge and is now synonymous with the Irish dramatic tradition. Synge referred to her original Hiberno-English as his "daily bread". An Irish speaker, she first used this form in her 1902 translation Cuchulain of Muirthemne, which WB Yeats called "the greatest book ever to have come out of Ireland". 
We need your consent to load this rte-player contentWe use rte-player to manage extra content that can set cookies on your device and collect data about your activity. Please review their details and accept them to load the content.Manage Preferences
From RTÉ Radio 1 Extra, a profile of Lady Gregory
In Gregory's plays, storytelling is the driving force of the action from Kathleen Ni Houlihan and Spreading the News to The Rising of the Moon, influencing Synge's The Playboy of the Western World, Samuel Beckett's Waiting for Godot, Brian Friel's Fait Healer and Dancing at Lughnasa, Marina Carr's The Mai and beyond. Beckett was greatly influenced by Gregory's dramatic pairing of characters in confined or exiled circumstances in The Gaol Gate and The Workhouse Ward.
Underlying her plays is a rich source of folklore as an expression of the invisible forces that shape our internal lives. Strong women are central in Gregory's plays. Grania contains some of her most lyrical language, ending with a woman who crowns herself. In The Golden Apple, a beautiful witch is considered ugly by mortal men and is persecuted for her knowledge. The blind madwoman Cracked Mary in The Full Moon understands the nature of being unlike the dull, myopic local townsfolk. 
The New York exhibition coincided with the Irish Repertory Theatre bringing Gregory's life and works to the stage in a new play Lady G: Plays and Whisperings of Lady Gregory. Directed and created by Ciaran O'Reilly, Irish actor Una Clancy played Lady Gregory along with Terry Donnelly, John Keating and James Russell who superbly performed 23 roles including Yeats, Sean O'Casey and George Bernard Shaw.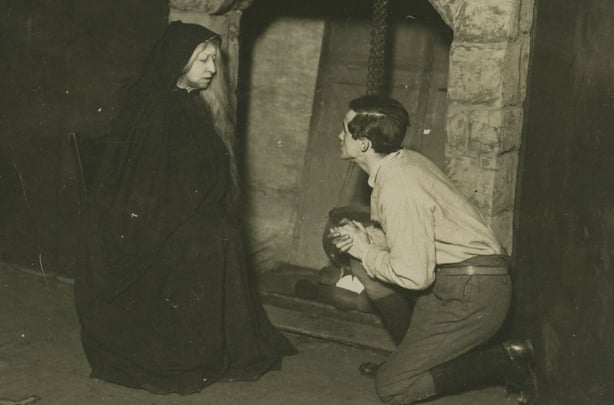 We first meet Lady Gregory at her home in Coole Park where Clancy speaks directly to us: "Lady Gregory is gone now – since 1932 my goodness, almost 90 years so we're just bringing her back this evening for a visit… Through me. (Lady G takes centrestage.) And here I am." 
Early in the play Gregory reflects that "my chief memory is that of being ignored." While she is referring to her mother's lack of interest, this can be understood in a larger sense. Gregory was one of the Abbey's three original directors with Yeats and Synge. During her lifetime, she was the most produced, most popular and most prolific playwright of the Abbey and her plays saved the theatre from financial ruin many times, yet they have rarely been performed since her death.
Confronting her erasure from the repertoire, Gregory tells us "my plays have not been performed much since my departure so one of the conditions of my contract at the Irish Repertory Theatre was that if I was to make an appearance, I would like to see some of them staged." O'Reilly's play integrates the exquisitely crafted The Workhouse Ward and McDonough's Wife as plays-within-the-play introduced by Gregory herself. As McDonough's Wife ends, Gregory tells us, "I saw my play as "a hymn of praise to the pride of the artist". Shaw called her "the greatest living Irishwoman" and, as Gregory's life and works shine in New York City in 2020, it is time to unveil their luminescence in Ireland once again.
From RTÉ Doc On One Archive, A Tree In Coole looks at the life of Lady Gregory (first broadcast 1960)
On the death of Gregory in May 1932, playwright Lennox Robinson described Gregory in the Irish Press as "an internationalist . . . the most distinguished woman dramatist in the world today". Robinson also called on the Irish Government to fully recognise and to pay tribute to Gregory's achievements to which she gave "for Ireland".
But that recognition was not forthcoming. The house and gardens Gregory kept at Coole were transferred to State ownership in 1927 and the grand 18th century house was allowed to collapse into ruin in the years following her death. Today, the expansive gardens, forest and woodland, including the famous "Autograph Tree" and a visitor centre, are preserved to enable the public to walk in Gregory's viewpoints of a century earlier.
The records and archives that document Gregory's presence and great influence in Irish cultural life are part of major collections in libraries around the globe and the minute books of the Abbey Theatre are available online at the Hardiman Library in NUI Galway. These show how Gregory contributed to the administrative, literary and financial management of the theatre, often had fraught exchanges with fellow Board members, and was still chairing board meetings in the months before her death. There is, however, little evidence of any official marking of Gregory's passing within the theatre's board minutes.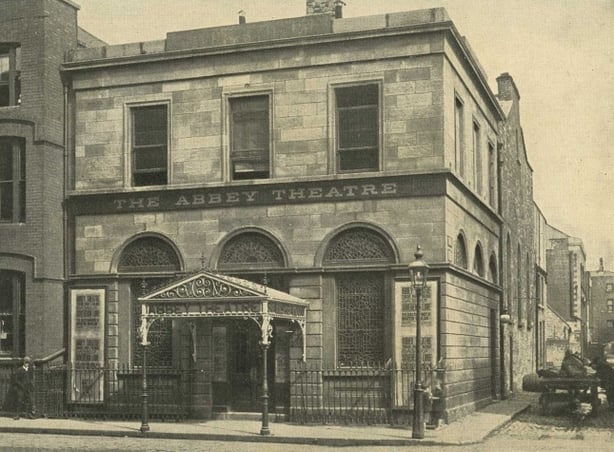 Production histories teach us about what plays are produced and when, but also about what works and figures are excluded from our stages and literary and cultural histories, national or otherwise. Since Gregory died in 1932, only 13 of her plays have been produced in the following 80 or so years (22 plays were produced during her lifetime in the first 30 years the Abbey existed), leaving many still unproduced today.
In 1984, Ray Yates directed an experimental production of Kathleen Ni Houlihan that used a darkened stage with four masked heads speaking as if floating in a Beckettian style. In 1990, Olwen Fouéré played Kathleen in a beautifully stylized choreographed performance and a production of Kathleen Ni Houlihan was part of the 1990 International W.B. Yeats Festival.
However, that decade saw the sharpest drop off in productions of Gregory's plays. No credit or mention of Gregory was made in the lavish play programme, which was presented by the Abbey Theatre in association with Coca Cola. At the centenary of the Abbey Theatre in 2004, Kathleen Ni Houlihan was again credited to Yeats alone. By presenting Gregory's plays or by bringing new performative interpretations, we can today be enriched by her stagecraft and through her contribution to Irish culture.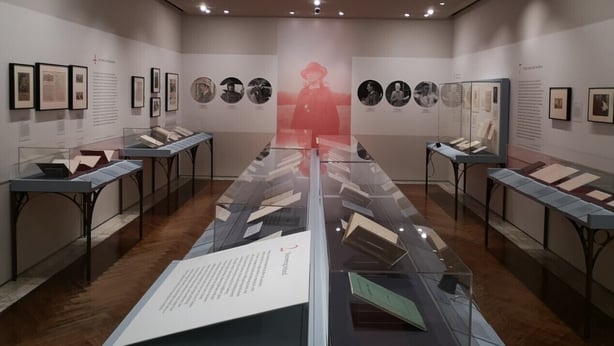 The New York Public Library exhibition, All This Mine Alone: Lady Gregory and the Irish Literary Revival, was curated by novelist Colm Tóibín and Professor James Pethica. It is fitting that the exhibition opened in the city in which Gregory shared many personal relationships and could enjoy the celebrity and fame she was often denied in her home country.
The exhibition traces her intricate life weaved between the public and the private, her home life and the stage, and the complexities of her marriage, affairs and the broad network of cultural and political figures with whom she mixed. Coole and Galway are a living presence in the exhibition, The documents portray the boundless energy Gregory drew upon to maintain a vast creative output as well as endure many personal losses, none greater than her son, Robert, an artist and pilot who died in 1918 during the final throes of the First World War.
This exhibition and recent productions at the Irish Rep Theatre are urgent reminders of how Gregory has been sorely misremembered as a dramatist of great significance in Ireland. Her plays are formative to the Irish literary tradition, and are clearly influential to succeeding generations of Irish playwrights.
At home, the Lady Gregory Autumn Gathering, which has run for 25 years, is an annual celebration, attracting leading scholars, artists and the public to Coole, Gort and Galway. As with others, Gregory's plays are out of copyright and open to new and radical interpretation. This can succeed in pulling the legacy of Gregory out from the black mourning veil we are accustomed to seeing her behind, and forwards into the live and captivating worlds she created on stage.
Dr Melissa Sihra is Head of Drama and Associate Professor at Trinity College Dublin. Dr Barry Houlihan is an Archivist at NUI Galway and teaches theatre history and digital cultures.
---
The views expressed here are those of the author and do not represent or reflect the views of RTÉ
---