Opinion: the issue of choosing an international team for footballers born in Northern Ireland continues to be a bitter one
The partition of football in Ireland reaches its centenary in 2021, but a bitter player eligibility dispute, one that reached its apex between 2007 and 2012, continues to be analysed with only a contemporary lens. Standing down last week from an impressive reign as Northern Ireland manager, Michael O'Neill had a "parting shot" at the eligibility row between the Irish Football Association (IFA) and the Football Association of Ireland (FAI).
Upon taking the job in December 2011, O'Neill's opening salvo on this issue was that "we have a strong football tradition but one that needs to be refreshed with some more contemporary success … so that players will want to play for their country."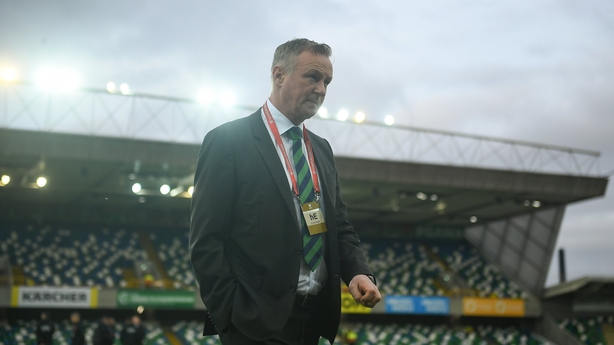 Few would dispute that his tenure as manager has brought contemporary success for his team. But the reasonable and thoughtful appraisal of the situation advanced by O'Neill, is too often misused by other commentators.
Former Cliftonville manager Liam Beckett is an example of such ill-informed grandstanding: "I've always been a strong advocate of never mixing politics with sport … A few years ago, I was able to see why some of our talented young players would maybe want to jump ship. The Republic were a better team than we were so, for football reasons alone, I could accept that some kids might see it as a better opportunity of qualifying for and playing in all the big competitions … Anyone who at this minute in time would want to represent the Republic of Ireland rather than Northern Ireland - and I won't mince my words here - is doing so purely for political reasons".
The conflation of football and political reasons as a single explanation for why a player might transfer their international football allegiance is at the heart of the longevity of this issue. Having interviewed three Northern Ireland underage internationals of a Catholic/Nationalist background, two of whom who made the switch and one who did not, it is clear that each case had its own individual reasons.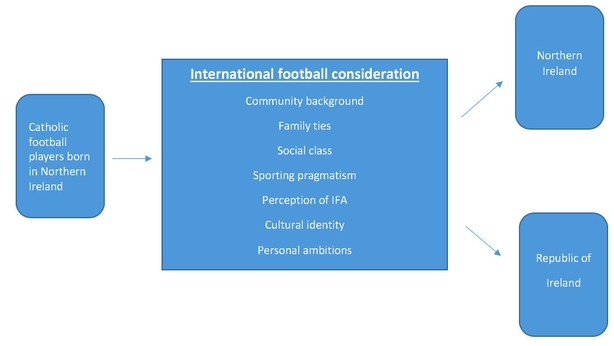 Some Republic of Ireland underage internationals did make the reverse switch to represent Northern Ireland at senior level, such as Johnny Gorman and Alex Bruce, the latter having already made two senior international friendly appearances for the Republic. His Northern Ireland senior debut away to Malta in February 2013, during the O'Neill era, made him the first Irish dual international footballer in over 60 years.
Many commentators had partly justified the positions of the respective associations and the players themselves by citing the Good Friday Agreement. It would be wrong, however, to identify April 10th 1998 as the origin of this particular issue. Neil Lennon's retirement from international football while captain of Northern Ireland in 2002, following a paramilitary death threat, suggests that post-agreement Northern Ireland is far from the utopia from which to casually advance "football" or "political" reasons to explain the individual motive within an issue that has deep historical foundations.
We need your consent to load this rte-player contentWe use rte-player to manage extra content that can set cookies on your device and collect data about your activity. Please review their details and accept them to load the content.Manage Preferences
From RTÉ Archives, Michael Fisher reports for RTÉ News on the 1988 World Cup qualifier between Northern Ireland and the Republic of Ireland at Belfast's Windsor Park in September 1988
Arguably, this dispute is as old as the secession of the Leinster Football Association from the IFA in June 1921. The historical difficulty in using the Good Friday Agreement in relation to the most recent eligibility dispute is that it was a bilateral endorsement of the pre-existing right to an Irish identity for residents of Northern Ireland, one that the IFA had previously been unwilling to concede following the split of 1921.
The IFA continued to identify their team as "Ireland" in British Home Championship fixtures until the early 1970s. The eligibility issue can be dated to as early as April 1924 when the Football Association of the Irish Free State  wrote to the IFA seeking agreement "that a player registered with a national association should not be at liberty – during the period of his agreement, to register with another national association without the written approval of the former association".
We need your consent to load this rte-player contentWe use rte-player to manage extra content that can set cookies on your device and collect data about your activity. Please review their details and accept them to load the content.Manage Preferences
From RTÉ Archives, Tommie Gorman reports for RTE News on Derry City FC in 1988
But more than than any other event, it's the withdrawal of Derry City FC from the Irish League in October 1972, eventually finding a new home in the League of Ireland in 1985, which resonates with the recent eligibility dispute. High-profile players who have switched, including Darron Gibson, Shane Duffy and James McClean, were born in Derry, the latter having also played for Derry City.
A Derry City player that chose to represent Northern Ireland during the eligibility dispute, Niall McGinn, is from Dungannon in Co Tyrone, rather than Derry. His international debut for Northern Ireland in a 2008 friendly against Hungary was the first time since Liam Coyle's late appearance as a substitute against Chile in 1989, that a Derry City player represented Northern Ireland.
---
The views expressed here are those of the author and do not represent or reflect the views of RTÉ
---