Analysis: here's the process and the people involved in Covid-19 tests in medical laboratories around Ireland 
By Brigid Lucey, Cork Institute of Technology
Teams of medical scientist healthcare workers across Irish hospitals have been responding as rapidly as possible to the current Covid-19 pandemic to establish accurate and sensitive testing methods for its detection in samples. Some laboratories already had instruments in place that were capable of implementing new methods for the detection of SARS-CoV-2, whereas others had to implement new molecular technology from scratch. Here's a look at some aspects of the procedure with help from microbiology staff in Cork's Mercy University Hospital Microbiology Laboratory.
What is the first thing that happens?
Upon arrival to the microbiology laboratory, the patient specimen and its accompanying request form are checked to ensure they meet the minimum criteria for acceptance. Staff ensure that the names on form and specimen match and that the correct type of specimen is received for the test, e.g. nasopharyngeal swabs/aspirates and lower respiratory tract specimens. The appropriate clinical details must also be indicated, for example, pyrexia and respiratory symptoms.
30,000 new Covid-19 testing kits are due to arrive tomorrow, while there are now 19 testing hubs around the country.

When samples are taken they are sent to labs for analysis and results - Conor Hunt spent the morning at one lab in the country to see how staff there are coping pic.twitter.com/0XcNRmIjxd

— RTÉ News (@rtenews) March 18, 2020
The specimen is then assigned a unique accession number, which allows it to be traced throughout the laboratory and to be differentiated from the thousands of other samples received. This is done via a laboratory information system, that is also used to connect the lab to elsewhere (with strict levels of access assigned and personnel identifying passwords used). This means that other laboratories and hospitals, via appropriate, specific healthcare personnel, can access certain finalised results electronically the moment we release them. All information is indexed and stored and the process is entirely confidential.
Who's in the lab?
In conjunction with medical scientists, there is at least one consultant medical microbiologist, who has specialist knowledge in the treatment of patients with infection, medical laboratory aides and clerical staff. There are student medical scientists and trainee medical doctors in training hospital laboratories, all of whom play their part in keeping the service running. It should be noted that our hospital laboratories have added Covid-19 testing to the hundreds of different tests that they otherwise conduct.
How are they keeping themselves safe?
Owing to the high transmissibility and lack of immunity to the virus among our population, it is currently standard for laboratory staff to split into teams that run the laboratory in rotation. This avoids the need to shut down the entire laboratory if anyone contracts the virus.
We need your consent to load this rte-player contentWe use rte-player to manage extra content that can set cookies on your device and collect data about your activity. Please review their details and accept them to load the content.Manage Preferences
From RTÉ Radio 1's Today With Sean O'Rourke, Evelyn O'Rourke reports from a testing centre at Tallaght Stadium in Dublin
The need for extra staff in microbiology is facilitated by medical scientists who have multidisciplinary qualifications in biomedical science being able to move from other disciplines such as haematology or histopathology. These moves are made possible by the cancellation of routine procedures elsewhere in hospitals that would otherwise need laboratory tests.  Through the Academy of Clinical Science and Laboratory Medicine (ACSLM), the professional body representing medical scientists in Ireland, there is a daily update of volunteer medical staff and other scientists willing and needed to help
What's the science behind the test?
The most efficient way to detect a viral pathogen in human samples is by detecting its genetic material – its nucleic acids. Viruses have their genome enclosed in a protein coat. To conduct our testing, we need to find the virus in the patient's sample and, if it's there, to break open the protein coat to get the genome for the test.
Our human genome is made of DNA and we can replicate that and all DNA easily in the lab. There is a slight challenge with Covid-19 as its genome is in the form of RNA. This is the equivalent of having a document in Spanish when you only speak English, so the first thing you have to do is get it translated into a language you can work with. 
In the case of Covid-19, which is an RNA virus, we need to make a DNA copy of it. This is done once we have successfully extracted the virus from the patient's sample and broken open its protein coat to expose its genome.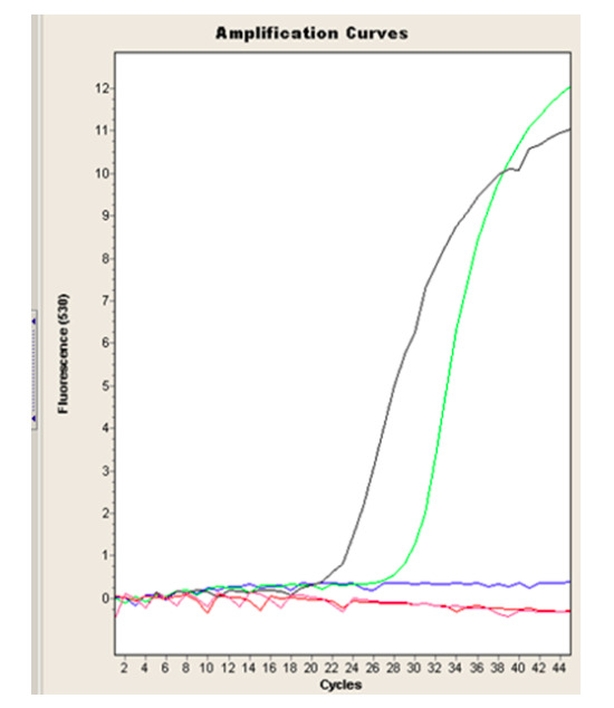 What we're looking at in the above image is the result of a real-time polymerase chain-based reaction (PCR). This replicates much more than a million-fold any Covid-19 DNA copy of the viral RNA. At the start, we put little specially designed pieces of DNA in each test tube to seek out the viral DNA and start off replication. We use dyes to detect the DNA produced. 
We then examine the screen for positive reactions, shown as S-shaped curves (all negative test results are the flat lines at the bottom of the graph). We insert positive and negative controls in every run to make sure the process is working correctly. We even put another control into each patient's test tube to ensure individual tests are capable of replicating the DNA version of the virus if present. 
The numbers of cycles tell us the point at which the virus was detected in each patient sample. What you cannot see here is that each patient's identity is linked to one of these lines. 
How long does the test take?
In the Mercy University Hospital at present, it takes up to six hours to conduct any single test run, which may consist of up to 40 samples.
Dr James O'Connor, senior medical scientist in the laboratory
"Liz Fitzpatrick, who is the Chief Medical Scientist, and myself initially set about evaluating and validating a new CE marked IVD molecular assay for the detection of SARS CoV-2, the virus responsible for COVID-19. This was achieved through many long days of testing, great support from our colleagues, suppliers and the community (including but not limited to, Blood Bike South, National Virus Reference Laboratory, Cork Institute of Technology, University College, Cork and Pfizer). We have now completed our verification studies, initial training of our highly skilled scientific staff who will conduct testing and are now generating high quality results to play our part in flattening the curve.
We need your consent to load this rte-player contentWe use rte-player to manage extra content that can set cookies on your device and collect data about your activity. Please review their details and accept them to load the content.Manage Preferences
From RTÉ Radio 1's History Show, Dr Anne MacLellan, Senior Medical Scientist at Connolly Hospital in Dublin, on how Ireland fought tuberculosis
Dr Deirdre O'Brien, consultant microbiologist
"The faster results are available the faster positive cases are identified and contact tracing can begin to identify unknown cases. We know contact tracing is an essential intervention to stop the spread of the virus. In the hospital setting it also allows patients who were being managed as suspected cases pending the results of their test to move out of isolation rooms- these rooms are then available for new patients presenting to our Emergency Department. Having results also means we can use our Personal Protective Equipment in a better way and this helps us to manage this precious resource."
Caoimhe Lynch, volunteer medical scientist
"I'm very grateful to be able to join the medical scientist staff in the Mercy University Hospital, who, like all other medical scientists, work around the clock regardless of the situation. PhD delays take a backseat in light of this pandemic. The scientific community, like so many other Irish people, have been on hand to volunteer their time and energy, and donate, where possible, useful reagents and protective equipment."
Clíona O'Shea, student medical scientist
"I am currently training in the microbiology laboratory. I find this discipline fascinating and challenging, it's always changing, especially with the onset of high-throughput testing at a molecular level.  I am learning quickly and trying to lend a helping hand wherever possible during this busy time. It's an exciting time to be a student medical scientist. I am not sure whether my training and research project may need to be suspended for a while owing to the increasing pressure on the laboratory caused by the pandemic, but the absolutely main thing is that I'm able to help as much as possible – my full qualification can come later when this challenge is over."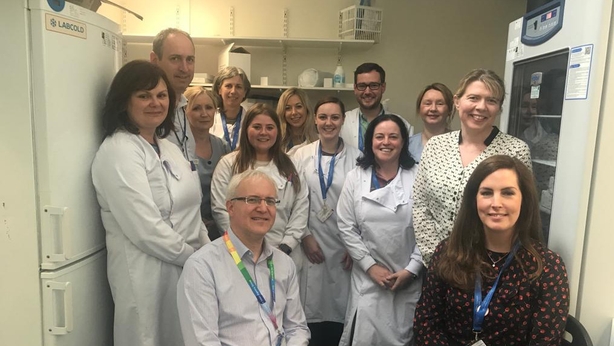 The big picture
To manage the demands of the pandemic, and though the ACSLM, scientists in senior positions in almost every microbiology hospital laboratory in the country are in daily communication to troubleshoot as a group rather than individually when necessary. They have taken the decision to use only what they need and to share resources with one another in this challenging time.
Dr Brigid Lucey is a Senior Lecturer and Medical Scientist at Cork Institute of Technology. She is president of the Academy of Clinical Science and Laboratory Medicine, the professional body representing medical scientists in Ireland
---
The views expressed here are those of the author and do not represent or reflect the views of RTÉ
---