Opinion: there are some ethical and responsible decisions to be made before we emulate Tony Stark
By Barry Fitzgerald, Technische Universiteit Eindhoven
In 2008, Marvel Studios released Iron Man, a film that acted as the catalyst for the Marvel Cinematic Universe, an ensemble of films that includes Black Panther, Guardians of the Galaxy and the highest grossing film of all time Avengers: Endgame. Tony Stark and his Iron Man suits have proven to be a vital cog in the success of the Marvel narrative, but if we were to build an Iron Man suit in the real world, would it have a positive impact on society? Should we even deliberate building an Iron Man suit?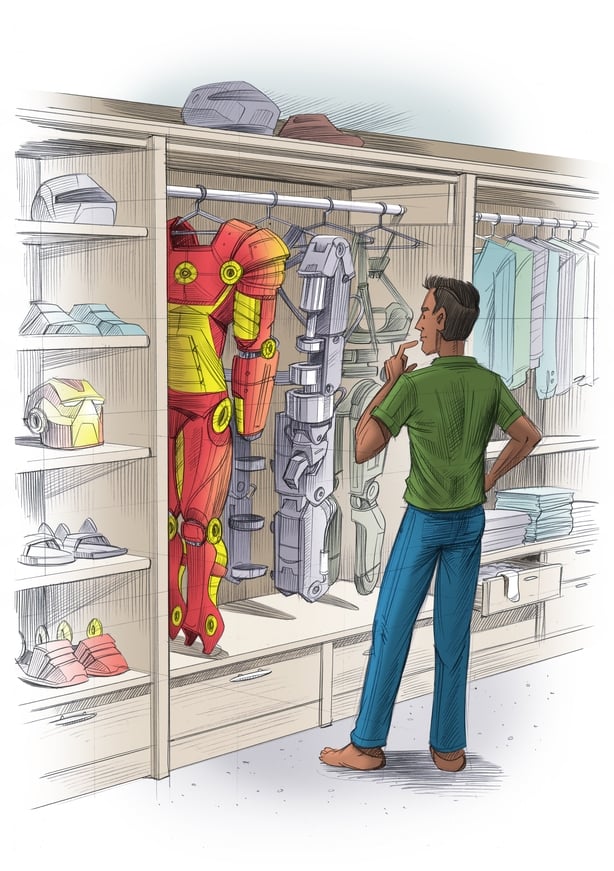 Suited and booted
Of course, Tony Stark isn't the only person to build a flying, super-powered suit in Marvel's superhero world. In the 2016 comic book Invincible Iron Man Vol 2 #7, Riri Williams – a 15-year old MIT student – reverse engineers the Iron Man suit in her college dorm to build the Ironheart suit.
Both the Ironheart and Iron Man suits are examples of wearable technologies that can be referred to as powered exoskeleton suits and we have been building these for decades. One of the first was the Hardiman suit built by General Electric Global Research and the US Office of Naval Research in the 1960s. While Hardiman was innovative, it proved to be too clunky and cumbersome to operate and was eventually scrapped.
Today, there are numerous organisations building exoskeletons for responsible applications in healthcare and industry. Suits of note include the ReWalk System from ReWalk Robotics, the Rehab REX developed by REX Bionics, and the MARCH series of suits built by Project MARCH, a student team based at TU Delft in the Netherlands.
We need your consent to load this rte-player contentWe use rte-player to manage extra content that can set cookies on your device and collect data about your activity. Please review their details and accept them to load the content.Manage Preferences
From RTÉ Radio 1's Ryan Tubridy Show, Barry Fitzgerald talks to Oliver Callan about how to build an Iron Man suit
These suits are lower-limb exoskeleton suits developed to improve the mobility of paraplegics. For instance, the ReWalk System includes actuators at the hip and knee joints that move the wearer's legs while crutches help the wearer to maintain stability during motion. The ReWalk System and exoskeleton suits like it might not look like any of Tony Stark's suits but these exoskeleton suits will have an immeasurable positive impact on society.
We need innovative materials
When it comes to building an exoskeleton suit, you're going to need the right materials. From its name, you may think that the Iron Man suit is made from iron but, as Tony Stark is quick to point out in the film Iron Man, the suit's shell is made from a gold-titanium alloy.
Fortunately, there have been developments in terms of a real gold-titanium alloy for a future suit. Back in 2016, Emilia Morosan and researchers from the University of Texas created a brand new gold-titanium alloy that is four times harder than pure titanium, and most steel alloys for that matter.
We need your consent to load this YouTube contentWe use YouTube to manage extra content that can set cookies on your device and collect data about your activity. Please review their details and accept them to load the content.Manage Preferences
Barry Fitzgerald on the scientific and engineering fundamentals that you need to know to build your own Iron Man suit 
You'll also definitely need self-healing materials, which are materials that can self-repair. For instance, key electronics should be made from liquid metal-elastomer mixtures. If a circuit suffers serious mechanical damage, liquid metal droplets near the damage site burst, spill liquid into the elastomer, and reform the circuit. Now that might prove handy when it comes to repairing any electrical damage caused by a blow from Thor's hammer!
Healing the body
Of course, getting hit by Thor's hammer wouldn't be very good for your health, even if you are wearing an Iron Man-like suit. Fortunately, the Iron Man suit is the ultimate healthcare device as it contains an array of biosensors and wound treatment systems. Biosensors check for the presence of dangerous pathogens and chemical warfare agents as well as biomarkers associated with biological responses to illness or injury.
In Avengers: Infinity War, Tony Stark is on the receiving end of some devastating blows from Thanos, which probably caused some form of concussion or traumatic brain injury. Brain cells damaged in the process may release proteins into the bloodstream, otherwise known as neurotrauma biomarkers. Detection of these biomarkers in the blood can help determine the severity of any head injury, and an easy-to-use biosensor could help with such diagnosis.
We need your consent to load this YouTube contentWe use YouTube to manage extra content that can set cookies on your device and collect data about your activity. Please review their details and accept them to load the content.Manage Preferences
Clip from Avengers: Infinity War
While biosensors can help diagnose injury or illness, what about healing the body? In Avengers: Infinity War, Tony Stark uses the nanotechnology-based Mark 50 suit. Nanotechnology looks destined to play a significant role in future medical treatments, but we've some way to go before we develop nanobots like those theorised by nanoscientist Robert A. Freitas Jr. One such nanobot is a clottocyte, a mechanical platelet that could instigate clotting 1,000 times faster than the body's natural response. It's quite likely that Tony Stark cracked the clottocyte-problem and included them in his Mark 50 suit. 
The ethics of the suit
In the Iron Man film, Tony Stark relies on his voice assistant Jarvis to control the suit, including the healthcare systems. After Jarvis was used to create Vision in Avengers: Age of Ultron, Tony Stark turns to a new voice assistant Friday – who is voiced by Irish actor Kerry Condon.
Voice assistants help Stark to control his suits, but they have a problem. Just like real-world voice assistants such as Amazon's Alexa and Apple's Siri, they suffer from inherent bias as they have been trained with biased data sets sourced from the internet. The internet is home to countless biased documents and content, as demonstrated by researchers from Princeton University in 2017.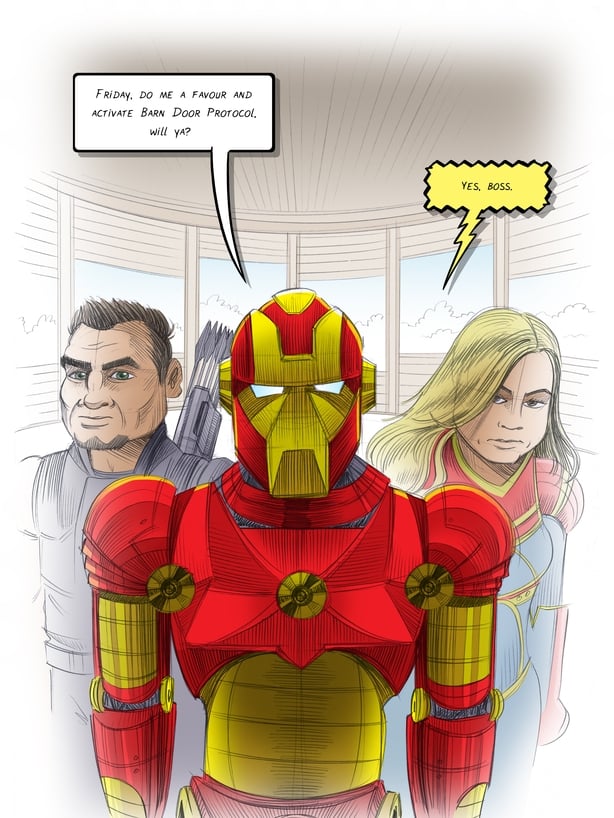 The Iron Man suit also uses facial recognition technology but, like the voice assistants, this is surely biased too. Despite the condemning evidence, our society uses biased facial recognition systems every day. For example, the Metropolitan police in the UK has opted to implement facial recognition on the streets, despite the fact that it is highly inaccurate and known to be racially biased. Bias comes from the people creating the technology rather than the technology itself. The takeaway message is that to avoid such biases in any real Iron Man suit, we need to be vigilant and considerate. We need to be ethical.
What would Tony Stark do?
Although Tony Stark uses his suits to fight villains, the Iron Man suit should be viewed as more than a hindrance against evil. Added to that, it's far more than a flying suit like the Gravity suit and flight should be the last thing on your to-do list. Instead, building a suit should inspire a new wave of healthcare devices such as assistive exoskeleton suits, advanced biosensors, and wound healing treatments. A major concern though is that such a suit would be adapted for military applications or be biased.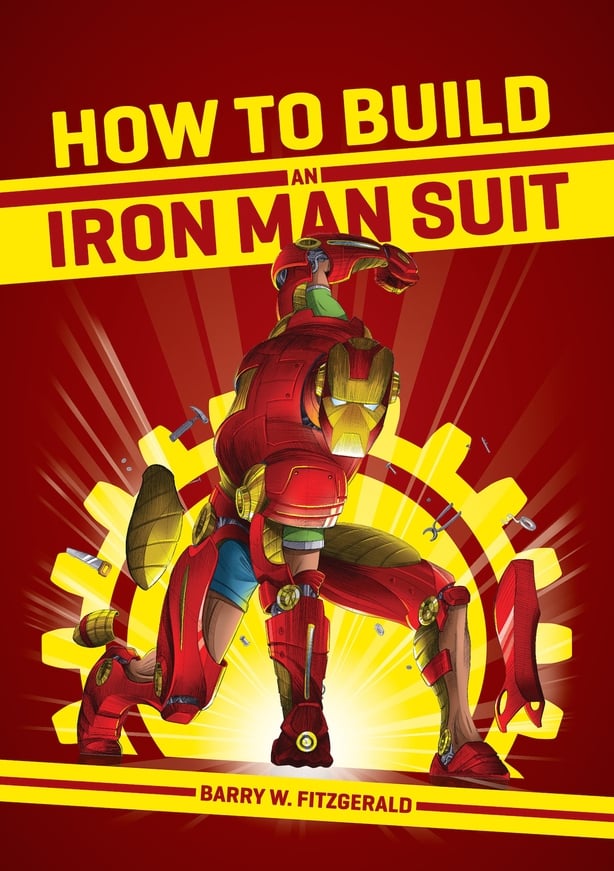 So should we build it then? Provided we make ethical and responsible decisions in the initial design and building process, pursuit of elements of the suit should be encouraged. When all's said and done, we have been working for years on many of the technologies that Tony Stark included in his suits. In essence, we already know how to build many aspects of an Iron Man-like suit. We just have to build it in the right and ethical way, and most certainly not seek to copy the approach of a certain Mr Stark.
Dr Barry Fitzgerald is a physicist and science communication advisor at Technische Universiteit Eindhoven. He is also the author of a number of popular science books including "How to Build an Iron Man Suit" 
---
The views expressed here are those of the author and do not represent or reflect the views of RTÉ
---