Report: Our correspondent on life in the locked-down Chinese city in the wake of the Coronavirus outbreak 
By Xiao Ouyang, Wuhan University
Dear friend,
As you know, my family and I are stuck in my small one-bedroom flat in Wuhan. My flat is perfect for a bachelor, but not designed for a family, and there is no balcony. My parents are staying in my bedroom, and every night I make a temporary single bed in my small study.
The situation is horrible, worse than I originally expected. We have been under "house arrest" since January 23rd, and we don't know when it will be safe to venture out again. My parents flew to Wuhan to celebrate the New Year with me just two days before the lock-down. They had a tour around Wuhan city for two days and visited many places. I also went out with colleagues from Wuhan University to celebrate New Year around the area where the virus broke out. Usually, I don't go out there at all. I am so regretful. The government didn't tell us the truth until it was too late, otherwise I would not have flown my parents to Wuhan, or let them walk around, unprotected.
We are stuck here now, and we don't know when we will be free. It has been a frustrating period, waiting to eliminate the possibility of being affected, since the virus has an incubation period of up to two weeks (with the longest case recorded as 24 days). At the beginning of the lock-down, the hospitals were packed, people begging for a bed or to see a doctor, most of them being turned away.
We need your consent to load this rte-player contentWe use rte-player to manage extra content that can set cookies on your device and collect data about your activity. Please review their details and accept them to load the content.Manage Preferences
From RTÉ Radio 1's Drivetime, Xinyan Yu of The South China Morning Post on the reality of life inside the city of Wuhan during the coronavirus outbreak
Since then, and in a short space of time, things have improved significantly. There are enough hospitals and medical professionals. The sick patients are now differentiated into four groups, depending on their conditions, and all receive proper treatment accordingly. Two more hospitals and several temporal hospitals have been built.
There were confirmed affected people in our residential area and we might have been using the same elevator or going to the same convenience store. Fortunately, we didn't have any severe symptoms but only very light symptoms that were likely to be caused by a normal cold, which was quite common during the winter. I'm still struggling with this mild cold-like symptom, and until it fully disappears, I cannot relax. So far, my parents are fine.
My family means everything to me, but it is only in these last three weeks that I fully appreciate how we are connected or coexisting together as a family. My emotion is their emotion, their health is my health. Whenever I feel upset because of the latest news or simply because of there is no sign of quarantine ending, they appear upset too while trying to comfort me. The first thing in the morning, I think about them and check if they feel OK. If I hear one of them cough in the night, I will stay awake to see if the coughing continues.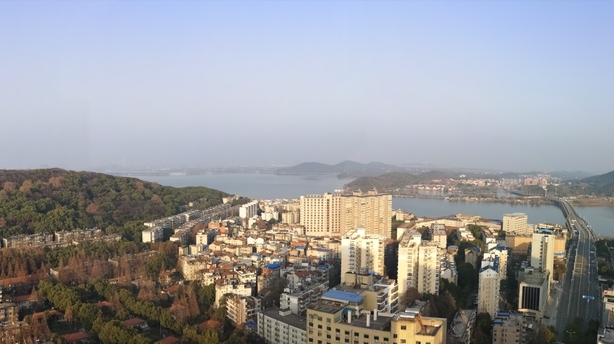 Sometimes when I say something discouraging, my mum would immediately respond with something positive, but we all know that she is the pessimistic person in the family. Just when we heard the lock-down from the news, many relatives called my parents. Some of them, rather ironically, told my dad "you see, how unlucky you are, to go to Wuhan to celebrate the new year with your son instead of drinking with us." Dad replied, "this is called 'being lucky because of the unlucky'" (an idiom from an idea in the Daoist Daoism, from the Daodejing, 'How misfortunate!, that on which fortune leans; how fortunate!, that in which misfortune hides.)
Dad went on to say: "Now our family is together. Whatever happens, the family stays together". My mum added: "I cannot imagine how worried we would be if we are in Sichuan while Xiao cannot come home because of the lockdown". In their eyes, I am always the one who needs their protection, and in my heart, I feel that I have to be the one to take care of them as they are more vulnerable. Lately, I have started to hug them, and they enjoyed this. Unlike Europeans, we Chinese usually don't hug each other, even among family members. I guess if I'm affected, there is only a small chance they will not be affected too.
We need your consent to load this rte-player contentWe use rte-player to manage extra content that can set cookies on your device and collect data about your activity. Please review their details and accept them to load the content.Manage Preferences
From RTÉ Radio 1's News At One, Kildareman Ben Kavanagh on life in Wuhan
Anyway, I hope everything will get better soon. We will stay strong and support each other. Besides all the frustration and worries, it is also quality family time, my parents cook for me, we have enough food, we clean the apartment together, exercise together, entertain each other. On the day of the Lantern Festival, we cooked only two dishes (we usually would have more than a dozen).
After dinner, my parents and I tried to do square dancing, a common activity among Chinese senior people. Back home, my parents enjoy square dancing, jogging and walking. They would jog or walk every day if the weather allows, like the Irish! But since we cannot go out, square dance is the only option for my small living room. Fortunately, I have a bike station and a rowing machine.
Another leisure activity for them is looking out from the window. From my apartment, we can see very nice skyline of the city and the road where a supermarket located and they like to count how many people are queuing.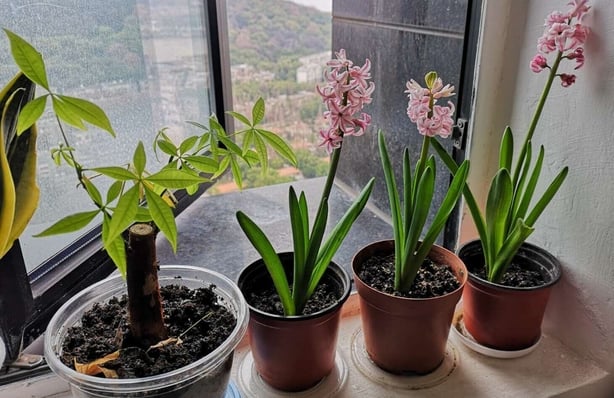 On Chinese New Year's eve, my dad found three hyacinths plants from the last year about to bloom again - they were believed to be withered and thrown in the compost, covered by a thick cloth (without access to any light for the entire year!). The leaves were almost white due to the lack of sunlight when they were found. We rescued them and put them into three flowerpots, placing them by the window. Now they look so nice, and one is blooming. Life is amazing, isn't it, tough, beautiful, and full of wonder! 
I hope a glimpse of life here would be helpful for my Irish friends to understand the true situation. Wuhan is still in this battle without smoke - we haven't seen a turning point yet - but there is no need to panic. People here are staying strong, the communities are helping the members. Lately, more policies and regulations have been enforced by the government. The city is in good order and I feel it is only a matter of time before we finally defeat this virus. 
We'll stay strong and I hope China is able to control the situation and prevent the virus from spreading to other regions. The virus is not that "deadly" though: there are many people who caught it, but only suffer mild sickness, and they recover within a week or two. 
Take good care!
Sincerely yours
Xiao
Professor Xiao Ouyang is Associate Professor of Philosophy at Wuhan University. He lived in Cork from 2011 to 2018. where he was a PhD student and Irish Research Council Post-Doctoral Fellow in the Department of Philosophy at UCC. This article is edited from emails to his Cork friends. 
---
The views expressed here are those of the author and do not represent or reflect the views of RTÉ
---