Opinion: the landlocked African state highlights the general trend of Europe's efforts to keep asylum seekers at a distance
Niger has long been a crossroad from migrants and asylum seekers from sub-Saharan West Africa to the Mediterranean. Smuggling routes had been used for centuries, and trade in drugs, gold and people is deeply embedded in the local political economy. The country is one of the poorest in the world, with 45% of its budget financed by external support, including the EU, the World Bank, the United Nations, the African Development Bank and other EU countries.
But the country's booming illicit economy took a hit in 2015, when Niger became willing to fight migration in return for EU reimbursement. The government has been eager to receive EU aid and, at the same time, it has been pressured to introduce an anti-trafficking law banning migrant transport. One unintended consequence? Local livelihoods have been wiped away and the economy throw into disarray.
An age-old migration hub, a landlocked state in the Sahel and a region engulfed by violence, Niger was an obvious choice and a priority for the EU. Armed Conflict Location & Event Data Project (ACLED) data showed that political violence rates doubled in 2019 compared to 2018. A perfect storm of factors has threatened to unleash violence across the region: climate change, weak governance, poor infrastructure and multiple security challenges coming from all fronts, particularly from conflict in Libya, Mali and Nigeria.
From RTÉ News, 2016 news report on how the bodies of 34 migrants, including 20 children, were found in Niger
The region is experiencing an "unprecedented" rise in violence related to terrorism, according to the United Nations. Mali, Burkina Faso and Niger have experienced a devastating surge in terrorist attacks in recent months that threaten to destabilise the region. The humanitarian consequences of this are alarming. Niger is ranked 189th out of 189 in the UN's Human Development Index and over 1.5 million people are estimated to be in immediate need of assistance.
The US, France, Germany, Canada and Italy also have troops in the West African country, with the Sahel described as the "new frontier" in global counter-terrorism operations. France's Operation Barkhane has been supporting local armies in the area since 2014 and has launched a joint G5 Sahel force. Officially, these troops are there to fight terror, but external interventions may be more about self-interest, with countries like Italy deploying troops to Niger for border control missions to prevent illegal migration.
Niger is bearing the brunt of the "out-of-sight, out-of-mind" EU-sponsored initiatives to stem the flow of illegal migrants and target traffickers. EUCAP Sahel Niger, a civilian EU Common Security and Defence Policy mission launched in August 2012, has seen its budget growing from €18.4m to €63.4m since it began.
From Al Jazeera, Juliana Ruhfus reports on the EU's apparent attempt to push Europe's borders back to Niger
This mission is part of the EU's broader response to the migration crisis. It provides training, advice and equipment to support the local authorities' efforts, with hundreds of international experts, coming from European security forces, justice and foreign affairs departments, permanently deployed in Niamey. The mission also supplies equipment to achieve an adequate capacity to control migration flows, taking into account some 6000 km of porous borders Niger has.
The Sahara desert has become the deadliest migration route in the world, with approximately 30,000 people missing since 2014. With all EU efforts to curb migration, available data shows that less than 10,000 migrants transit through Niger each year as of 2019. This represents a huge decrease from the 400,000 recorded in 2016.
Security and fight against migration remains EU's overriding concerns, but unintended consequences and some serious shortcomings occurred. Despite the reduction in the number of migrants travelling through Niger on their way elsewhere, mainly the Mediterranean coast and sea crossings to Europe, side effects are important to be considered. Can the reduction in the number of arrivals to Europe be seen as proof of success of EU externalisation policies?
From BBC News, a report from Agadez in Niger where thousands of people have started their trek across the Sahara en route to Europe
While Europe has pushed Niger to crack down on the trafficking, more dangerous routes have emerged and the migrant exodus has gone into reverse. According to the International Organization for Migration, migration flows across Niger doubled from an estimated 266,590 in 2018 to more than 540,000 in 2019.
There are multiple reasons behind this, most notably the ongoing trend of expulsion from Algeria. According to the European Council on Refugees and Exiles, an average of 500 people are being expelled from Algeria to Niger every week. Over 25,000 people were sent from Algeria to Niger in 2018, including in official convoys and those deported.
The Algerian authorities usually carry out collective expulsions in large groups. The majority deported come from Sub-Saharan countries, sometimes even registered refugees, who have fled conflict and persecution or claim to have attempted to seek international protection. The practice of deporting migrants to the Algeria-Niger border is ongoing and more than 23,800 people were expelled from January to October 2019, half of them forcibly.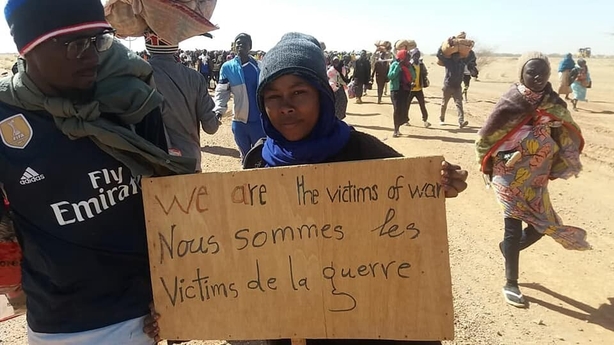 The deteriorating security in Libya is producing a reverse flow from Libya. The political process there is currently at a standstill and UN-led efforts to secure a ceasefire have proved unsuccessful. The UN High Commissioner for Refugees has put an emergency program in place to evacuate refugees and migrants from Libya and host them in Niger, with the agreement of Nigerien authorities, waiting for their resettlement to third countries. So far, nearly 3,000 refugees have been evacuated from Libya to a transit centre in Niamey since late 2017.
The implementation of the mechanism has been difficult and challenging. Some of those evacuated in the initial waves are still waiting to be resettle and what will happen to those that do not meet resettlement requirements remains unclear. Additional self-evacuated refugees, mainly Sudanese, have arrived alone in Niger from Libya, Sudan and Chad. Some of the Sudanese were clearly seeking security, but others were influenced by misinformation that "asylum application in Niger would quickly lead to resettlement in Europe". Ultimately, the case of Niger highlights the general trend of Europe's efforts to keep asylum seekers at a distance and shift the burden of responding to migration and refugee needs ever further south.
---
The views expressed here are those of the author and do not represent or reflect the views of RTÉ
---