Analysis: as we'll see with Brexit and climate change, supply chain management plays a huge role in our daily lives
What was the last item you purchased? Did you ever think of how it arrived in the shop? Regardless of what you purchased, logistics and the management of supply chains is what got that item to the shop. Logistics and the management of supply chains is a very diverse sector. It is the invisible glue that keeps economies and society functioning and ensures that products get to where they need to be at the right time in the right condition and at the right price. We generally don't think about this invisible glue until there is a problem: remember the chaos caused by the snow in 2018?
Within organisations, logistics and supply chain management professionals develop relationships with suppliers and clients. They understand the needs of their customers, and actively seek more effective, efficient and less costly ways to move products along the supply chain. These logistics and supply chain management professionals work in a very dynamic environment where they must be lateral thinkers, good communicators and, above all, problem solvers.
From Brigham Young University, what is supply chain management - and why is it so important?
While they are many definitions of logistics, I particularly like Capt John P. Laverdure from Scott Air Force Base's 1996 take on logistics planning: "the wisdom to realise when working on plan A, you'll run into conflicts in executing plan B and being properly prepared, and successfully executing plan E."
A supply chain is a complex sequences or system of organisations or operations that work together to design, produce, and deliver a product or service to a market, extending from the extraction of raw materials to the distribution of finished products or services. Therefore, supply chain management is a cross-functional approach to procuring, producing, and delivering products and services to customers. The broad management scope includes sub-suppliers, suppliers, internal information, and funds flow. For supply chains to achieve maximum levels of effectiveness and efficiency, material flows, money flows and information flows throughout the entire chain must be managed in an integrated and holistic manner, driven by the overall service and cost objectives.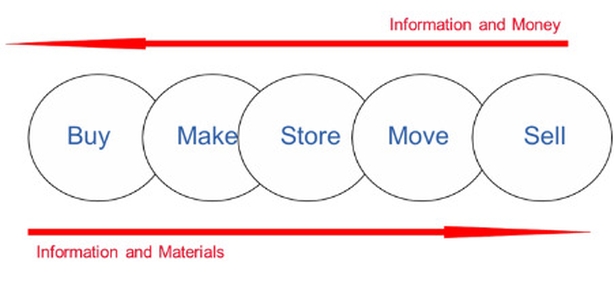 As an island nation with what many larger nations would see as more than our fair share of foreign direct investment, our manufacturing sector is very dependent on our world-class logistics and supply chain management sector.
The latter is vital for the continued success of Ireland's economy for many reasons:
(1) Our open economy means that both imports and exports represent a large proportion of economic activity.
(2) Ireland's recent economic recovery has been largely driven by successful exporting from key industrial sectors.
(3) Our geographical peripherality and the resulting transportation cost disadvantage compared to companies based in more favourable locations forces companies located here to look towards more broad-based supply chain management approaches by way of compensation.
All players in logistics and supply chain management have a responsibility for the environmental practices in their respective supply chains
(4) Many companies located in Ireland are part of larger pan-European and, in many cases, global supply chains.
Of course, it is difficult to talk about logistics and supply chains at the moment without mentioning the dreaded B-word. Before we get to Brexit, let's look at the four freedoms of the European Union's single market, namely the free movement of goods, capital, services and labour. Interestingly these four freedoms are almost a mirror image of an effective supply chain's management of the flow of information, materials and money!
All of this is about to change and Brexit will have a devastating impact on Ireland's economy and its logistics and supply chain. Currently, an articulated truck can leave the midlands, drive to Dublin Port, travel across the UK land-bridge, cross the English channel and arrive in the south of Italy 48 hours later with no customs checks, border delays or excessive traffic jams. A hard Brexit will result in the reintroduction of tariffs, possible restrictions to the use of the UK land-bridge, customs checks, traffic delays, and cold chain logistics implications. To paraphrase Star Trek's Spock, trade will continue but not as we know it after Brexit.
From RTÉ Radio 1's Morning Ireland, Freight Transport Ireland, a national association representing Ireland's transport and logistics industry, group warns of the threat of a no-deal Brexit on trade
With the recent increased focus on climate change, food miles, flight shaming and fast fashion, there is a growing interest in sustainability. Green logistics and sustainable supply chain management have been the subject of growing discourse since Toyota first introduced the concept of lean production in the 1980s.
Today, all players in logistics and supply chain management have a collective responsibility for the environmental practices in their respective supply chains. We are all aware that the logistics industry contributes to global warming as a result of greenhouse gases such as dioxide and nitrous oxidise released during the combustion of fossil fuels.
Due to the commitment to lean production, most players in the logistics and supply chain management industry have a natural tendency to gear towards green practices. Those adhering to "lean and green" are striving for sustainable supply chain management as defined by Stefan Seuring and Martin Müller in 2008. Their definition underscores the three-way balance among economics, environment, and society required for any human enterprise to survive and prosper indefinitely.
---
The views expressed here are those of the author and do not represent or reflect the views of RTÉ
---