Analysis: rural food retailers play a vital role in their local communities, especially for older people 
The population of this island is becoming progressively older. It is estimated that the number of people aged 75 and over will reach almost one million by 2041 on the Island of Ireland. This demographic shift means that older people are now the fastest growing consumer group in both Northern Ireland and the Republic of Ireland. Despite this rapidly growing trend, older adults' food access is not without issues, and stark disparities exist between rural and urban environments.
Arguably, old age is a success story of contemporary living and advancing modern technologies. As a society, we place great emphasis on encouraging elderly independence. A large part of that autonomy is having the ability to control, determine and purchase nutritionally adequate food.
Eating healthily is a fundamental requisite for minimising malnourishment and associated chronic health-related diseases. For older adults, the consequences of poor diets or not eating adequate amounts can lead to very serious health risks. It is estimated that as many as 30% of adults aged 65+ are at risk of malnutrition, impacting significantly on health and well-being. Nutrition-related health conditions such as obesity, diabetes, cardiovascular disease and cancers are increasing in the elderly and older adults are now considered as the single largest demographic group at disproportionate risk of malnutrition, meaning the ability to be able to shop for healthy food, without restriction, is more important than ever.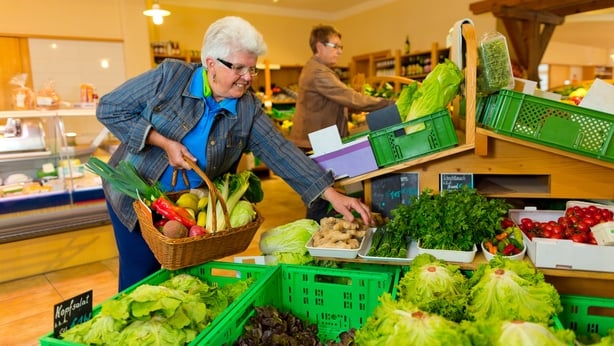 Independent mobility is pivotal to accessing food, but can be one of the most problematic aspects of elderly rural living. Without frequent public transport links and/or private transport compounded by prohibitively expensive taxi costs, older adults are constrained and excluded from both rural and urban services, proving even more challenging when striving to access nutritious foods. For those who do drive, many view cars as an essential expenditure, with some sacrificing other areas of spending, usually food as it is the most flexible household expenditure. Recent developments with door to door transport schemes may have improved elderly rural access but their often-limited operating hours and area coverage can be a complicating factor in their uptake and mean they are not the golden ticket they were envisaged to be.
There is no doubt that the environment in which we live has an important role in influencing our food consumption. Geographically, the Island of Ireland has a high rural sparsity, resulting in a dispersed population which can serve as a barrier to accessing the necessities of life. This is because dispersed populations induce lower consumer demands, which in turn exerts influence on market-driven environments. Supply and demand are used to justify the urban centralisation of amenities, leaving rural territories with rudimentary service inadequacies, including food retailers. It is this rural-urban dichotomy that is a complicating factor in food dietary choice, particularly for low-income, elderly, rural consumers. 
Findings from my research show that rural food retailers in Northern Ireland account for approximately 58% of all food retailers. Often viewed as the heart of the rural community, the majority exist as independent entities and frequently in isolation with no other food retailers nearby. They provide essential foods and products to households who may otherwise be completely isolated. Their role in the ability to purchase affordable nutritious foods is hugely important and one of the drivers of my research, which investigated the availability of a minimum essential but nutritionally adequate basket for a single pensioner living alone.  
Shops with lower footfall may consider stocking fresh, nutritional foods less appealing as these products have a much shorter shelf life 
Analysis found that the average availability of a healthy food basket for elderly rural dwellers is 79.1%, rising to 86.7% for urban dwellers. However rural availability can be as low as 43.28%, meaning that some rural householders may be able to access less than half of their shopping list. The research found that long shelf life items such as tomato sauce, gravy granules, pasta, rice, beans etc are fairly well stocked. However, fruit, vegetables meat and fish are often poorly stocked, with one rural retailer not stocking any fruit or vegetables at all. 
This is perhaps unsurprising since shops with lower footfall may consider stocking fresh, nutritional foods less appealing as fresh products have a much shorter shelf life and the store incurs the problem of food waste and lost profit if they are not sold. However, my research found that there are significant gaps in rural retailers stocking a range of nutritionally-diverse food products, which is concerning.  
Food remains essential to life and, importantly, quality of life. Given that this does not diminish with age, more consideration needs to be given to rural dwellers' ability to achieve food security and nutrition. The growth of our elderly population is estimated to continue and therefore so will the intensity of their barriers in accessing food. As a society, there is an urgent need to rethink the rural-urban interface as a sustainable food system to meet the growing needs of our elderly communities.
---
The views expressed here are those of the author and do not represent or reflect the views of RTÉ
---