Analysis: is it time to recycle some traditions of our ancestors to ensure a thoroughly green Irish Christmas?
We live in an era of unprecedented awareness of environmental issues. Consumers are more conscious than ever of the need for good choices when it comes to buying products that may impact on the environment. Yet when it comes to Christmas, many still opt for products that generate a great deal of waste because such products propagate their non-negotiable idea of Christmas.
According to a survey by Repak, Irish consumers are expected to generate 83,000 tonnes of packaging waste this Christmas, with almost a third of those surveyed having full recycling bin before Christmas. Some insist their Christmas would not be the same without Christmas crackers on the table, for example, (which happen to be one of the worst culprits in terms of Christmas waste generation, not to mention a waste of money).
Many social obligations insist we buy into this mindset of must-haves for Christmas and it needs a cultural shift in order to make a difference. In terms of a traditional Christmas, it would be no harm in reviving some of the traditions of past generations. Ask your grandparent what their childhood Christmas was like, and they will tell you that in comparison to today it was an extremely humble but happy time.
From RTÉ Radio 1's Drivetime, how to have a more sustainable Christmas
I am certainly not advocating that we turn the clock back completely to what were dark old days for Ireland. Indeed, many ways of celebrating Christmas then would be impractical and downright inconvenient to re-enact today. But the traditional Irish Christmas was a green one, and it's certainly worthwhile comparing some examples from Irish Christmas past and Irish Christmas present in terms of environmental impact.
Traditional Christmas decorations
The shops are currently heaving with Christmas decorations reflective of the annual festive trend that designers, manufacturers and stores generally adhere to. As there is a different fashion followed every year, there is a sense of built-in obsolescence with the style of products. Decorations themselves are problematic for the environment because of what they are made from and plastic tinsel, baubles and glitter are generally impossible to recycle. Furthermore, there is a huge amount of packaging waste.
The traditional Irish Christmas involved purchasing very few commercially produced decorations. It was only around the late 19th century that readymade decorations became available in shops, distributed by travelling pedlars around the country.
We need your consent to load this rte-player contentWe use rte-player to manage extra content that can set cookies on your device and collect data about your activity. Please review their details and accept them to load the content.Manage Preferences
From RTÉ Archives, a report on the turning on of the Christmas lights in Glasthule, Co Dublin in 1958
In most homes, the emphasis was on handmade decorations. Children were pretty much left in charge of the decorations by busy adults, who allowed them to source materials, make decorations and decorate the house. Most children eagerly collected and stored any materials they encountered throughout the year for their future Christmas crafts such as "fancy" or coloured paper, fabric and ribbon, old foil wrapping and so on. These were made into paper chains and other ornaments.
Old Christmas cards were upcycled into decorations while old matchboxes, covered with wrapping paper, made excellent "fake gifts" to hang on the tree. These were re-used year after year and children making their own decorations on long winter evenings gave added excitement to the build-up to the festive season.
There was huge emphasis in the past on natural materials to decorate the home. Again, it was mainly children who foraged for holly and ivy in the weeks coming up to Christmas. Finding holly with an abundance of festive red berries was highly prized (mistletoe did not really form part of the traditional Irish line-up of natural decorations). This greenery was hung in abundance over doors, windows and pictures and was garlanded and placed atop dressers, mantelpieces and stairs.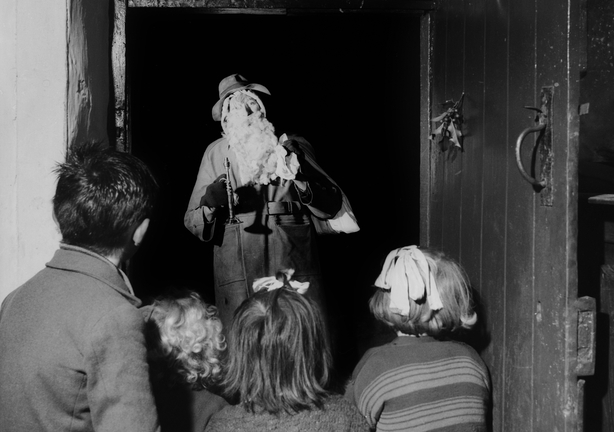 The use of such greenery to decorate homes is said to represent the living "evergreen" Christ. Ancient pre-Christian people would have would have considered plants that did not die in winter to be noteworthy or magical. In the dull winter landscape, bright green living plants were a reminder of rebirth and the coming spring. With a low-impact on the environment and costing very little, foraging for holly, ivy and making one's own decorations persisted well into the 20th century.
The Christmas crib
Most Catholic houses in Ireland had a crib, a great example of a reusable decoration that could attain an heirloom status. It comprised of a small collection of plaster or wooden figures representing each participant in the Nativity: Mary, Joseph, the three kings, the shepherds and sometimes a lamb, donkey and cow. The crib figures may have been purchased products, but the wooden "stable" they were displayed in was usually handmade by a family member and decorated with straw and moss. The figure of the infant Jesus would not be placed in the crib until Christmas morning.
The local church was decorated for Christmas with a similar but much larger crib, an ongoing tradition that still draws onlookers. In the past, it was thought that strands of straw taken from the church crib would give good luck to the household for the coming year. This custom has evolved and been taken out onto the streets, with rural towns having a large lit crib in town squares.
We need your consent to load this rte-player contentWe use rte-player to manage extra content that can set cookies on your device and collect data about your activity. Please review their details and accept them to load the content.Manage Preferences
From RTÉ Archives, Kieron Wood reports for RTÉ News on the Mansion House crib in Dublin in 1986
An important aspect of decoration in Irish homes was the Christmas candle, a big red or white candle thick enough to last over the festive period. Also known as coinneal mòr na Nollaig, it was ceremonially lit on Christmas Eve and placed in a window to symbolically welcome the Holy Family. Smaller candles would be placed in hollowed-out turnips and decorated with holly.
The Christmas tree
From the mid-19th century, Christmas trees in the home became popular in the UK and Ireland, thanks largely to Queen Victoria and Prince Albert who brought the tradition from his native Germany. In Irish homes, a smaller version of this gradually became widespread and, by the mid 20th century, most homes had a very humble version of the Christmas tree we are familiar with today. These were very small, comprising of a branch or the top of a living tree which had been lopped off and potted up. These did not necessitate cutting down a whole tree and could be placed in a window or on a table of a small cottage or urban home. Larger trees becoming progressively popular from the 1960s as domestic living spaces increased in size.
Today, we have the general choice to go for real or artificial Christmas trees. Artificial trees may seem like a greener and cheaper alternative as, let's face it, they don't involve cutting down a real tree every year. But what is your artificial tree made from and how will it be disposed of when it eventually reaches the end of its usable life? The general advice is that you need to use it for at least 10 years to keep its environmental impact lower than that of a real tree.
We need your consent to load this rte-player contentWe use rte-player to manage extra content that can set cookies on your device and collect data about your activity. Please review their details and accept them to load the content.Manage Preferences
From RTÉ Archives, Michael Walsh reports for RTÉ News on growing Christmas trees in Co Clare in 1984
A real Christmas tree is a different story as it is essentially a harvested crop. Irish growers of commercial Christmas trees must ensure that harvested trees are replaced with new trees in keeping with the "sustainable yield management" promoted by the Irish Forest Service. Around 550,000 Irish trees are harvested each Christmas, with 350,000 sold in Ireland. Consumers are increasingly choosing real trees with sales of over €22m for Irish tree growers last year.
A six-foot tree typically takes up to nine years to grow and absorb carbon dioxide and create oxygen during their lives. The problems come with transportation and packaging. Some come wrapped in netting or plastics and consumers must check if these can be recycled. While the trees can be recycled into wood chippings, they take years to decay and release methane if deposited in landfill. Real Christmas trees also have an impact on the wallet, requiring consumers to purchase a new one every year.
Today, the Christmas tree with the least environmental impact is a locally sourced, organic, potted one with roots. It can be re-used for a number of Christmases and kept in the garden outside of that time. The trick is to remember to water it! Such trees can be given a bigger pot year after year and can be planted-out when it gets too big. A living tree will carry on absorbing carbon from the atmosphere for years to come. Alternatively, you could revive the tradition of lopping a branch from a living tree and pot it up. Don't forget to decorate with handmade paper chains and deck the halls with copious amounts of holly.
---
The views expressed here are those of the author and do not represent or reflect the views of RTÉ
---