The Brainstorm Long Read: why youth, education and the opportunity gap are important underlying aspects of the uprising in Hong Kong
The violence of the protests in Hong Kong over the past weeks has shocked the world. A famously ordered, aspirational society, one of the world's financial centres, has suddenly descended into chaos. The world saw footage of a police officer, himself under physical attack, drawing his revolver and shooting an anti-China protester in the chest. Footage later that day showed anti-China protesters engaged in an argument with a passive older man spraying him with lighter fuel and setting his entire body on fire. Images of brutal beatings, both by and of police, both by and of teenage students, have become daily fare.
The coverage on western media has understandably focussed on the issue of democracy. The one country two systems approach has recently been put under pressure by both the Chinese Communist Party and their appointed administrators in Hong Kong. This triggered the uprising.
From RTÉ Radio 1's Morning Ireland, Bloomberg journalist Aaron McNicholas on how Hong Kong democrats have scored an landslide victory amid the ongoing crisis
But there is another angle to this story, an angle that reveals itself when we look to the identity and life experience of the protesters themselves. According to Hong Kong police data, there were 5,856 protest-related arrests in the two weeks between November 21st and December 4th.
What is shocking is the youth of those arrested. Over 900 of the 5,856 were high school students under the age of 17. One was as young as 11. Nearly 1,200 were aged between 18 and 20, predominantly senior high school students and university freshers. Around a third of those arrested were thus children. Nearly 2,000 of those arrested were aged between 20 and 25. The protesters, or at least the radical protesters who ended up under arrest, notably including those who used violence, were overwhelmingly young.
Youth, education and opportunity (or lack of it) are important underlying aspects of the uprising in Hong Kong. On the television coverage of the protests, we have seen major universities like the Chinese University of Hong Kong, Hong Kong Polytechnic and City University of Hong Kong (all globally leading universities) under siege.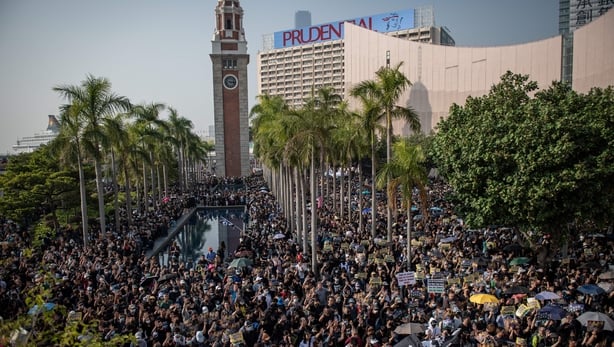 I was invited to the City University of Hong Kong less than a year ago. The campus is surrounded by brand-name shops cashing in on the wealthy family background of most of the students. The train station, which is the only major access point, is located in a huge shopping mall with some of the most expensive prices and exclusive stores in East Asia. Navigating Abercrombie & Fitch and co is the only way to get to the public transport. I tried to get a hair-cut in one of the salons when I was there but, with one look, the hairdresser knew I wouldn't be in their price range and shooed me away. In the footage of a few weeks ago, I saw students being chased by police through this very same once glittering mall, now completely trashed in the "battle for democracy".
The set-up of this shopping mall, its deliberate positioning next to a major Hong Kong university, and the prices charged there, leads us towards other problems faced by these students. They have grown up in a recent history and culture of continuous economic growth and opportunity. Their parents experienced the major increases in wealth and opportunity afforded by the rise of the Asian Tigers through the 1980s, 1990s and Noughties.
The children born in the 1990s and early Noughties - the students of today, and the real estate developers and educational administrators around them - assumed they too could look forward to stable jobs in banks and finance leading to fast income increases and affluence. Expectations of education in East Asia are high. Students struggle through 12 to 14-hour days of studying through their entire childhoods in order to enter elite universities, with expected payback being wealth and progress.
From RTÉ Radio 1's News At One, Channel Four's Matt Frei reports that Hong Kong police have fired rubber bullets to pin back campus protesters
But Hong Kong students have recently realised the pay-off is never going to come. As Hong Kong is increasingly integrated into the mainland Chinese economy, young people face a level of competition for jobs unimaginable to their parents. Nearly 1.5 billion Chinese provide the population base for a well-funded mainland education system which pumps out highly motivated, well educated graduates who are able and willing to work at a fraction of the salary expected in Hong Kong.
Hong Kong students and, as the recent local elections showed, the general Hong Kong population are clearly worried about incursions on their democratic rights. But the deeper and more sensitive mainland Chinese incursion upon these Hong Kongers is the incursion upon their imagined economic futures. It is an incursion on their life expectations and aspirations.
The PISA statistics released this week, which saw Irish education look so good on the world stage, also showed that mainland Chinese education has rushed ahead of Hong Kong. Alongside reports of the "anarchic violence and delinquent disorder" of Hong Kong students in the protests, the official Chinese press crowed about the superior performance of mainland students over those of Hong Kong. This was handy propaganda for the Chinese government, which used the figures to imply that the Hong Kong student protests were perhaps just the result of poor education.
From RTÉ Radio 1's Marian Finucane show, Peter Hamilton from TCD and David Ringrose from Hume Brophy discuss the ongoing unrest in Hong Kong
Regardless of what anyone might think of educational statistics, however, what is beyond doubt is that a mainland Chinese graduate will be prepared to work for less than half of what a Hong Kong young person would have expected as a graduate salary. Even if one of the current batch of university students in Hong Kong can successfully get a job, they are looking at a lower starting salary and a more competitive work environment than 10 years ago. They know that a very significant percentage of graduates today will simply not find jobs - and it will be no gravy train for those who do.
All of this comes after their parents have spent thousands of dollars on exam training, cramming and grinding. The students themselves have spent their entire childhoods studying for entrance examinations. And then there are those issues of democracy, rule of law and freedom. The personalisation and emotionalisation of the latter by the former, and the simplicity of being able to blame all this on "China" has been a powder keg combination.
The last two weeks has allowed us to see what happens when such a powder keg is lit in the tiny, tense territory which is Hong Kong. Meanwhile, just across the water, similar issues are percolating in Taiwan, where graduate employment figures are also falling, partly under Chinese economic pressure, and with a similar anti-Chinese sentiment emerging as reaction among the youth. Japan, despite being the world's third largest economy, is not immune. Graduate employment is at less than 50% even at some of the most prestigious universities in the country.
We will continue to see powder kegs across East Asia over the coming years, even larger than the problems we see today in Hong Kong
In China itself, the opportunity gap between the wealthy eastern coastal provinces and the impoverished central and western provinces, continues to present the Chinese Communist Party with its largest ongoing headache. Development carries on in China and millions of people continue to be pulled out of poverty every year. But the unevenness of that development across East Asia will continue to present us with powder kegs over the coming years, even larger than the problems we see today in Hong Kong.
---
The views expressed here are those of the author and do not represent or reflect the views of RTÉ
---