Analysis: healthcare professionals are worried that these charges are negatively impacting patient safety
In Budget 2020, the Government reduced the cost of the highly unpopular €2 prescription charge for around 1.6 million medical cardholders in Ireland. It's certainly not the first time this levy has been altered. In an attempt to counteract rising Government expenditure and to reduce medicine wastage, the Department of Health initially introduced a €0.50 charge per prescription item for medical cardholders, capped at €10 monthly, in October 2010. Since then, this fee has undergone numerous increases and decreases and March 2017 saw the introduction of different prescription charges for separate age groups.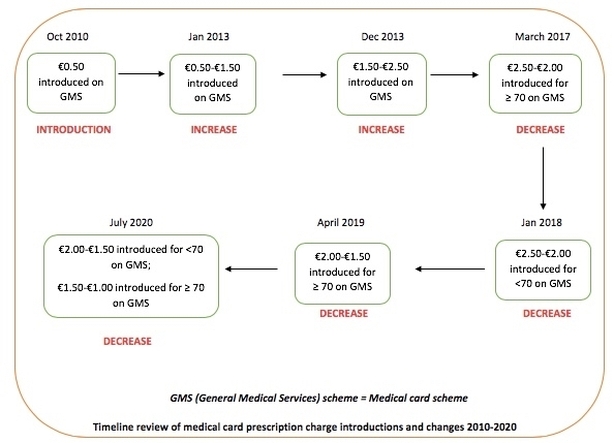 Increasing the prescription medicine charge by €1 or decreasing it by €0.50 doesn't seem like a lot, but such changes have already had a major impact. Recent analysis demonstrated that patients were mostly accepting of the €0.50 levy, with some reservations concerning an increased price and how the Government would use the generated revenue. The increase in levy from €0.50 to €1.50 was associated with an immediate reduction in medication taking behaviour (adherence) for most medications, including a 10% drop in adherence to anti-depressant medication.
The issue of this prescription charge and adherence to medicines is amplified in the medical card population in Ireland, because those who are socio-economically disadvantaged, as well as those who are aged over 70 years of age are overrepresented in this population. Changing this prescription fee without a firm evidence base could reduce the numbers of those who will actually use these services, especially among those who are less well off. My research looks at this controversial issue from the point of view of healthcare professionals at the coalface of this policy every day, from community pharmacists to GPs.
We need your consent to load this rte-player contentWe use rte-player to manage extra content that can set cookies on your device and collect data about your activity. Please review their details and accept them to load the content.Manage Preferences
From RTÉ Six One News, a 2016 report on pharmacists calling for phased abolition of prescription charges
In general, both community pharmacists and GPs believe the concept of a medical card prescription charge is a good idea. However, pharmacists do not want to be an organ of revenue collection for this levy on behalf of the Revenue Commissioner. It incurs financial loss, as pharmacists are ethically obliged to supply the medicine without payment in such circumstances.
Collecting the prescription charge increases administration workload and reduces staff productivity, which leads to more financial loss and steals time from patient care duties. It also appears that the current technology systems that pharmacists must use for reimbursement are not fit for purpose. For example, one family might pay the maximum medical card prescription charge cap of €20 for medicines in one calendar month. But because of the IT system, it may not be recognised that the individuals in the family all fall under the maximum medical card prescription charge cap together. Instead, a €20 cap for each individual instead of the €20 cap for the whole family unit is deducted from the pharmacist, leaving them at a huge financial loss.
An unexpected finding was that GPs want a similar nominal charge attached to medical card patient visits in their surgeries to prevent unnecessary overuse of this free, oversaturated service. This finding comes as no surprise as recent media reports state that doctors warn general practice in Ireland is on the brink of collapse.
We need your consent to load this rte-player contentWe use rte-player to manage extra content that can set cookies on your device and collect data about your activity. Please review their details and accept them to load the content.Manage Preferences
From RTÉ Six One News, thousands of over 70s to become eligible for a medical card in Budget 2020
It was also unclear what actual evidence is guiding these prescription charge changes as shown in the infographic above. It appears that changing these fees as promised by politicians around general election time or on budget day without any solid evidence of what impact such increases or decreases can have has already yielded consequential reductions in patient adherence to essential medicines. This leads to poorer health outcomes and increased usage of health services. With our emergency department situations being described as a "national emergency" (Mary Harney, 2006), "acceptable cruelty" (Fintan O'Toole, 2018) and "bloody awful" (Leo Varadkar, 2015), it's doubtful that our health services are equipped for increased usage.
Both pharmacy and GP representative bodies who have first-hand experience with the medical card prescription charge need to be heavily involved in this policy as it's a healthcare policy, not a revenue-generating exercise. In fact, pharmacists and GPs now recommend medical patients who have an eligible long-term illness, as classified by the Health Service Executive, to switch from the medical card scheme to the non-means tested long-term illness scheme to avoid paying the medical card prescription charge. This nullifies the whole concept of having a charge associated with the medical card scheme. It sparks discussion on the complexity of the whole medicine reimbursement system in Ireland where reform is urgently required.
This analysis comes at an important time as the Irish healthcare system undergoes major political, economic and health policy reform under the ten-year Sláintecare policy. If healthcare policymakers truly want to achieve their goal of universal healthcare under this new policy, they need to start re-evaluating contemporary health policies like the medical card prescription charge to ensure future sustainability of our healthcare system as a whole.
This piece is based on a qualitative study "Out of Pocket or Out of Control: A Qualitative Analysis of Healthcare Professional Stakeholder Involvement in Pharmaceutical Policy Change in Ireland" which is due for publication in 2020
---
The views expressed here are those of the author and do not represent or reflect the views of RTÉ
---